By: Kin Kinsley – Senior Writer Twitter: @Kin_BGS   In this part of our 2014 Big 12 Top 5, we turn the focus to an area that will be a strength across the Big 12 this season.  National consensus has the same top three linebackers, but there is depth and some very good players were left out of our top five.  Below is a name you should already know and four others you need to...
The risky business of player-agent relationships may cost several Texas players their eligibility. News emerged Monday from the Austin American-Statesman that two Texas football players each "received a meal paid for by an agent" and that their NCAA eligibility for 2014 was in question. Texas reported the incident to the NCAA on June 6, but the school would not confirm the names...
Texas linebacker Steve Edmond found himself on the receiving end of a public reprimand from Big 12 commissioner Bob Bowlsby Friday. Bowlsby was responding to comments Edmond made about Baylor following Texas' spring game last week. "Mr. Edmond violated the Conference rule that prohibit coaches, student-athletes, athletic department staff and university personnel from making...
Texas linebacker Steve Edmond says he's sorry for talking a little trash to the Longhorns neighbors to the north: Baylor.  "I need to apologize for what I said about the Baylor program last week. I respect them for everything they've accomplished," Edmond said in a release on Thursday night. "I've been so frustrated over not being able to play in last...
Art Briles doesn't sound too bothered by Texas linebacker Steve Edmond calling his Baylor program "trash." After Saturday's spring game, Edmond referred to Baylor's program as "trash" and argued that Texas was a better team, despite dropping a 30-10 decision in the season finale with the Big 12 title on the line. "Well, that's alright,&quot...
More than five months later, Texas middle linebacker Steve Edmond remains upset over a loss to Baylor that cost the Longhorns the Big 12 title last season. "We could have won the conference. Even though I didn't get a chance to play in the Baylor game, I really feel like we should have beat Baylor," Edmond said after Texas' spring scrimmage. "I really don't like Baylor...
The Texas Longhorns have a new football coach and with that, some new swag and bravado. Following the spring game, Texas linebacker Steve Edmond dropped a pipebomb that's likely to cause some friction between Longhorn and Bears fans from Austin To Waco in a matter of minutes.  "We could have won the conference. Even though I didn't get a chance to play in the Baylor game...
Seems a bit harsh considering Baylor has beaten the Longhorns 3 out of the last 4 times, but at least he was honest with how he felt. Here is what Linebacker Steve Edmond has to say courtesy of USA Today. "I really don't like Baylor," Edmond said. "I still feel they're trash." "Y'all think it's funny, but I'm dead serious," Edmond said. "They've had some...
The Texas Longhorns big win over Texas Tech on Thanksgiving day came with the loss of another starter, linebacker Steve Edmond. Edmond was injured in the second quarter while being blocked by 6′-0″ 205 lb. Texas Tech receiver Eric Ward. Edmond had a team leading 73 tackles for the season including two tackles for lost yardage and two interceptions. One of the 6′-3″ 245 lb...
Texas Longhorns linebacker Steve Edmond was knocked out int he 2nd quarter  in their 41-16 win over Texas Tech and did not return. It was later determined that he suffered a pretty gruesome injury you don't hear too often - a lacerated liver, the school announced Friday, via College Football Talk. The loss of Edmond is big blow to the Longhorn's defense, as their...
MORE STORIES >>
College Football News

Delivered to your inbox

You'll also receive Yardbarker's daily Top 10, featuring the best sports stories from around the web. Customize your newsletter to get articles on your favorite sports and teams. And the best part? It's free!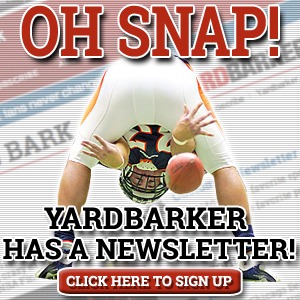 THE COLLEGE FOOTBALL HOT 10