GAINESVILLE, Fla. -- Trey Burton graduated from UF in December, but the former Gator spent most of his time Friday taking tests. The Wonderlic Test. Psychological tests. Reasoning tests. Burton spent much of his second full day in Indianapolis in a classroom on Friday at the NFL Combine. He is scheduled to wrap up his stay on Saturday afternoon during the on-field testing, including...
Trey Burton sounded tired Thursday night when he answered his cellphone. The former Gator then quickly confirmed that suspicion. ''I'm exhausted,'' Burton said. Burton spent his first full day in Indianapolis on Thursday at the NFL Combine. He is one of eight former Gators scheduled in Indy this week. GatorZone.com is checking in with Burton for a daily diary...
GatorZone.com will publish a diary entry each night during Trey Burton's stay in Indianapolis at the NFL Combine, starting on Thursday. GAINESVILLE, Fla. -- Trey Burton is ready for whatever scouts at this week's NFL Combine throw his way. His four seasons with the Gators prepared him well. "If they want me to go through the wide receivers stuff, I'm definitely not...
Florida running back Trey Burton won't return against Florida State because of a shoulder injury. Burton hurt his left shoulder on his second carry of the game Saturday, another blow for the injury-riddled Gators. Coach Will Muschamp said at halftime that the game plan called for Burton to line up at quarterback for 35 plays. He ran twice for 47 yards, including a 50-yarder...
GAINESVILLE, Fla. --Trey Burton has played for two head coaches and worn two numbers at Florida. He has tried to scrape out yards under three offensive coordinators. A lot has changed in Burton's time at UF. Still, there has been one constant: Burton's willingness to do whatever it takes to avoid standing on the sideline. "Hopefully a little bit of everything,"...
Florida Gators all-everything Trey Burton recently strapped a camera to his helmet to provide fans with an in-depth look at a practice in The Swamp.
Trey Burton, a running back for the Florida Gators, was married today to his girlfriend/fiance Yesenia. The two tied the knot today (as many did) on 12/12/12. The happy couple are expecting their first child around New Years Day. And according … Continue reading →
Trey Burton is a full back, tight end, wide receiver type player for the Florida Gators. He took to Twitter and Instagram today to taunt the LSU Tigers with a picture of him hurdling over an LSU Tiger defensive back. Burton is a former quarterback for the Gators but now plays a hybrid type role. He has been extremely important or the Gators. The LSU Tigers take on the Florida Gators...
Florida's Trey Burton hasn't been the starter for the Gators for the last two games, but Saturday night he proved why the Gators need him more than ever. Out of his three touches on Saturday, two went for touchdowns. Burton's three carries totaled 91 yards. Not only that, Burton lined up and caught two passes for 38 yards. After the game Saturday Burton said the following:...
BLING BLING
Trey Burton tweeted a picture of his Gator Bowl ring. It's got about 200 diamonds and it's pretty unmistakable whose ring it is. I like the Florida F. BOWL BLING via @TreyBurton8
MORE STORIES >>
College Football News

Delivered to your inbox

You'll also receive Yardbarker's daily Top 10, featuring the best sports stories from around the web. Customize your newsletter to get articles on your favorite sports and teams. And the best part? It's free!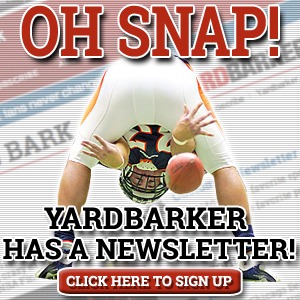 THE COLLEGE FOOTBALL HOT 10