Oklahoma Sooners wide receiver Trey Metoyer has been suspended indefinitely from the team after he was charged Tuesday with two counts of indecent exposure in Cleveland County, according to Oklahoma State Court documents.
According to SoonerScoop.com, Oklahoma wide receiver Trey Metoyer was arrested on felony charges of indecent exposure. He has been indefinitely suspended.
Trey Metoyer was not the Master of His Domain according to this report from Rumors and Rants. The first complaint was filed on Aug. 29 by a woman smoking a cigarette on a balcony who noticed a gentleman of Metoyer's description pulling into a nearby parking space before whipping out his Sooner Schooner and going to town. On Sept. 17, Metoyer approached a woman and asked if he could...
Oklahoma sophomore wide receiver Trey Metoyer is no longer with the football team for disciplinary reasons. While most players typically get the boot from their teams for drug-related violations or not doing well in class, Metoyer's story is a bit more disturbing. According to SoonerScoop.com, Metoyer has been charged with two felony counts of indecent […]
Oklahoma has suspended wide receiver Trey Metoyer indefinitely after he was reportedly charged with two counts of indecent exposure on Tuesday. Coach Bob Stoops announced the suspension Tuesday night. "Trey has not been with us since prior to the TCU game and at this time I do not anticipate that he will return to the team in the future," said Stoops in a statement. ...
Trey Metoyer. Photo via soonerspoers.com. Oklahoma wide receiver Trey Metoyer has suspended from the Sooners' football program following his arrest on charges of indecent exposure. Oklahoma head football coach made the announcement late Tuesday evening. According to Deadspin, Metoyer's arrest stems from two separate incidents where he allegedly exposed himself....
Fortunately for guys like me, jackin' it is not a crime, or I'd be filing this blog from Sing-Sing. But with the exception of that one time in college I forgot to lock the door to my dorm room, I've had the good sense not to do it in front of other people. After all, if there's one thing that our old pal Carl Monday taught us, it's that jackin' it in public is highly...
NORMAN, Okla. -- Listen closely to Trey Metoyer and you'll realize he doesn't say much. Instead of offering information, Metoyer speaks in cliches. Instead of sprinkling in some personality, Metoyer communicates only in vague generalities, applicable to any player, on any team, in any sport. "I'm doing whatever I need to do." "We're taking it one...
MORE STORIES >>
College Football News

Delivered to your inbox

You'll also receive Yardbarker's daily Top 10, featuring the best sports stories from around the web. Customize your newsletter to get articles on your favorite sports and teams. And the best part? It's free!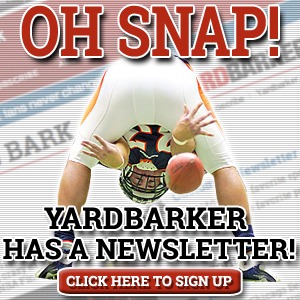 THE COLLEGE FOOTBALL HOT 10