Tyler Bray has decided to forego his senior season with the Tennessee Volunteers and declare himself eligible for the 2013 NFL Draft in April. According to many NFL scouts, Bray finds himself anywhere from the fourth to the ninth best quarterback prospect in the upcoming draft class, as of right now, considering which other players at his position have already announced they will...
Tennessee quarterback Tyler Bray will pass on the opportunity the play his senior season under new Vols head coach Butch Jones. By entering the 2013 NFL draft, Bray joins a fairly shallow QB class that will also include Matt Barkley (USC) and Geno Smith (West Virginia).  Please Click Here To Read This Story
Tennessee Volunteer QB Tyler Bray misspoke Tuesday when he told news reporters that," I'm paid to win football games." Oh really? Reporters were quick to fire back and question the words Bray spoke reports USAToday. Bray quickly back tracked and tried to correct himself by saying, "I mean… my education. That's what the SEC likes to call 'getting paid.'" Maybe Bray...
VOLUNTEERING INFORMATION
Tennessee Volunteers quarterback Tyler Bray misspoke a bit when he told reporters that he's "paid to win football games" when discussing the team's loss to Missouri.
Since we are having a Tyler Bray love affair on this site, there's no point in not sharing this shirt with you all. You've seen Bray's back tattoo here, now you can have your very own shirt with that same tattoo design on it and his number "8″. Enjoy Tennessee fans! Again, here's Bray's tattoo. Previously: Terrible LSU shirt with spelling error Also: Hail Saban …...
ULTIMATE COLLECTIBLE
Shirts Without Random Triangles There may be one thing on the University of Tennessee campus that can trump the fashion savvy and hair discipline of Vols head football coach Derek Dooley. That would be the legendary back tattoo of Vols star quarterback Tyler Bray. With that in mind it was inevitable that someone would immortalize Bray's so-dorky-it's-awesome ink job...
Tennessee Volunteers quarterback Tyler Bray is a projected first round pick, and this season he is continuing to display exactly why. Bray threw for 333 yards and 2 touchdowns in the Volunteers first game of the season against N.C. State and this week he threw for 310 yards and 4 touchdowns against Georgia State. While Georgia State isn't exactly the toughest opponent, Bray has...
Tyler Bray, recently in the news for apartment complex bro moves, appeared in court today as a result of some Fourth of July jet ski bro moves.  From one article on that day's bro moves: "According to Tennessee Wildlife Resources Agency officer Dewayne Williams, Bray was driving a Jet Ski with a woman passenger when he was observed by Williams "hot dogging&quot...
BOAT ROCKER
The hits keep on coming for Tennessee quarterback Tyler Bray. He was in court addressing an issue over the way he was riding a Jet Ski.
VOLUNTARY PUNISHMENT
Tennessee quarterback Tyler Bray was accused of throwing bottles at a car in a parking lot at his apartment complex.
MORE STORIES >>
College Football News

Delivered to your inbox

You'll also receive Yardbarker's daily Top 10, featuring the best sports stories from around the web. Customize your newsletter to get articles on your favorite sports and teams. And the best part? It's free!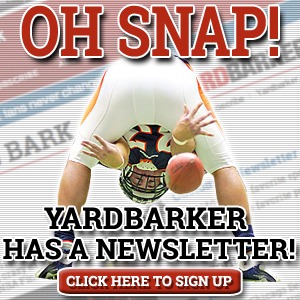 THE COLLEGE FOOTBALL HOT 10