Tennessee Volunteer QB Tyler Bray misspoke Tuesday when he told news reporters that," I'm paid to win football games." Oh really? Reporters were quick to fire back and question the words Bray spoke reports USAToday. Bray quickly back tracked and tried to correct himself by saying, "I mean… my education. That's what the SEC likes to call 'getting paid.'" Maybe Bray...
VOLUNTEERING INFORMATION
Tennessee Volunteers quarterback Tyler Bray misspoke a bit when he told reporters that he's "paid to win football games" when discussing the team's loss to Missouri.
Is the pressure finally getting to Tennessee star quarterback Tyler Bray? Tuesday in practice Bray and Vols' wide receiver Zach Rodgers switched football jerseys when being interviewed by the media. Bray took things even further by donning Rodger's skullcap as well. "We traded roles today," said Rogers. "He's me and I'm him. I tried to get Tyler...
ULTIMATE COLLECTIBLE
Shirts Without Random Triangles There may be one thing on the University of Tennessee campus that can trump the fashion savvy and hair discipline of Vols head football coach Derek Dooley. That would be the legendary back tattoo of Vols star quarterback Tyler Bray. With that in mind it was inevitable that someone would immortalize Bray's so-dorky-it's-awesome ink job...
Tyler Bray, recently in the news for apartment complex bro moves, appeared in court today as a result of some Fourth of July jet ski bro moves.  From one article on that day's bro moves: "According to Tennessee Wildlife Resources Agency officer Dewayne Williams, Bray was driving a Jet Ski with a woman passenger when he was observed by Williams "hot dogging&quot...
BOAT ROCKER
The hits keep on coming for Tennessee quarterback Tyler Bray. He was in court addressing an issue over the way he was riding a Jet Ski.
Tennessee junior quarterback Tyler Bray was caught in the middle of a "boys behaving badly" act and is now paying for it. As the Knoxville News Sentinel reports, Bray and his roommate, Michael C. Grandinetti, were caught vandalizing a car in their apartment complex. The two cracked the windshield and dented the top of 22-year-old Bradi Hudson's car sometime between last Friday...
VOLUNTARY PUNISHMENT
Tennessee quarterback Tyler Bray was accused of throwing bottles at a car in a parking lot at his apartment complex.
MORE STORIES >>
College Football News

Delivered to your inbox

You'll also receive Yardbarker's daily Top 10, featuring the best sports stories from around the web. Customize your newsletter to get articles on your favorite sports and teams. And the best part? It's free!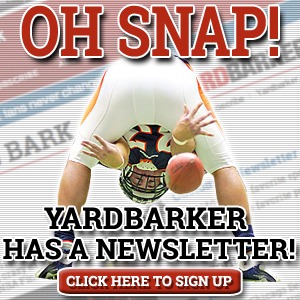 THE COLLEGE FOOTBALL HOT 10