The Cowboys will be on the road against the new look Tennessee Titans this Sunday, and the pressure is on. The Cowboys weren't expected to defeat the 49ers last week, but the miscues raised eyebrows and questioned whether Jason Garrett is improving this team on the field. All eyes will be on Garrett and Tony Romo. Will Garrett have this team prepared or will the come out sloppy...
Literally, a miracle. Nothing short of a "shock the world" type of season for the Dallas Cowboys will keep Jason Garrett as the Cowboys' head coach after 2014. It's painful to put it that way, but it's sadly true. The Cowboys defense was full of question marks before Sean Lee's injury, and now after he's gone down, things have just gotten about 100 times...
I want Cowboys Fans to hope for the best, but this has the potential to be a disaster. Jerry jones said Garett will have no say on offense in 2014. Linehan will final say offense. Romo will also have more power, per jones — Clarence Hill (@clarencehilljr) February 23, 2014 Jones said Garrett will continue his growth as complete head coach by spending his time with defense in...
This past summer, Dallas Cowboys owner Jerry Jones said that this isn't an "Armageddon year" for Coach Jason Garrett.  Today at Cowboys practice, Jones didn't back off of those words. In fact he added to them. According to ESPNDallas.com, Jerry Jones has already come forward and said that Jason Garrett will remain his head coach in 2014. "I'm disappointed that we don't...
Cowboys beat reporter Clarence Hill, Jr. reported Tuesday that Dallas Cowboys owner Jerry Jones has stripped his hand-picked head coach, offensive-minded Jason Garrett, of play-calling responsibilities. As to who will call the Cowboys offensive plays, Jones appointed those duties to offensive coordinator Bill Callahan. By taking away Garrett's best asset, the question becomes why...
It's a conversation we've been having for weeks in regards to what were the other changes Cowboys owner Jerry Jones had in mind when he said he would shake things up. Jones has already replace Rob Ryan and his 3-4 for Monte Kiffin and the 4-3.  Jones hired Rod Marinelli to coach and toughen up the defensive line. Now according to ESPN Dallas, Bill Callahan will take over the...
If you need more assurances that Jason Garrett will be back in 2013, we just got the clincher tonight as Jay Glazer reported that the Saints and Sean Payton have agreed in principle to a 5yr extension. Garrett will be back in 2013 even with a loss to the Redskins. I'm hoping the Cowboys will be able to defeat the Redskins and make a playoff run; however, if we lose, there are a...
Jay Glazer of Fox Sports reports that Jason Garrett will remain the Cowboys head coach next season. Glazer specifically points to the team's overall improvement and the way he handled the Jerry Brown and Josh Brent tragedy as the main reasons why he'll return for another season. There's no question that Garrett's time as the Cowboy's head coach has some ups and downs...
The Dallas Cowboys hired former New York Jets offensive line coach Bill Callahan to become their new offensive coordinator/offensive line coach. The last time Callahan was an offensive coordinator was from 1998-2001 with the Oakland Raiders. Even though Callahan has been given the title of offensive coordinator,  Cowboys head coach Jason Garrett will continue to make the offensive...
Fortunately for the Cowboys, the NFC East has been the most inconsistent division in football this season.  If this were any other season Dallas would probably be out of the playoff race, but the Eagles fell on their faces and the Giants have gone week-to-week.  Regardless of how they got there, Jason Garrett has his team one win away from the playoffs in his first full season...
MORE STORIES >>
College Football News

Delivered to your inbox

You'll also receive Yardbarker's daily Top 10, featuring the best sports stories from around the web. Customize your newsletter to get articles on your favorite sports and teams. And the best part? It's free!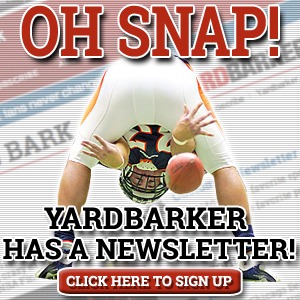 THE COLLEGE FOOTBALL HOT 10