CLEMSON, S.C. (AP) Clemson running back Zac Brooks had surgery on the foot he injured earlier this month. Tigers coach Dabo Swinney had previously said Brooks would miss the season and return next fall as a redshirt junior. Brooks was the team's leading returning rusher and was expected to be a significant part of the 16th-ranked Tigers' offense this season. Swinney also...
CLEMSON, S.C. (AP) Clemson tailback Zac Brooks will miss the season with a foot injury. The school announced Brooks' injury Wednesday. Football spokesman Tim Bourret said Brooks will need surgery but per Clemson policy did not provide specific details on the injury. Brooks was the 16th-ranked Tigers' top returning running back after playing behind 1,000-yard rusher Rod McDowell...
Via AP on Fox
Not only will Clemson's offense need to replace a record-breaking quarterback and two NFL wide receivers this season, including fourth overall draft choice Sammy Watkins, but it will need to find additional help in the running game. Zac Brooks, the Tigers' top returning rusher, is expected to miss the entire 2014 season after suffering a severe foot injury in practice. The...
It was going to be hard enough for Clemson to overcome Florida State in the ACC this year, but Wednesday's news will make the task even more difficult. Clemson announced that running back Zac Brooks will miss the 2014 season due to a foot injury. Brooks finished third on the team last season with 246 rushing yards and two touchdowns, but was expected to take on a much larger...
Clemson's rushing attack suffered a fairly big blow today.  The Tigers' football program officially announced that junior running back Zac Brooks, the team's leading returning rusher, will miss the entire 2014 season with a foot injury sustained at a Monday evening practice.  #Clemson announces top returning rusher Zac Brooks suffered a season-ending foot injury Monday night...
CLEMSON - Zac Brooks really would like to stop disrespecting Raymond Priester, James Davis, C.J. Spiller and Terry Allen.
CLEMSON - At this time a year ago, Zac Brooks was doing all he could to keep his nose above water.
CLEMSON - Offensive coordinator Chad Morris breaks down Zac Brooks' progress, what Sammy Watkins has been up to and the reserves on the line.
CLEMSON - There is little doubt as to whether or not Zac Brooks will avoid a redshirt during his first season on campus.
MORE STORIES >>
College Football News

Delivered to your inbox

You'll also receive Yardbarker's daily Top 10, featuring the best sports stories from around the web. Customize your newsletter to get articles on your favorite sports and teams. And the best part? It's free!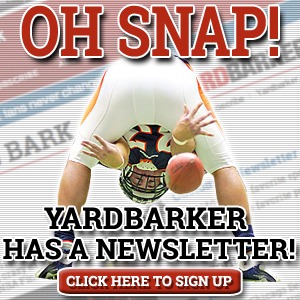 THE COLLEGE FOOTBALL HOT 10