HANOVER, N.H. (AP) Dalyn Williams threw for 156 yards and two touchdowns, leading Dartmouth to a 24-21 victory over Holy Cross on Saturday. Kyle Bramble added 113 yards rushing and Ryan McManus caught eight passes for 88 yards and touchdown for the Big Green, who never trailed in the game. Tied at three early in the second, Dartmouth reeled off 21 straight points, including Williams...
NEW HAVEN, Conn. (AP) Quarterback Dalyn Williams ran in 2 yards for a go-ahead touchdown late in the fourth quarter to push Dartmouth past Yale 38-31 on Saturday. The Big Green tied the score at 31 after Alex Gakenheimer kicked a 35-yard field goal. Yale went three-and-out on its next possession, and Dartmouth drove 11 plays in four minutes for Williams' game-winning score with...
Dominick Pierre ran for 160 yards and a touchdown and Will McNamara had two interception returns for touchdowns as Dartmouth routed Columbia 56-0 on Saturday. Dartmouth (3-3, 2-1 Ivy) amassed 325 yards rushing and 575 of total offense while holding Columbia to just 95 yards. Jon Marc Carrier got the scoring started with a 2-yard touchdown run in the first quarter and a 17-yard...
Dominick Pierre accounted for 230 yards of offense and the go-ahead touchdown to help Dartmouth outlast Yale 20-13 in an Ivy League matchup Saturday. Trailing 13-6 midway through the third quarter, the Big Green (2-2, 1-1) fired back as Dalyn Williams found Bo Patterson for a 32-yard touchdown. Pierre scored from six yards out with 10 minutes remaining in the fourth quarter to...
Dartmouth opened its season by scoring on its first three possessions and held off a fourth-quarter rally to earn a 30-23 win at Butler Saturday. Dominick Pierre ran for a pair of touchdowns after Dalyn Williams opened the game by scoring on a 1-yard run on Dartmouth's first possession as the Big Green took a 21-3 lead early in the second quarter. Pierre finished with three...
When the Dartmouth Big Green traveled to New Haven to face off against its Ivy league opponents Yale, the team forgot a vital piece of equipment for the game. They forgot the kicking tees. Good thing these kids go to an Ivy League school and could use their heads and improvise. Dartmouth kicker R.C. Willenbrock decided to cut down a water bottle and use that as a tee. "I...
MORE STORIES >>
Dartmouth News

Delivered to your inbox

You'll also receive Yardbarker's daily Top 10, featuring the best sports stories from around the web. Customize your newsletter to get articles on your favorite sports and teams. And the best part? It's free!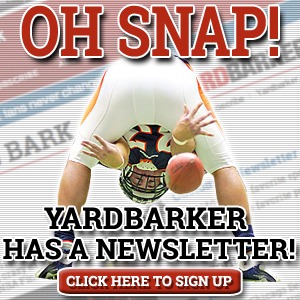 THE HOT 10: Who's Trending