Lonnie McClanahan scored 23 points and UT Arlington defeated Louisiana-Monroe 85-74 on Thursday night. Brandon Edwards scored 19 points for the Mavericks (10-13, 5-6 Sun Belt), who snapped a three-game losing streak. Reger Dowell added 17 points and Jamel Outler 10. The Mavericks played without starting point guard Shaquille White-Miller, who missed his first start in 12 games with...
Lonnie McClanahan had a career-high 25 points and Texas-Arlington used a 9-0 run in overtime to pull away from Louisiana-Monroe 83-79 on Thursday. McClanahan added seven assists, including one to Shaquille White-Miller on a 3-pointer that put UT Arlington ahead for good at 79-76 with 1:18 to play. McClanahan extended the lead to 81-76 on a layup with 28 seconds left. Jamel Outler...
Brandon Edwards scored 16 points and hauled in 10 rebounds as Texas-Arlington pulled away from Division-II Dallas Baptist 81-53 Tuesday night. The Mavericks (3-6) held a slim three-point lead seven minutes into the game, but closed out the first half on a 29-10 run capped off by a 3-pointer and two free throws from Jamel Outler to take a 46-24 lead into the break. They shot 45.2...
Reger Dowell scored a career-high 35 points to lead Texas-Arlington in a 111-64 blowout over Howard Payne on Wednesday night. Brandon Williams and Vincent Dillard each had a double-double for the Mavericks (2-1). Williams came off the bench to score 15 points and grab 10 rebounds while Dillard scored 12 and had 10 rebounds. Brandon Edwards scored 18 points. Donovan Ford led Howard...
LAS VEGAS (AP) -- Karol Gruszecki scored 19 points, and Texas-Arlington cruised into the Western Athletic Conference tournament final with a 69-53 victory over UTSA on Friday night. Gruszecki was 5 of 10 from 3-point range. Jamel Outler added 13 points for the fourth-seeded Mavericks (19-12), who will face No. 3 seed New Mexico State on Saturday with an NCAA tournament bid on the...
ARLINGTON, Texas (AP) -- Kevin Butler scored 18 points and Drew Charles added 12 to lead Texas-Arlington to a 68-47 victory against New Mexico State on Saturday night. Brandon Edwards had 11 rebounds and Jordan Reves five blocked shots for the Mavericks (6-3, 1-0 WAC), who were victorious in their first and last WAC opener. UT-Arlington, after arriving from the Southland Conference...
Karol Gruszecki scored a career-high 18 points and Jordan Reves had a double-double to help Texas-Arlington beat Houston Baptist 81-47 Thursday night. Gruszecki was 5 of 7 from the field. Reves had 10 points, 13 rebounds and five blocked shots. Cameron Catlett had 13 points, and Kevin Butler had 11 points and four steals. Brandon Edwards had 10 rebounds for the Mavericks (5-2)...
AUSTIN, Texas (AP) -- Sheldon McClellan scored a career-high 23 points to help Texas defeat Texas-Arlington 80-62 Tuesday night. McClellan became the fourth different player to lead Texas (6-2) in scoring this season. The freshman averages 10.3 points per game but surpassed that mark in under 10 minutes against the Mavericks (4-3). McClellan converted 4 of his 6 3-pointers. The...
MORE STORIES >>
Texas-Arlington News

Delivered to your inbox

You'll also receive Yardbarker's daily Top 10, featuring the best sports stories from around the web. Customize your newsletter to get articles on your favorite sports and teams. And the best part? It's free!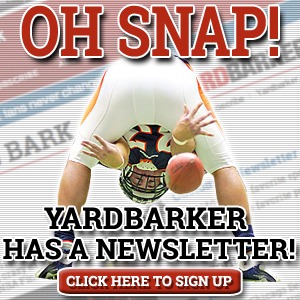 THE HOT 10: Who's Trending