Found June 28, 2013 on Fox Sports Southwest:
PORTO VECCHIO, Corsica (AP) -- The dirty past of the Tour de France came back on Friday to haunt the 100th edition of cycling's showcase race, with Lance Armstrong telling a newspaper he couldn't have won without doping. Armstrong's interview with Le Monde was surprising on many levels, not least because of his long-antagonistic relationship with the respected French daily that first reported in 1999 that corticosteroids were found in the American's urine as he was riding his way to the first of his seven Tour wins. In response, Armstrong complained he was being persecuted by "vulture journalism, desperate journalism." Now seemingly prepared to let bygones be bygones, Armstrong told Le Monde he still considers himself the record-holder for Tour victories, even though all seven of his titles were stripped from him last year for doping. He also said his life has been ruined by the U.S. Anti-Doping Agency investigation that exposed as lies his years of denials that he and his teammates doped. The interview was the latest blast from cycling's doping-tainted recent history to rain on the 100th Tour. Previously, Armstrong's former rival on French roads, 1997 Tour winner Jan Ullrich, confessed to blood-doping for the first time with a Spanish doctor. French media also reported that a Senate investigation into the effectiveness of anti-doping controls pieced together evidence of drug use at the 1998 Tour by Laurent Jalabert, a former star of the race now turned broadcaster. Not surprising in Armstrong's interview was his claim that it was "impossible" to win the Tour without doping when he was racing. Armstrong already told U.S. television talk show host Oprah Winfrey when he finally confessed this January that doping was just "part of the job" of being a pro cyclist. The banned hormone erythropoietin, or EPO, wasn't detectable by cycling's doping controls until 2001 and so was widely abused because it prompts the body to produce oxygen-carrying red blood cells, giving a big performance boost to endurance athletes. Armstrong was clearly talking about his own era, rather than the Tour today. Le Monde reported that he was responding to the question: "When you raced, was it possible to perform without doping?" "That depends on which races you wanted to win. The Tour de France? No. Impossible to win without doping. Because the Tour is a test of endurance where oxygen is decisive," Le Monde quoted Armstrong as saying. It published the interview in French. Some subsequent media reports about Le Monde's interview concluded that Armstrong was saying doping is still necessary now, rather than when he was winning the Tour from 1999-2005. That suggestion provoked dismay from current riders, race organizers and the sport's governing body, the International Cycling Union or UCI. "If he's saying things like he doesn't think that it's possible to win the Tour clean, then he should be quiet -- because it is possible," said American rider Tejay van Garderen of the BMC team. Asked later by The Associated Press to clarify his comments, Armstrong said on Twitter that he was talking about the period from 1999-2005. He indicated that doping might not be necessary now. "Today? I have no idea. I'm hopeful it's possible," he tweeted. In a statement issued before that clarification, UCI President Pat McQuaid called the timing of Armstrong's comments "very sad." "I can tell him categorically that he is wrong. His comments do absolutely nothing to help cycling," McQuaid said in a statement. "The culture within cycling has changed since the Armstrong era and it is now possible to race and win clean. "Riders and teams owners have been forthright in saying that it is possible to win clean - and I agree with them."
Original Story:
http://www.foxsportssouthwest.com/sto...
THE BACKYARD
BEST OF MAXIM
RELATED ARTICLES
They grew up watching Lance Armstrong winning the Tour de France every year. Now, American riders like Andrew Talansky and Tejay van Garderen carry the burden of winning back the trust from fans back home who were angered by seven-time Tour winner's doping. Talansky and van Garderen, both 24, are considered the best of the six Americans in the 100th Tour, which begins on Saturday...
Disgraced former cycling great Lance Armstrong has downsized. The Austin American-Statesman (http://bit.ly/17kq7ol ) reports Armstrong has purchased an Austin home owned by former Lt. Gov. Ben Barnes. A deed filed May 29 does not list a price. The 7,200-square-foot home is on the Travis County tax rolls for $2.7 million. Armstrong declined comment Wednesday. The seven-time Tour...
Lance Armstrong says he still considers himself as the record-holder for Tour de France victories, even though his titles were stripped from him for doping. In an interview with Le Monde, a newspaper he used to scorn, Armstrong claimed it was impossible in his era to win cycling's showcase race without doping. The publication of his comments comes one day before the 100th Tour...
Wait, didn't Lance Armstrong apologize? What's all this, then? The now-disgraced former seven-time Tour de France winner spoke with Le Monde on Friday, the day before the beginning of the 100th Tour de France, and he seemed every bit like the defiant Armstrong that sports fans had come to know before this year, when he tearfully admitted to doping and tried to keep a hold of...
NOW HE SAYS IT
Lance Armstrong spoke with Le Monde, telling the French newspaper that it would have been "impossible" to win the Tour without doping when he was racing.
Shamed American cyclist Lance Armstrong doesn't believe it's possible to win the sport's biggest race without the aid of doping.Armstrong's claim comes on the eve of the 100th Tour de France and puts yet another dark cloud over the tainted history of the race.In an interview with French newspaper Le Monde, Armstrong was asked whether it was possible to perform well...
For almost as long as they have cycled the length and breadth of the country, Tour de France riders have doped - with everything from brandy to ghoulish blood transfusions. Back in 1924, the Pelissier brothers, Henri and Francis, were already telling journalist Albert Londres they rode ''on dynamite'' - using cocaine, chloroform and assorted pills. By the 1990s, riders...
Lance Armstrong says he couldn't have won the Tour de France without doping and feels that he is still the winner of the 1999-2005 races. "It is fine to erase my name from the record book, but the Tour was held between 1999-2005, wasn't it? It was held and there was a winner. Who was he? No one has manifested to claim my jerseys," Armstong told 
Cycling News

Delivered to your inbox

You'll also receive Yardbarker's daily Top 10, featuring the best sports stories from around the web. Customize your newsletter to get articles on your favorite sports and teams. And the best part? It's free!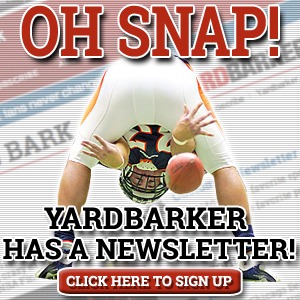 Latest Rumors
The Backyard

Today's Best Stuff

For Bloggers

Join the Yardbarker Network for more promotion, traffic, and money.

Company Info

Help

What is Yardbarker?

Yardbarker is the largest network of sports blogs and pro athlete blogs on the web. This site is the hub of the Yardbarker Network, where our editors and algorithms curate the best sports content from our network and beyond.