The 10 most memorable women from sports movies
10. Keira Knightley - Bend It Like Beckham (2002)
Not just the film that put Keira Knightley on the map, Bend It Like Beckham also pulled off the rare feat of being a movie about soccer that was well-received in the U.S.
9. Vanessa Angel - Kingpin (1996)
I'm not sure anybody could have made getting a beer out of the fridge any more sexy and memorable than Vanessa Angel did in Kingpin. But bonus points go to Randy Quaid for at least trying.
8. Nicole Kidman - Days Of Thunder (1990)
The first film to feature the former Mr. and Mrs. Cruise, Days of Thunder is still the go-to NASCAR flick (sorry Talladega Nights), and Kidman's Dr. Claire Lewicki is a big reason why.
7. Cameron Diaz - Any Given Sunday (1999)
Part Dan Snyder, part Georgia Frontiere, Diaz's Christina Pagniacci is easily the biggest badass on this list. As both the Sharks owner and general manager, she made it clear from the get-go that no one, not Al Pacino, not Jamie Foxx, not even Charlton Heston, was going to intimidate her.
6. Rene Russo - Major League (1989)
You probably didn't expect to see many librarians on this list, but any woman who plays a part in getting the Cleveland Indians to the World Series, even a fictitious one, deserves top 10 placement here.
5. Ali Larter - Varsity Blues (1999)
Three simple words will tell you all you need to know about Larter's performance in Varsity Blues: whipped cream bikini.
4. Kathy Ireland - Necessary Roughness (1991)
The early 90s were dominated by Kathy Ireland, culminating with her indelible role as Lucy Draper, Texas State's soccer player-turned-star kicker.
3. Kim Basinger - The Natural (1984)
Sure, she was outcrazied by Barbara Hershey, but Kim Basinger was simply in her prime during The Natural, and her portrayal of Memo Paris still has men thinking twice before biting into an eclair.
2. Geena Davis - A League Of Their Own (1992)
While portraying the iconic 'Queen of Diamonds' Dottie Henson, Geena Davis did the nearly impossible, by turning the phrase 'You play ball like a girl' from an insult into a compliment.
1. ???
MORE FROM YARDBARKER
Entertainment News

Delivered to your inbox

You'll also receive Yardbarker's daily Top 10, featuring the best sports stories from around the web. Customize your newsletter to get articles on your favorite sports and teams. And the best part? It's free!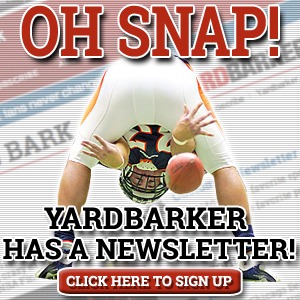 Latest Rumors
Best of Yardbarker

Today's Best Stuff

For Bloggers

Join the Yardbarker Network for more promotion, traffic, and money.

Company Info

Help

What is Yardbarker?

Yardbarker is the largest network of sports blogs and pro athlete blogs on the web. This site is the hub of the Yardbarker Network, where our editors and algorithms curate the best sports content from our network and beyond.