Found October 11, 2012 on Players View:
Via The Player's View:
Earlier today we introduced you to Glen Davis' new dance single "Big Baby Gon Turn It Up." The song brought forth the in-house statement this must be the worst song that an athlete has ever released.
Sadly after we racked our brains and revisited these previous efforts, that was not to be the case. Not by a long shot.
#15 Deion Sanders: "Must Be The Money"
In a g-funk ode to off-key singing, Sanders gives it a go on this tribute to himself. If he played during the Auto Tune era things may have be different. This will not be the last time Prime Time shows up on this list. We love you Deion but nobody can do it all.
#14 Free Reign: "One Step Away"
There are a lot of Cowboys on this list. Makes you wonder if owner Jerry Jones decided to try his hand at pimping his players out in the music business.
No matter, this metal band made up of offensive linemen Leonard Davis, Marc Colombo and Cory Procter that now play for various teams are loud enough but the cliché lives on.
Their generic blend of metal stalwarts Godsmack, Staind and Metallica is for die-hards of either their various teams or the genre only.
#13 Glen Davis: "Big Baby Gon Turn It Up"
You knew he was going to be here at some point. The man that got it all started throws T-Pain's worst Auto Tune nightmare into the blender with pop's version of trance music to have you shaking your head more than your behind.
#12 Shaquille O'Neal: "Skillz"
There are many Shaq audio disasters to choose from but this one kills them all like a sniper. This Dr. Dre influenced beat from the early '90s is what it is and that is pretty bad.
#11 Terry Bradshaw: "I'm So Lonesome I Could Cry"
Based on the world's reaction to his recent comments on Saints quarterback Drew Brees, Terry might be crooning this country ditty right now.
What's worse the outfit or the ear-splitting vocal?
#10 Manny Pacquiao: "Sometimes When We Touch"
I like the Pac-Man but words can't sincerely say what this is all about.
#9 Troy Aikman & Waylon Jennings: "The Good Old Dallas Cowboys"
If it was findable, Aikman's solo single "Oklahoma Nights" would have been here. If you can find it, don't pull the trigger and give it a listen.
This duet should be enough of a sampler platter of what Aikman can do behind the microphone.
#8 FSU Seminoles: "Seminole Rap"
It's too easy to find whack team songs to put this together. If you had to pick the worst of the worst, FSU's rap disaster has to be it.
We stated earlier that Deion Sanders would be back and low and behold it's evident that Sanders knew he was the man.
#7 Wyclef Jean feat. The Rock " It Doesn't Matter"
This lives among the tackiest ideas that anybody ever brought to fruition. Released in 2000 when both The Rock and Wyclef were peaking, it screams good marketing.
All that we got was bad music. This island-flavored car wreck is a mess.
#6 Delonte West feat. Kaye M – "Livin Life Fast"
When hip-hop is done wrong the parody level that oozes out of that situation is as evident as high-beams coming off a monster truck in the middle of the night on a dark road.
Delonte West has always operated as something of a cartoon character both on and off the court. This is further proof as to why that is the case. LeBron James certainly got a nice chuckle out of this.
#5 Corey & The Phins: "Can't Touch Us"
You know the whole thing about trying to not include team songs? The key word was trying. Sorry, Seminoles. You're not the king of this distinguished mountain.
The Miami Dolphins' reckless attempt at a rap song legitimized both Weird Al and Vanilla Ice. Oof.
#4 Golf Boys: Golf Boys: "Oh Oh Oh"
This was supposed to be a joke. This PGA mash-up of the game's hottest players and a boy band is creepy.
The video is far worse than the song is because truthfully the audio itself just sounds like an Escalade commercial, but the visuals are so freighting than even Boy George would find it garish.
#3 John Daly: "I Found It"
A deep sigh is all you will muster for this boogie-woogie slice of shameful blues.
The backup vocals heading into the second verse are fall down funny.
#2 Tony Parker: "Premier Amour"
If this was playing in the club when Parker was injured during Chris Brown and Drake's melee, Parker has no business suing anybody after a fight broke out.
#1 Kobe Bryant feat. Tyra Banks "K.O.B.E.
'The ego has landed' should have been the sub title for one of the worst songs in any genre that has ever left a recording studio. You'll laugh, you'll cry, but most of all you will be angry that you can't get the time invested in checking out the song.
Also from Players View
NFL names the alleged 'Bountygate' snitch
Cleveland Browns fan stabs father over team's loss
NFL superstar WR intimates that he played through a concussion
Original Story:
http://www.playersview.net/the-15-wor...
THE BACKYARD
BEST OF MAXIM
Entertainment News

Delivered to your inbox

You'll also receive Yardbarker's daily Top 10, featuring the best sports stories from around the web. Customize your newsletter to get articles on your favorite sports and teams. And the best part? It's free!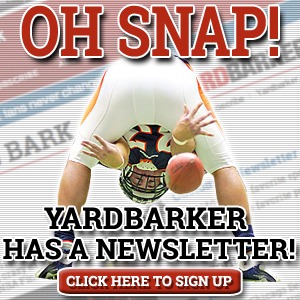 Latest Rumors
The Backyard

Today's Best Stuff

For Bloggers

Join the Yardbarker Network for more promotion, traffic, and money.

Company Info

Help

What is Yardbarker?

Yardbarker is the largest network of sports blogs and pro athlete blogs on the web. This site is the hub of the Yardbarker Network, where our editors and algorithms curate the best sports content from our network and beyond.