Found August 14, 2013 on Bob's Blitz :
The PGA's Ian Poulter has been on a 'quiet golf further' Twitter campaign. Battling with Howard Stern to boot. We should be allowed to take 10'000 volt tazers onto the course and tazer ever muppet who shouts out something stupid. I would laugh then.— Ian Poulter (@IanJamesPoulter) August 11, 2013 This baba boo **** & mash potato crap shouting wouldn't happen at Augusta, The Open, nor would it happen at Wimbledon. Tazer the thrushes.— Ian Poulter (@IanJamesPoulter) August 11, 2013 Stern stepped in with some spelling lessons. RT @HowardStern it's spelled Baba Booey >> How have you only just got more followers than me. I thought you was big time. Hahahaha— Ian Poulter (@IanJamesPoulter) August 11, 2013 I'm calling for @PGATOUR to step in & stop this shouting out right after shots. Message in to @PGATOUR with your thoughts. Tazer them?— Ian Poulter (@IanJamesPoulter) August 12, 2013 Fellow golfer Keegan Bradley got involved when he heard PGA Champ Jason Dufner was going to appear on Stern's SIRIUS show. RT @Keegan_Bradley BRUTAL! pic.twitter.com/dNOOTsju4O >> Can only be Baba Booey boys. Hahahaha— Ian Poulter (@IanJamesPoulter) August 13, 2013 And Poulter then backed off, a bit, on the Baba Booey campaign. I have no problem with this Baba Booey it's simple. @pgatour have said they will remove the few that spoil it for the real golf fans.— Ian Poulter (@IanJamesPoulter) August 13, 2013 I find it an issue when someone shouts out on impact miss it when your putting. Or when some calls Get in the rough. Simply Disrespectful— Ian Poulter (@IanJamesPoulter) August 13, 2013 Is this the atmosphere we are asking for in golf. Golf is a game of respect and honesty Not stupid outbursts. BA Boom.— Ian Poulter (@IanJamesPoulter) August 13, 2013 If you need to be heard on TV at golf tournaments. Can I suggest. Work hard on your game you will be seen & heard at same time. #Simple— Ian Poulter (@IanJamesPoulter) August 13, 2013 RT @sportsyack I love you bro, but you are going to get #BabaBooeyed big time the rest of the year. Have fun. >> Security will be busy then.— Ian Poulter (@IanJamesPoulter) August 13, 2013 Dufner talked with Howard and said, as one might expect, that he wasn't bothered by the yelling. Leaving Bradley to end the stupidity. Pains me to say that duff did a good job on stern. I was hoping he'd be horrible and rushed outta there.— Keegan Bradley (@Keegan_Bradley) August 13, 2013 **Follow us on Twitter, View via Our Mobile Site, or Return to BobsBlitz.com.Follow us on Twitter. Subscribe or Return to Bob's Blitz.
Original Story:
http://feedproxy.google.com/~r/TheNjF...
THE BACKYARD
BEST OF MAXIM
RELATED ARTICLES
SLEEP TIGHT
This is most likely a nicely staged photo of Jason Dufner taking a snooze with the Wanamaker Trophy, but we still love it anyway. Compared to some of the things that go on with Lord Stanley's Cup, this is as tame as it gets and I'm sure PGA officials are pleased about that. [Deadspin] Article found on: Next Impulse Sports
PGA Championship winner Jason Dufner returned home with not only the Wanamaker Cup, but also a handful of acorns from Oak Hill -- and possibly a plan to replace the famed Toomer's Oaks at his alma mater Auburn. The oaks were removed earlier this year after being poisoned by Alabama fan Harvey Updyke Jr. , and reporters who greeted Dufner on his return home suggested he plant...
The last time Jason Dufner was on a Manhattan rooftop, he was down on one knee proposing to his future wife. On Tuesday, Dufner was hoisting the PGA Championship trophy on top of the Empire State Building, two days after winning his first major. The Alabama golfer proposed at a restaurant overlooking the Hudson River amid fireworks on the Fourth of July in 2011. Amanda Dufner was...
Jason Dufner captured his first major after winning the PGA Championship on Sunday at Oak Hill. To no surprise, Dufner has been carrying the Wanamker trophy around everywhere with him, including in the bed where he did his "Dufnering" pose. According to his wife, Amanda Boyd, who stole the show after Dufner's tournament win, she's being replaced by the trophy. Don't think...
Ladies and gentlemen, I present to you 2013 PGA Championship winner Jason Dufner with the photobomb to end all photobombs… Readjusting your junk (or as it's called in golf, the lift, clean and place) without even knowing your picture is being taken is some genius level unintentional photobombing right there. [Deadspin] The post Jason Dufner: PGA Championship winner, photobombing...
Jason Dufner captured his first major title after winning the PGA Championship by two strokes over Jim Furyk on Sunday at Oak Hill.  Before the 36-year-old won his first PGA Championship victory, he was mostly known for the meme "Dufnering". The original "Dufnering" pose happened as Jason sat slumped over expressionless and on his hands at a charity event at a Dallas school...
  According to the PGA, Duffner's wife, Amanda, put this photo of your 2013 PGA champion's double chin on Instagram. She wrote: "I've…
After winning the 2013 PGA Championship, Jason Dufner took his show on the road, posing with his trophy with none other than Howard Stern.
Jason Dufner now has the Wanamaker Trophy, an extremely hot wife, and a brand new puppy all to come home to after a long, rough day of golf.
College Football Hall of Fame coach Dye writes about Jason Dufner and Auburn's competition for the starting quarterback assignment.
Katherine Webb and A.J. McCarron better step up the game if they want to Jason Dufner and Amanda Boyd as Alabama's No.1 couple. That could mean signing more autographs and taking pictures likes these, Webb. [The Big Lead]
Golf News

Delivered to your inbox

You'll also receive Yardbarker's daily Top 10, featuring the best sports stories from around the web. Customize your newsletter to get articles on your favorite sports and teams. And the best part? It's free!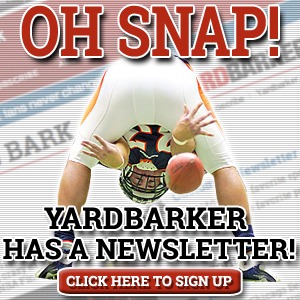 Latest Rumors
Best of Yardbarker

Today's Best Stuff

For Bloggers

Join the Yardbarker Network for more promotion, traffic, and money.

Company Info

Help

What is Yardbarker?

Yardbarker is the largest network of sports blogs and pro athlete blogs on the web. This site is the hub of the Yardbarker Network, where our editors and algorithms curate the best sports content from our network and beyond.