Posted December 04, 2012 on AP on Fox
(Eds: With AP Photos.) By DOUG FERGUSON AP Golf Writer Ian Poulter finished his final round at the World Challenge and was chatting next to the clubhouse at Sherwood when he stopped in the middle of a sentence and changed his tone to one of grave concern. ''What is Tiger doing in a buggy?'' he said. His eyes were fixed on a large video board down the hill and across the 18th fairway that showed Tiger Woods being driven away from the green in the back of a golf cart. The scene was eerily reminiscent to the start of the season at Doral, when Woods withdrew in the middle of the final round because of swelling to his left Achilles tendon. Moments later, Poulter realized this merely was the shuttle that took players to the 14th tee at the top of a steep hill. Exhale. ''I was like, `Hang on a minute.' I thought he might have slipped down a bank and done himself in,'' Poulter said. All things considered, it was a reasonable rush to judgment. Woods has endured some strange seasons during the last few years, and this would qualify as one of them. Go back to that Sunday afternoon at Doral when Woods was taken off the course in a cart, and the TV shot from a helicopter that showed him driving away in what might as well have been a white Bronco. It raised questions about whether he could ever be the dominant player he once had been. And then he won his very next tournament at Bay Hill, his first PGA Tour title in more than two years. Woods' mystique looked as if it might be returning when, at one tournament (Memorial), he faced an impossible shot and chipped in for birdie that carried him to victory. In another, he was on the ropes late in the final round until his challenger threw away a chance to beat him (Bo Van Pelt at the AT&T National). Then there were the majors. Woods had at least a share of the 36-hole lead in the U.S. Open and PGA Championship. Not only did he fail to win, he didn't even finish in the top 10. For years, Woods said it could not be a great year without winning a major, and he still believes that. Throw in some extenuating circumstances, such as his physical health, and he considers 2012 to be a ''pretty good accomplishment.'' He won three times, which would have been considered a down year against his old standard. So where is he now? In about the same spot he was in this time a year ago, only for different reasons. Going into 2012, what appeared to be holding him back from being the dominant player was his own game. Going into 2013, he doesn't look like the dominant player because of someone else - Rory McIlroy. McIlroy was voted PGA Tour player of the year Tuesday, presumably by the kind of margin that routinely once belonged to Woods. McIlroy won a tour-high four tournaments, including a major, the money list and the Vardon Trophy for lowest scoring average. That's a dominant year. There have been 11 changes among four players at No. 1 in the world since Woods abandoned the spot toward the end of the 2010 season, and it has looked like a game of musical chairs. That's no longer the case. McIlroy found another gear in August, and he now has the largest margin in the ranking since the glory days of Woods. The player Woods is trying to beat has that beautiful blend of balance and power, and he can putt. That's tough to beat. Plus, McIlroy is still only 23 and doesn't have four knee surgeries behind him. Then again, there has never been another player like Woods in the modern game, so he can't be ruled out. Jack Nicklaus set the standard with 18 majors, the record Woods is trying to catch. Not even Nicklaus won as prolifically as Woods at this stage in their careers, however, which is why it's foolish to write off Woods - not only in his pursuit of Nicklaus in the record book, but of McIlroy on the golf course. Woods still points to his health, and he is quick to note that this was his first full season since 2009 (even that one didn't start until Match Play in late February because he was coming off major knee surgery). ''I still feel I have some of my best golf to play, and in order to do that, I had to be healthy, and this year is headed in the right direction,'' Woods said. ''I'm very excited about next year. Rory is ranked No.1. He deserves it. He's won tournaments all around the world. He's had high finishes on top of that, and that's how you do it. ... He should be very proud of the season he's had, and I'm sure he's excited about what next year holds for him, as well.'' Woods finished his season with five straight finishes in the top 10, his longest streak since the spring of 2009, though he didn't win. He planned to put the golf clubs away until after Christmas, except for messing around with his son, Charlie. The list of improvements is a lot shorter than it was at this time a year ago. ''It's not a laundry list like it was the last couple years,'' Woods said. ''I've already made the big changes. They're already in. It's the little tweaks here and there.'' But the question remains: If Woods and McIlroy face each other down the stretch, where is your money? That used to be easy to answer no matter who was challenging Woods. It's a question U.S. Open champion Webb Simpson wasn't willing to tackle. ''I'm not going to pick because obviously you've got the greatest player of all time versus the guy who's playing better than anybody in our sport,'' Simpson said. ''What Rory has done this year is remarkable. ... But again, to choose a player over Tiger would be tough given what he's done.'' Perhaps a clearer answer will be revealed in 2013. Woods and McIlroy both start the new season Jan. 17 in Abu Dhabi.
Original Story:
http://msn.foxsports.com/golf/story/P...
THE BACKYARD
BEST OF MAXIM
RELATED ARTICLES
Tiger Woods put the finishing touches on a season he's calling a success with a tie for fourth at his World Challenge at Sherwood Country Club. It wasn't his best work. Apart from a majestic 3 wood on the par-5 16th from 252 yards that set up a too little, too late eagle, the only magic he could summon on a soggy Sunday afternoon came on the greens. But because of indifferent...
In my opinion, the "mashed potatoes!" chant that made its debut during the Chevron World Challenge last year is one of the best things golf fans have ever come up with. I love watching golf, but I can only take so much golf clapping. That's why when this guy yelled "mashed potatoes!" after Tiger Woods stroked a tee shot I laughed off-and-on for about three days. Either...
Last year, it was a chat with the stars from the ''Twilight'' franchise. This year, it's a meeting with Tiger Woods and a role in his popular golf video game. Life keeps getting more surreal for American teenager Lexi Thompson, who is in the United Arab Emirates to defend her title at the Dubai Ladies Masters, which begins Wednesday. She won the tournament in...
The Sports Business Daily has done an incredible job of compiling a list of what each player who plays in a bowl game will receive as a gift and we are pleased to share it with you.  I'm a little torn as to which Bowl Game has the best gifts, but you can stick me in a gifting suite any day and I'd be happy.   Also, a Chick-fil-A gift card doesn't sound too shabby to me....
With 35 bowl games slated for 2012-13, the NCAA is allowing each bowl to award up to $550 in gifts to 125 participants per school. Additionally, schools can buy additional packages so they can distribute to participants beyond the 125 limit. Participants can also receive awards worth up to $400 from the school and up to $400 from the conference for postseason play, covering both...
Are you curious to know what your favorite college football team will receive as gifts for playing in a 2012-13 college football bowl game this year? The NCAA allows the bowls to give the players gifts who total value cannot be more than $550. The schools and conferences can also provide up to $350 in gifts each as well. A full look at what your favorite college team will receive...
Borrowed from Cosby Sweaters, here's the list (as compiled by Sports Business Daily) of what each player who plays in a bowl game will receive in swag for playing in said bowl game. The list of items for each game is pretty sweet in its own way, and it's hard to determine which game is offering up the best stuff.  All I know is, reading this list makes me wish a) I had some...
Remember when Tiger Woods showed off more off his fancy trick shots by juggling a golf ball with a sand-wedge for Nike? Tottenham Hotspur and Wales national team winger Gareth Bale showed off... Full story at Bob's Blitz ~ http://www.bobsblitz.com
Golf News

Delivered to your inbox

You'll also receive Yardbarker's daily Top 10, featuring the best sports stories from around the web. Customize your newsletter to get articles on your favorite sports and teams. And the best part? It's free!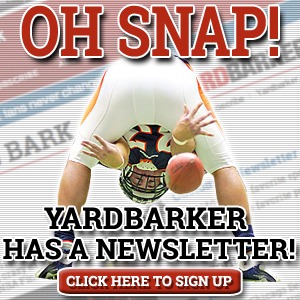 Latest Rumors
The Backyard

Today's Best Stuff

For Bloggers

Join the Yardbarker Network for more promotion, traffic, and money.

Company Info

Help

What is Yardbarker?

Yardbarker is the largest network of sports blogs and pro athlete blogs on the web. This site is the hub of the Yardbarker Network, where our editors and algorithms curate the best sports content from our network and beyond.