Found April 13, 2013 on Fox Sports:
The 5-iron was almost as good as the wedge the day before. Tiger Woods played the 15th hole Saturday as if he wanted payback, and this time there was nothing controversial about it. The 10-foot eagle putt slid just by the left side, but birdie was almost as good. Woods was not only still playing, but back in contention for a fifth green jacket on what was easily the most unusual day in his 19 years in the Masters. ''Under the rules of golf I can play,'' Woods said. ''I was able to go out there and compete and play.'' A day that began with the threat of a possible disqualification ended with Woods surrounded by media as the sun started to fade behind the towering Georgia pines. But the questions were about what happened the day before, rather than the 5-iron he hit close on No. 15 or the 2-under 70 he posted to move within four shots of the lead. That he started his third round two shots worse than where he stood the night before wasn't all that bad. After signing a scorecard that didn't include a penalty for an improper drop on the 15th hole, there was a real possibility Woods could have been heading home Saturday instead of to the first tee. Once there, he was determined to make his good fortune pay. ''I was fired up and ready to play,'' Woods said. ''I was five back and wanted to cut that in half. I kept it within reach and, as we all know, if you're six shots within the lead on the back nine on Sunday you're in it.'' Woods was pumped, indeed. His fairway wood found the short grass and he followed with an iron that rolled just 2 feet past the cup. The birdie touched off the first big roar of the afternoon and a big crowd followed him to the second hole, sensing that this might be a special round. If the events of the morning were weighing on his mind, Woods didn't show it. If anything, he seemed relieved to be playing after being summoned to the course at 8 a.m. to explain what happened when he took his drop on the 15th hole after hitting a wedge so perfect it struck the flagstick and ricocheted back into the water fronting the green. If he didn't explain it well after his round Saturday, maybe it was because his explanation the day before was what got him into trouble in the first place. Masters officials - acting on a tip from a television viewer - had decided among themselves that Woods would not be penalized for the drop, but that changed after hearing comments made by Woods that he dropped back two yards so he wouldn't hit the pin again. That would be taking advantage of a drop, something that carries a two-stroke penalty. Upon further review it was deemed just that, though Masters officials declined to disqualify Woods for signing an incorrect scorecard because he didn't know he was under investigation when he signed it. ''There's no question that Tiger should be penalized,'' Masters competition committee chief Fred Ridley said before Woods teed off. ''That's not the issue. The issue is what should we do in imposing that penalty.'' Woods got the word he might be in trouble in a text from his agent, and was complimented by Ridley for his candor when he met with Masters officials. The penalty was quickly adjudicated, and he was sent on his way before coming back alone in a black Mercedes SUV shortly before noon to play his third round. Later, CBS would open its telecast with announcer Jim Nantz talking about how Woods made an ''innocent'' and ''absent-minded'' mistake. ''I've seen guys get DQ'd before,'' Woods said. ''The rules officials did a fantastic job.'' Woods had a chance to make an early run after his opening birdie but missed short birdie putts on the next two holes and made the turn in even par. He finally got things going on the back nine - where he had just made one birdie in the first two rounds - with three birdies in four holes, including his last on the par-5 15th. That was the hole where his wedge went in the water on Friday and he made what he thought was a bogey 6. It was turned into a snowman 8 with the penalty by the time he teed off and he technically cut his second round score in half with his birdie 4. Woods finished with three pars, including an up-and-down on No. 18 that he finished off with a 10-foot putt. He gave it a little fist pump and headed toward the clubhouse, with the crowd cheering his every move. `It's tough out there,'' Woods said. ''This is a normal Masters. We had soft conditions but the greens aren't soft anymore. We had serious speed; they were moving.'' The round put Woods at 213, 3 under for the tournament and four back of leaders Brandt Snedeker and Angel Cabrera. It's a spot that gives Woods hope on Sunday to end a nearly five-year victory drought in major championships, though he has never come from behind on the final day to win a major. ''It started off obviously different, but I'm right there in the ballgame,'' Woods said. ''As of right now I'm four back with a great shot to win this championship.'' Woods answered a few questions after the round, but clearly wasn't about to get in any long discussions about his possible disqualification. He quickly moved to the practice green, where he threw down a half dozen balls and began hitting 3-footers, one after another. It was back to golf. And those are the putts he'll have to make on Sunday if he wants to win a fifth green jacket.
Original Story:
http://msn.foxsports.com/golf/story/T...
THE BACKYARD
BEST OF MAXIM
RELATED ARTICLES
One of the greatest football players ever, Joe Montana, vented his frustration over the decision that was made by the Augusta National rules committee one day after Tiger Woods took an illegal drop on 15 at the Masters, after his approach shot hit the pin and rolled into the water. Woods was penalized two-strokes and began the third-round -1. Montana's problem was that the penalty...
Tiger Woods was assessed a two-stroke penalty Saturday for his drop in the second round of the Masters, but was not disqualified. Below is the Masters' statement on the decision: ''Yesterday afternoon, the Rules Committee was made aware of a possible Rules violation that involved a drop by Tiger Woods on the 15th hole. ''In preparation for his fifth shot, the...
The New York Post ran the following headline (seen above) for its coverage of the Masters on Sunday.The headline is in direct reference to Tiger Woods' controversial two-stroke penalty and his reputable promiscuous past. Naturally, the Post decided to capitalize on their chance to feature a play on words that covered both. Many fellow golfers are upset with the PGA's ruling...
This article is the work of guest blogger Felipe Diaz, a fine and enthusiastic young man from the great state of Wisconsin who is currently a junior at the University of Wisconsin-Milwaukee studying Film Production and Marketing. On Sunday the New York based tabloid ran a cleverly titled article on Tiger Woods' struggles with the old rulebook at the Masters this past weekend. In...
Tiger Woods knew this day should've turned out so much better. He was cruising toward the end of the second round at the Masters on Friday, tied for a share of the lead and looking every bit like the guy who would be in control heading to the weekend. Then, with one tough break at the 15th hole, everything changed. Woods struck the flagstick and wound up in the water, forcing...
Tiger Woods took to Twitter to release a statement regarding the Masters' rules committee's decision to give him a 2-stroke penalty for a bad drop. [via] Article found on: Next Impulse Sports
Tiger Woods was golfing well at the 2013 Masters Tournament, but what's important is the fact that he was dancing even better.
AUGUSTA, Ga. (AP) Tiger Woods dropped two strokes at the Masters before he even hit a shot Saturday, and he still has a chance to wear another green jacket. Woods shot a 2-under 70 in the third round at Augusta National, shaking off a two-stroke penalty assessed before he went out to the first tee. When he walked off the 18th green after sinking a testy par putt, he was four strokes...
A Masters that began so swimmingly for Tiger Woods effectively ended late in the second round, when his near-perfect wedge struck the flagstick at No. 15 and ricocheted into the water.
You can remember the 2013 Masters for Adam Scott's thrilling playoff victory over Angel Cabrera, the slow-play penalty leveled against a 14-year-old kid from China, or the two-stroke penalty a television viewer called on Tiger Woods for an illegal drop. The 2013 Masters was as memorable, strange, controversial and dramatic as any sporting event I can remember. It was Mike Tyson...
Golf News

Delivered to your inbox

You'll also receive Yardbarker's daily Top 10, featuring the best sports stories from around the web. Customize your newsletter to get articles on your favorite sports and teams. And the best part? It's free!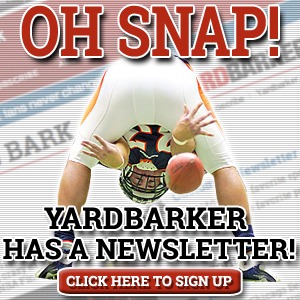 Latest Rumors
The Backyard

Today's Best Stuff

For Bloggers

Join the Yardbarker Network for more promotion, traffic, and money.

Company Info

Help

What is Yardbarker?

Yardbarker is the largest network of sports blogs and pro athlete blogs on the web. This site is the hub of the Yardbarker Network, where our editors and algorithms curate the best sports content from our network and beyond.