Found January 22, 2013 on Fox Sports:
Based on his record alone, there could be cause for alarm the way Tiger Woods started his season. Woods never finished out of the top 10 in his season opener until his 13th season, when he was coming off reconstructive surgery on his left knee and was eliminated in the second round of the Match Play Championship. He was eliminated on the second day of the Abu Dhabi Championship in memorable fashion - a late rally to seemingly make the cut with one shot to spare, only to be informed that he was not supposed to get relief from an imbedded lie in sandy soil on the fifth hole. Two shots were added to his score, and Woods was on his way back with only the 10th missed cut of his career, his first outside the PGA Tour and a bad start to the year. The more important measure, however, is this week at Torrey Pines. Woods has won seven times as a pro on this track along the Pacific bluffs. It's a public course, but it feels as if he owns it. Such is his dominance at Torrey Pines that after the first round of the 2008 Buick Invitational, when Woods opened with a 67 on the South Course, a caddie standing behind the 18th green said, ''He just won two tournaments with one round.'' Sure enough, Woods won that week by eight shots, and then won the U.S. Open that summer on a mangled knee in a playoff. That was his 14th - and at the moment, his last - major championship. That also was his last win at Torrey Pines. He didn't play in 2009 because he was still recovering from knee surgery. He didn't play in 2010 because he was recovering from the humiliating collapse in his personal life. The last time he played Torrey Pines was in 2011, which turned out to be the worst season of his career. He was embarking on a brand new swing, his game was a wreck and it showed. Woods went 74-75 on the weekend and tied for 44th. Where is he now? ''It's nice to be healthy, to be able to train and practice and do all of the things that I know I can do,'' Woods said Tuesday after playing the back nine on the South Course. ''It's definitely a very different feeling, so it's nice to be back. It's nice to get out there and play a course that I know.'' When it comes to horses for courses, Woods is a thoroughbred at Torrey Pines. The only course comparable to his success level at Torrey would be Firestone, where he also has won seven times and never finished out of the top 10 until 2010 and 2011, both times when his game was a mess. He has won seven times at Bay Hill, but that's different from the other two because Woods has seven finishes out of the top 10. Bay Hill always has been feast or famine. ''This has always been a pretty good benchmark, hasn't it?'' Geoff Ogilvy said. If he doesn't win this week, it certainly wouldn't be a disaster. Woods is getting older, and the competition is getting deeper every year. Winning is not as easy as it was. But how he plays this week could be a fair measure of his game going into a pivotal year when the balance of power has shifted to 23-year-old Rory McIlroy. Woods talks a lot about the courses where he feels most comfortable, with Torrey Pines and Firestone at the top of his list. He also includes Augusta National and St. Andrews. Most telling was his last win at Torrey Pines. He was runner-up at the Masters that year, and then had arthroscopic surgery to repair some cartilage damage in his left knee that caused him to miss Quail Hollow and The Players Championship. He was getting ready for the U.S. Open when doctors found two stress fractures of the left tibia and recommended six weeks off, which he ignored. So when he showed up at Torrey Pines, the opening round was the first time he had walked 18 holes since the final at the Masters. Of his 14 majors, this was among the most remarkable, foremost because of the injury. ''Here I am just talking about it and my hands are sweating just thinking about the feeling I had to get through each and every day,'' Woods said Tuesday. ''Just trying to get up and having to warm up again and go to the gym. I just don't want to move. Then having to get out here and warm up and trying not to show you guys and any of my competitors what I was feeling. It was a very difficult week.'' But it was at Torrey Pines. Could he have won the U.S. Open in that kind of physical shape had it been played anywhere else? ''Yeah,'' he said. But did it help that it was Torrey Pines? ''Yeah, definitely. Probably those three courses I just mentioned,'' he said, referring to Torrey, Firestone and Augusta. Woods won a Junior World Championship at Torrey Pines as a teenager. He first came to the course with his father for the Andy Williams Invitational, spending most of his time watching the California players - Mark O'Meara, John Cook, Corey Pavin. He recalled seeing Andy Bean reach the par-5 18th in two shots. It's different now. The world watches him. That much was evident when he finished the 18th hole of a practice round on a cool, quiet morning. The golf course, which had been so quiet, came to life with a few hundred rushing over to a walkway with hopes of an autograph, and the pounding of steps heard on a bridge as two dozen photographers trampled behind him. McIlroy is taking the next month off. The field at Torrey Pines includes Dustin Johnson, Masters champion Bubba Watson, defending champion Brandt Snedeker, Keegan Bradley and Phil Mickelson. But it's still Torrey Pines. This is where a healthy and happy Woods is usually at his best.
Original Story:
http://msn.foxsports.com/golf/story/T...
THE BACKYARD
BEST OF MAXIM
RELATED ARTICLES
RUMOR MILL
There is now speculation that Tiger Woods and Lindsey Vonn are dating, with one source saying, "He wants to marry again and thinks Lindsey could be the woman."
Less than a week ago it was being reported that Tiger Woods wanted to remarry Elin and was willing to offer her a huge sum of money in a prenup to try and get her back.  Now it is being reported that Woods has linked up with Lindsay Vonn.  Vonn, a former Gold Medal Olympic Skier, just had her divorce from Thomas Vonn finalized earlier this month.According to The Daily Mail, Tiger...
The next golf prodigy has been discovered thanks to YouTube.Seen here is a 17-month old baby crushing plastic golf balls with his plastic club. His hand-eye coordination is absolutely incredible. And he is already a few months ahead of where Tiger Woods was at this age. We know how his professional golf career has turned out.Could this little guy be the next star? Look at, Rory McIlroy...
Tiger Woods met with the media Tuesday in advance of the Farmers Insurance Open. Woods is back on familiar territory after missing the cut in Abu Dhabi. He's a six-time winner of Torrey Pines' PGA Tour event and also won his last major championship, the 2008 US Open, here on the California Coast. Here are Five Things you need to know from his pre-tournament presser: 1....
You have to love MailOnline. Last week, 'DAILY MAIL REPORTER,' reported that Tigert Woods was 'attempting to win his ex-wife Elin Nordegren back with a $200 million deal, according to the National... Full story at Bob's Blitz ~ http://www.bobsblitz.com
The chatter and speculation hasn't stopped since the players arrived at Torrey Pines this week for the Farmers Insurance Open. The focus of such a busy week is sure to shift to another topic on Thursday. Yes, there's a golf tournament to be played. Tiger Woods is back on the course that has brought him seven titles as a pro, hoping to get a good idea where his game is headed...
A week after a report surfaced that Tiger Woods was interested in remarrying ex-wife Elin Nordegren, numerous reports Wednesday said that the golfer is actually involved in a romantic relationship with Olympic and world champion skier Lindsey Vonn. The Daily Mail reported that the two began dating in November of last year, and that the 37-year-old Woods recently took a romantic...
"Wow!" This was the expression that was swirling in my mind last Wednesday, Friday, and Sunday, but for completely different reasons. via sirshanksalot.com On Wednesday, I was contemplating finally being able to see Rory McIlroy, Tiger Woods, and Phil Mickelson tee it up in 2013. These are arguably golf's biggest stars and they shared the same weekend together, although only...
Golf News

Delivered to your inbox

You'll also receive Yardbarker's daily Top 10, featuring the best sports stories from around the web. Customize your newsletter to get articles on your favorite sports and teams. And the best part? It's free!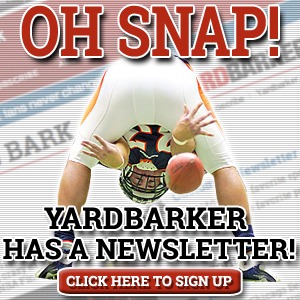 Latest Rumors
The Backyard

Today's Best Stuff

For Bloggers

Join the Yardbarker Network for more promotion, traffic, and money.

Company Info

Help

What is Yardbarker?

Yardbarker is the largest network of sports blogs and pro athlete blogs on the web. This site is the hub of the Yardbarker Network, where our editors and algorithms curate the best sports content from our network and beyond.