Found June 19, 2012 on Legend of Cecilio Guante:
PLAYERS:
Webb Simpson
,
Jim Furyk
,
Rusty Kuntz
,
Buddy Groom
,
Scott Speed
,
Tank Johnson
,
Rampage Jackson
,
Marvin Hagler
,
Usain Bolt
,
Vince McMahon
,
Brooklyn Brawler
TEAMS:
Philadelphia Eagles
,
Cincinnati Bengals
,
Ohio State Buckeyes
Webb Simpson, appropriately named U.S. Open Champ. Congrats to Mr. Webb Simpson on winning the U.S. Open on Sunday. We at The Legend know as much about Webb Simpson as the rest of you, close to zero. But what a great name for a golfer! Would we have preferred to see somebody we've actually heard of win our national golf championship? Perhaps. Maybe a former champion like Jim Furyk or Graeme McDonald. the two golfers who made up the final pairing on Sunday. Maybe a certain player who has amazed us by doing things we've never seen done on a golf course before, but has been struggling to return to his dominant form after a slew of injuries, and dealing with the consequences of finding out that he can bag any chick he wants just by being present and breathing AFTER he got married? We'd take a victory out of that guy in a heartbeat! But, that guy and all the other "name" players wilted under the pressure of the moment  and difficulty of the Olympic Club. Not Webb Simpson, he just went out there and grinded his way to a second straight 68, and took the championship home. Maybe he isn't the familiar superstar we hoped would win, but hot damn, doesn't it soften the blow that he has a perfect golfer's name? Webb Simpson. Out of the cradle and into the Country Club, right? If you were named Webb Simpson, don't you think you'd play golf? Maybe professional golf? You'd have to at least give it a shot, right? The Legend appreciates professional athletes whose names are tailor made apropos for their craft. Like Webb Simpson had to be a golfer, these guys had to do what they did. Their names demanded it. And I swear, I won't make any Dick Trickle, Dick Pole, or Rusty Kuntz jokes. Buddy had to be a lefty out of the pen, right? Buddy Groom, Left Handed Relief Pitcher — The ole southpaw out of the pen. A wily lefty with a middling ERA, about a .500 record, tricky stuff, and a permanent spot on the roster. Buddy Groom plied his trade from the early 1990′s until the mid-2000′s, getting lefties out with the big hook (you'd have to imagine Buddy was throwing benders and not gas, right?) for 14 years. You can call your lefty bullpen specialist whatever you want, we'll call ours Buddy Groom. Na'il Diggs, Linebacker – Na'il Diggs was a linebacker a The Ohio State University, and was drafted by the Packers in the 4th Round of the 2000 NFL draft.  He's played strong and weakside linebacker for four different teams. He's currently on the Charges roster. He sounds like a linebacker. Mike Quick, Wide Receiver — Quick was a wide receiver for the Philadelphia Eagles from 1982-1990. He's a wide reciever, his name is Quick. Works for me. Scott Speed, Race Car Driver — Speed has raced Formula One, NASCAR Sprint Series, NASCAR Truck Series, and NASCAR Nationwide Series.  No further explanation required. Colt McCoy, Quarterback — While Colt seems to have lost the starting QB job in Cleveland before training camp has even started, they can't take away his perfect QB name. And if the whole NFL thing doesn't work out, his name works for rodeo as well! Tank Johnson, Defensive Tackle — A 2004 second round pick with the Bears. Has moved around the league and doesn't appear to be on anyone's roster at this point. Legal troubles have followed Tank around. But who doesn't want a tank plugging up holes on the interior of the line? Rampage Jackson, MMA — I dock points here, because it seems like this is a WWE style name made up by the hype machine. Marvin Hagler, Boxer — Maybe his name seems like a perfect boxing name because of the Marvelous one. All I know is this, Marvin Hagler just sounds like somebody who is going to pound your face in. Usain Bolt, Track Champion — World record holder in the 100 meters and the 200 meters from Jamaica. Fastest man on the planet. You might say he's lightning fast (groan). Kicky Johnson, Soccer Legend — When Kicky rose to soccer superstardom in the mid-1970′s, the British Press had a field day with his name. Known for once scoring from 90 yards out with a powerful drive, Kicky put Australian soccer on the map. Or he would have, if I didn't just make him up.       Big Ern Honorable Mention: These names are great, the were just all made up by Hollywood or Vince McMahon or Vince McMahon's dad (Vince McMahon). Clubber Lang, boxer; Ernie "Big Ern" McCracken, bowler; the Brooklyn Brawler, wrestler; Killer Kowalski, wrestler; Clu Haywood, baseball; Bump Bailey, baseball. We undoubtedly missed some. We would love to hear from the gallery on this.
Original Story:
http://legendofcecilioguante.com/2012...
THE BACKYARD
BEST OF MAXIM
RELATED ARTICLES
CNN caught with the man who interrupted Webb Simpson's U.S. Open interview. The man, who calls himself "Jungle Bird", go figure, gave CNN the play-by-play of how he we able to crash the interview and what happened after police apprehended him. He then apologized to Webb Simpson and stated that he didn't intend to steal his moment; he was just using it to champion the cause...
((HT: Golf Channel on NBC/USGA/youtube)) Webb Simpson got his first major title at The Olympic Sunday- beating Graeme McDowell and Michael Thompson by a stroke... But Simpson couldn't enjoy it because of this jagoff... Simpson wins $1.44-million for his one-over par 281 score and adds his name to the list of Simpsons who have won in San Francisco...
Webb Simpson used a stunning 10-minute stretch to win the US Open at The Olympic Club at San Francisco on Sunday. Tied with Jim Furyk for the lead and putting on 18, Simpson sank his par putt to finish with a 2-under 68 and close his tournament at 1-over par, putting the pressure on Furyk two holes back. Furyk, after driving far left on 16, bogeyed the hole to drop to 2 over on...
The man who crashed Webb Simpson's U.S. Open trophy presentation not only has a name -- he also has a cause. He calls himself "Jungle Bird," according to Awful Announcing, and he has a reputation for interrupting events in the hopes of raising awareness about deforestation. Supposedly a 40-year-old man from the United Kingdom, he has a YouTube channel and a Facebook...
Webb Simpson's U.S. Open victory was both special and hilarious. Nothing about Simpson's play, which included four big birdies around the turn, was particularly funny, but the golfer's post-tournament interview with NBC's Bob Costas ended up delivering plenty of comedic value. As Simspon accepted his trophy and answered questions from Costas, a crazed fan suddenly...
The 112th U.S. Open concluded on Sunday at The Olympic Club in San Francisco, California with Webb Simpson hoisting the trophy after his final round 68. A tournament that began with the questions of whether Phil Mickelson would finally win a U.S Open title or if Tiger Woods could get one major closer to tying [...]
Sunday at the 2012 U.S. Open started with 2 players in red numbers, Jim Furyk and Graeme McDowell, but ended with 0 players in the red and Webb Simpson as the winner at 1-over. Simpson shot back-to–back 68′s on Saturday and Sunday to put him in the clubhouse as the leader as he waiting for Furyk, McDowell and the rest of the field to finish behind him. McDowell has a birdie put...
A slightly hilarious and crazy fan dressed as what we can only determine being a rooster took center stage during the U.S. Open trophy presentation to video bomb with the best of them. The fan got directly in front of the cameras, trophy and Webb Simpson to let off some rooster noises. You have to love it. via @jimmytraina Article found on: Cosby Sweaters
SAN FRANCISCO -- Webb Simpson won the U.S. Open and put two more names into the graveyard of champions. Overlooked for so much of the week, Simpson emerged on a fog-filled Sunday at The Olympic Club with four birdies around the turn and a tough chip out of a hole to the right of the 18th green that he converted into par for a 2-under 68. He finished at 1-over 281, and it was enough...
A peculiar piece of history will be on the line at the British Open. U.S. Open champion Webb Simpson became the 15th player to win the last 15 majors, matching the longest such streak since the Masters began in 1934. There also were 15 consecutive different major champions from 1994 through 1998. There are a couple of similarities between the streaks. The first one started with...
For those of you who do not know, golfer Webb Simpson won the 2012 U.S. Open making it his first major win of his career. During the post-trophy presentation interview with NBC's Bob Costas, a British fan who goes by the name of "Official Jungle Bird" decided to photobomb the interview with some awesome squawking: (Courtesy of Last Angry Fan)
Golf News

Delivered to your inbox

You'll also receive Yardbarker's daily Top 10, featuring the best sports stories from around the web. Customize your newsletter to get articles on your favorite sports and teams. And the best part? It's free!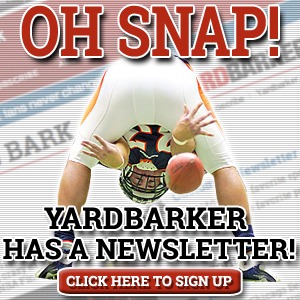 Latest Rumors
Best of Yardbarker

Today's Best Stuff

For Bloggers

Join the Yardbarker Network for more promotion, traffic, and money.

Company Info

Help

What is Yardbarker?

Yardbarker is the largest network of sports blogs and pro athlete blogs on the web. This site is the hub of the Yardbarker Network, where our editors and algorithms curate the best sports content from our network and beyond.