Posted April 04, 2013 on AP on Fox
Tiger Woods in a green jacket once felt like an annual celebration of spring, as regular as the azaleas bursting with color at Augusta National. Now it's more like a fading memory. It has been eight years since Woods rolled in a 15-foot birdie putt to win the Masters in a playoff for his fourth green jacket. He appeared to be well on his way to living up to that audacious prediction of Jack Nicklaus, who played a practice round at Augusta with Woods -- then a 19-year-old amateur -- and Arnold Palmer. Nicklaus came away so impressed that he considered his six Masters and the four won by Palmer and said, ''This kid should win more than that.'' But the major Woods was supposed to dominate has become the major he can't seem to win. ''It's been one of those things where I've been close there so many times on that back nine on Sunday, and I just haven't won,'' Woods said. ''I've been in the mix. Been on the periphery and played myself into the mix. I've been right there with just a few holes to go, and it just hasn't happened. Hopefully, this year it will be a different story.'' This might be his best chance to end the drought -- not only at the Masters, but in the majors. He last won one at the 2008 U.S. Open. Woods is fully healthy for the first time in years. He appears happy after a scandal that ruined his marriage and his image, announcing a few weeks ago that he's dating Olympic ski champion Lindsey Vonn. He is winning again at an alarming rate - six out of his last 20 on the U.S. PGA Tour, including consecutive wins heading into the Masters. And he is back to No. 1 in the world. Also back is his swagger. ''Everyone is waiting for the first major. I don't know why they're waiting for that,'' Hunter Mahan said. ''I think he's done enough this year to realize that he's still really good and he's still better than everyone else. He set the bar so high, I don't know what is going to make everyone go, `He's back to that time.' ''It seems hard to be intimidating in golf,'' Mahan said. ''But I think he's the closest thing to it.'' Now all Woods needs is a green jacket. He has only worn the jacket for the Champions Dinner since last winning in 2005, and as defending champion at the trophy presentation a year later. Woods had six three-putts in 2006, twice missing eagle chances inside 15 feet on the back Sunday when he finished three shots behind Phil Mickelson. Those close to Woods suspected he was simply trying too hard, knowing it would be the last time his father watched the Masters. Earl Woods died a month later. ''Just really wanted to have him be a part of one last major championship victory and I didn't get it done,'' Woods said. ''It hurt quite a bit. ... There's never been another defeat that has felt like that.'' But the losses kept piling up. Woods couldn't catch Zach Johnson in 2007, hurt by a bogey-bogey finish in consecutive rounds. A cold putter stopped him in 2009, and in his last great chance in 2011, he was tied for the lead going to the back nine on Sunday and played it even par. ''The style in which guys play nowadays, guys are long and aggressive, and it's not like Tiger back in `97 when he dominated people with his length,'' Graeme McDowell said. ''He was playing a completely different golf course from everyone else. I think there are so many guys now who can decimate a golf course like that when it's playing benign.'' One of those guys is Rory McIlroy, though golf's next big star hasn't looked like one lately. McIlroy won the U.S. PGA Championship in August for his second major - more than Woods had at that age - and then became the first player to win back-to-back tournaments with Woods in the field during the FedEx Cup playoffs a month later. He closed out the year by capturing the money title on the U.S. PGA and European Tours, and he was the undisputed best player in golf. That's no longer the case. With so much scrutiny over swapping out all of his equipment under a massive Nike endorsement, McIlroy has languished. The missed cut in Abu Dhabi. A first-round loss in the Match Play Championship. Quitting after 27 holes of the Honda Classic. McIlroy added the Texas Open a week before the Masters, desperate to shake the rust out of his game and replace it with some confidence. ''All the pieces are there,'' he said. ''It's about putting them all together. And once I put them together, I'll be fine.'' Brandt Snedeker expected to pose a challenge when he enjoyed a superb start of the year by finishing runner-up in consecutive weeks to Mickelson and Woods, and then winning at Pebble Beach. But he had to take a month off with sore ribs, and Snedeker missed the cut in two events since his return. Mickelson is always a threat at Augusta -- another win would give him as many Masters titles as Woods -- but he is as unpredictable as ever. Woods typically is the man to beat in the majors, and in that regard, nothing has changed. It's everything else about this Masters that is so different. Along with attention on who will win a green jacket, there will be plenty of buzz about who's already wearing one - former U.S. Secretary of State Condoleezza Rice and South Carolina financier Darla Moore. The club invited its first two women to join in the 80-year history. This is shaping up as a Masters for the ages, with Woods on the cusp of returning to his full greatness, and McIlroy needing a green jacket to give him the third leg of the career Grand Slam. And there has never been an age discrepancy as wide as this one among the newcomers -- 46-year-old Thaworn Wiratchant of Thailand, and 14-year-old Guan Tianlang of China, who qualified by winning the Asia Pacific Amateur. ''It's frightening to think that he was born after I won my first Masters,'' Woods said of the Chinese teen. In so many ways, that `97 Masters seems like such a long time ago. And in some respects, so do the last couple of years. Woods had only been married about six months when he last won the Masters in 2005. He was just starting to figure out the swing changes under his new coach, Hank Haney. If there were rivals, none were younger than him. The Nicklaus record seemed to be a matter of when, not if. Based on the two months leading up to the Masters, Woods looks poised to get back on track in his pursuit of Nicklaus. His Sunday red shirt has looked brighter than ever this year. It might look even more intimidating under a green jacket.
Original Story:
http://msn.foxsports.com/golf/story/t...
THE BACKYARD
BEST OF MAXIM
RELATED ARTICLES
The way he's been playing, Tiger Woods has a great shot at earning yet another green jacket at the 2013 Masters. If and when he rocks that legendary coat, he'll have a sweet pair of custom-made Nike kicks to go with it. Nike recently sent Tiger some personalized green shoes, dubbed on his Facebook page as "Custom Swag from Nike Golf," as he and the rest of the world's best...
Tiger Woods is back on top of the world and now he has a custom pair of green Nike Masters shoes to get his swag on with.
In case you hadn't noticed, it's good to be Tiger Woods. That remains true despite all the rigmarole revolving around the crumbling of his marriage from Elin Nordegren in light of his rampant skirt-chasing and how the sordid details of it all has continued to hang around his neck like an albatross all these years later. Tiger, always the devoted father, appears to be putting...
This is some extremely rare footage of an adolescent Tiger Woods giving an interview before all the fame, fortune, scandal and an evolving redemption.
Tiger Woods is looking pretty Tiger-like coming into the Masters this year. He won his last two tournaments, and the official odds of him winning the Masters this year have only risen as the major approaches. Even defending champ Bubba Watson knows the newly resurgent Woods will be hard to beat in this one. He had an interesting strategy when CNN's Piers Morgan asked him about...
Tiger Woods in a green jacket once felt like an annual celebration of spring, as regular as the azaleas bursting with color at Augusta National. Now it's more like a fading memory. It has been eight years since Woods rolled in a 15-foot birdie putt to win the Masters in a playoff for his fourth green jacket. He appeared to be well on his way to living up to that audacious prediction...
Ballertainment OJ Simpson and Oscar Pistorius subbed for Tiger Woods in Nike ad spoof Oscar Pistorius and OJ Simpson are among a few athletes who are featured in a spoof of a recent Nike ad and it raises a few questions. When Tiger Woods appeared in his latest Nike ad that proclaimed "WINNING TAKES CARE OF EVERYTHING," it was met with mixed reviews. Tiger had just won the Arnold...
Ten facts about the 77th Masters, starting on Thursday at Augusta National Golf Club: 1. THE GUY IN A RED SHIRT WANTS ANOTHER GREEN JACKET Tiger Woods won the Masters four times in his first nine years on the U.S. PGA Tour. Since then, he has been shut out. Woods has gone seven years since he last won at Augusta National, his longest drought in any of the majors. Arnold Palmer...
Bubba Watson held his right arm out to his side and hung his head as his tee shot sailed toward the woods to the right of the 10th fairway at Augusta National. For a moment, it looked as though he would be the latest victim of what perennially is the toughest hole at the Masters. What followed was a great escape and a green jacket. ''If I have a swing, I've got a shot...
A look at the Masters by the numbers: 0 - Bunkers found on the 14th hole. 1 - Number of years it took Fuzzy Zoeller to win the Masters. $1.50 - Cost of a pimiento cheese sandwich. 2 - Gene Sarazen's score on the par-5 15th hole in the 1935 Masters. 3 - Bridges at Augusta National. 4 - Tom Weiskopf's runner-up finishes at the Masters. 5 - Largest first-round lead, by...
Golf News

Delivered to your inbox

You'll also receive Yardbarker's daily Top 10, featuring the best sports stories from around the web. Customize your newsletter to get articles on your favorite sports and teams. And the best part? It's free!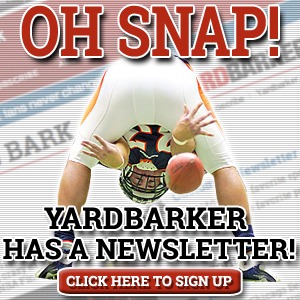 Latest Rumors
The Backyard

Today's Best Stuff

For Bloggers

Join the Yardbarker Network for more promotion, traffic, and money.

Company Info

Help

What is Yardbarker?

Yardbarker is the largest network of sports blogs and pro athlete blogs on the web. This site is the hub of the Yardbarker Network, where our editors and algorithms curate the best sports content from our network and beyond.