Found February 18, 2013 on In The Neutral Zone:
  Before you start reading this remember that the title of the article states that the Kansas City Royals "should" win the A.L. Central. I know many of you chuckled when you read it and many more probably threw out a "WTF". Believe me, I get that. After following an organization for over 30 years [...]
Original Story:
http://intheneutralzone.com/?p=11018
THE BACKYARD
BEST OF MAXIM
RELATED ARTICLES
The relationship between Roger Clemens and the Houston Astros continues to be a close one. Clemens did spend three seasons pitching for the Astros (2004-2006), but he remains tied to his hometown MLB team with his role as special assistant to general manager Jeff Luhnow. Clemens showed up at Astros camp in Kissimmee, Fla. on Tuesday, and while he did say that he intends to throw...
Bob Fescoe spent last week in Surprise, Arizona interviewing Kansas City Royals players and coaches for his morning show on Kansas City's 610 Sports Radio. When he was not on the air, he was taking in the sites of early Spring Training and snapping pics that he would later tweet out to his followers. With Bob's permission, we share those pics with you below: Billy Butler...
The Kansas City Royals took huge measures this offseason to fix their number one on-field issue, the rotation.  The addition of James Shields gave them a legitimate ace pitcher at the front of their rotation.  The rebuilt rotation looks stronger but leaves the question open: Who's number two? Throughout 2012 the opinion around the Royals fanbase was very similar.  Many people...
As the old adage goes, 'Spare the rod, spoil the child'. Hrm, I was going to make a reference to 'caning' and 'Singapore' here but it seems I've fumbled it worse than Mark Sanchez did with his slide into the backside of Moore. Yes, that was a football reference. Deal with it. You're reading the works of none other than the main editor/writer for...
There's something exciting about the thought of James Shields pitching for the Royals. Maybe it's because part of me is excited about the Rays losing such an important member of their rotation. Maybe it's because I love Kansas City's young offensive core and I really want to see them do well. Or maybe it's because the Royals haven't made the playoffs even once in my entire...
SURPRISE, Ariz. (AP) Luke Hochevar is a paradox. "You break down Luke's starts last season, half of them were at the top of the league," Royals manager Ned Yost said Sunday. "The other half were at the bottom of the league. So it's just inconsistency." Hochevar had an 8-0 record with a 2.38 ERA in the 13 starts he made that Kansas City won, according...
Jose Altuve is his name and speed is his game. At 5-5, 170 pounds he is one of the few professional athletes I can say I "look down" on (in a height sense, of course…I'm 5-7), but his game has big potential.For one, his batted ball profile suggests he should perennially have a BABIP in the .330-.350 range because he almost always puts the ball in play  (90.7% contact rate...
SURPRISE, Ariz. (AP) Jeff Francoeur may have the most likable personality in baseball, yet he makes so many fans in Kansas City so mad. Perhaps the fact that he was, statistically speaking, the worst position player in the big leagues last year has something to do with it. And he's still with the Royals, who sent top prospect Wil Myers to Tampa Bay in an offseason trade that...
KANSAS CITY, Mo. Former Royals slugger Mike Sweeney says that while he loved his 13 years with the team, he believes he ultimately failed during his time in Kansas City. He failed the fans, the organization and team owner David Glass, he said. "The ultimate goal each year is to get to the playoffs and win the World Series," Sweeney told FOXSportsKasnasCity.com. &quot...
Imagine a team with Brad Peacock, Bud Norris and Carlos Corporan - yes, the C-Corp himself. Add former Yankee legends Jose Veras and Justin Maxwell.  Now, move this team's esteemed pitching staff from the NL - where Pavanos hit - to the AL, where the Travis Hafners and Big Papis win restraining orders against their mitts. Hey, congratulations! you've just visualized the...
HOUSTON — Roger Clemens shrugged off Mike Piazza's comments in his autobiography that he took karate lessons after he was beaned by the pitcher, just in case they had another confrontation. The former New York Mets catcher discussed Clemens in his autobiography "Long Shot," which was published last Tuesday. Clemens, at spring training as a special instructor with the Houston...
KISSIMMEE, Fla. (AP) -- Roger Clemens said little publicly in the immediate aftermath of the Hall of Fame vote. Over a month later, he's willing to share his thoughts -- but the 354-game winner is not about to start a lobbying campaign. "I'm not going to lose any sleep over it," Clemens said. "If those guys feel I deserve to be there, then I deserve to be...
MLB News

Delivered to your inbox

You'll also receive Yardbarker's daily Top 10, featuring the best sports stories from around the web. Customize your newsletter to get articles on your favorite sports and teams. And the best part? It's free!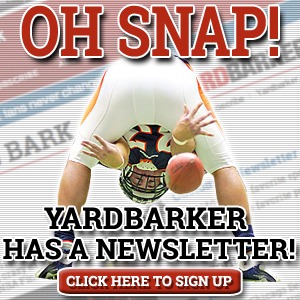 Latest Rumors
Best of Yardbarker

Today's Best Stuff

For Bloggers

Join the Yardbarker Network for more promotion, traffic, and money.

Company Info

Help

What is Yardbarker?

Yardbarker is the largest network of sports blogs and pro athlete blogs on the web. This site is the hub of the Yardbarker Network, where our editors and algorithms curate the best sports content from our network and beyond.