Found January 11, 2013 on The Detroit Sports Site:
The Baseball Hall of Fame made some interesting headlines Tuesday when, for the first time since 1996, nobody was elected to an inducting class. Amongst others, caught in the crosshairs were two former Detroit Tigers, who are both deserving of landing in Cooperstown soon. Alan Trammell and Jack Morris, two players well justified of hall honors, didn't make the grade yet again. Morris narrowly missed induction garnering nearly 67 percent of the vote, and Trammell was still stuck at the low number of 36 percent, well short of the 75 percent total needed to get hall certified. Each player was then lost in the shuffle of a firestorm of controversy. Should Barry Bonds, Mark McGwire, Sammy Sosa and Roger Clemens get any votes? What should the hall do with these players, who've had professional allegations swirling for years? Voters and Cooperstown are both missing the point equally. Lost in all the talk about which steroid era players (and users) should be inducted or not are the actual players deserving of the honor. Morris, despite his elevated ERA, is a rock solid candidate with 254 wins, five all-star appearances, four world championships and a World Series MVP. Trammell, comparable to Biggio, deserves to get more votes as well. He's a six time all-star, World Series MVP and was a consistently valuable defender. There's an obvious solution to end this whole steroid-era debate. The Hall of Fame should add a specific wing dedicated to the period in question, say 1998-2004. Then, they should hold separate inductions for all the eligible players from that time who had issues, documented or suspected. Plaques and notes should explain exactly what happened so there is no confusion. In essence, they should make a special allowance to split up the hall temporarily so players like Biggio, Mike Piazza, Trammell, Frank Thomas and Morris don't face the overflow simply because they are victims of timing and circumstance. The question being posed now is, was a giant mistake made? Quite frankly, yes. Tuesday was an embarrassing day for everyone associated with baseball, from the BBWAA to Cooperstown itself. The hall of fame itself should feel a level of shame for letting this spectical play out instead of formulating a plan in advance. What did they think would happen when Bonds, Clemens, McGwire and Sosa became hall eligible? Things wouldn't ultimately be go away simply because 10 years had passed, nor would the questions about how to deal with this particular period in baseball history. Thus, deserving players such as Morris and Trammell suffer, and that may continue into the future. They're forced to get pushed aside due to a steroid era spectacle. It's completely unfair. Morris was one of the best big game pitchers of his day, while Trammell was as steady as they come. Everyone at Cooperstown needs to wake up in order to solve this injustice, which will only get worse with the passage of more time. Whether my particular plan makes the most sense or not, something unique has to be done quickly. This situation is one that requires some outside of the box thinking for a proper solution. Without one, baseball will continue to spin its tires, and may never truly be able to move on from the discretions of its past. If baseball's reasonable names begin to suffer because of the actions of a handful, then the shame of the steroid era will be manifesting itself in a completely new way. Nobody wants to see that happen. It's time to hash out a plan and get this problem fixed sooner rather than later. There's no need for two of baseball's good guys in Morris and Trammell to have this hanging around their Cooperstown candidacy amongst all else. Max DeMara is a senior editor at The Detroit Sports Site. You can find him on Twitter @SportsGuyTheMax
Original Story:
http://www.thedetroitsportssite.com/2...
THE BACKYARD
BEST OF MAXIM
RELATED ARTICLES
 It is nearly a year now since Victor Martinez destroyed his left knee during an off-season workout near his Orlando, Florida home. The Tigers switch-hitter extraordinaire managed to tear the anterior cruciate ligament and damage the medial and lateral meniscus during a side-stride drill last January 13. The former Cleveland Indian underwent micro fracture surgery, in the...
DETROIT Jack Morris remains on the outside looking in. Morris, who won 198 games in 14 seasons with the Detroit Tigers and pitched for four World Series winners, failed to cross the 75-percent threshold required for induction into the Baseball Hall of Fame. In totals released Wednesday afternoon, he got only 67.7 percent of the vote just a percentage point ahead of last year&...
Jack Morris' quest to reach the MLB Hall of Fame is down to its final shot. The former Detroit Tigers pitcher again fell short of induction (as did everyone else on the 2013 ballot) — Morris received 67.7 percent of votes, shy of the 75 percent required to make the Hall. This was Morris' 14th year on the Hall of Fame ballot, meaning he has just one year of eligibility left...
If you want to lead your Beer League softball team in home runs, hits and RBIs this season, take a look at the latest MLB 13 cover video featuring Miguel Cabrera. Oh yeah and don't forget to go out and vote for Cabrera in this year's cover voting! I don't think there's any curses associated with this honor…  
We know he can pitch, but can he putt? On the weekend before spring training begins for pitchers, Justin Verlander of the Detroit Tigers will be focused on a different type of swing. Verlander, the 2011 Cy Young and American League MVP winner, has accepted an invitation to play in the AT&T Pebble Beach National Pro-Am golf tournament, scheduled for Feb. 7-10 on the popular...
Ben and Sam try to figure out whether the sabermetric movement has helped keep Jack Morris out of the Hall of Fame or given him a better chance to get in.
I was planning on putting together a post regarding the Hall of Fame today, regarding the fact that nobody was elected to Hall by the BBWAA. I had some crystalline points and a well thought out opinion on the matter, I believed. In fact, I was asked the question earlier this afternoon, and then heard a similar response from, of all people, Jim Souhan on ESPN1500. Anyways, my response...
For the first time since 1996, the BBWAA (Baseball Writers Association of America) elected no one to the Baseball Hall of Fame. The ballot consisted of many repeat players such as Jack Morris making his 14th appearance but was littered with players linked to steroids such as Barry Bonds and Roger Clemens. The *home run king* received 36.2% of the votes which was well short of the...
Any fan of baseball, including writers with votes for the Hall Of Fame, should have been rooting for contemporary inductees in this year's ballots. Unfortunately, it did not happen. MLB lost an opportunity to shine the light on some outstanding players from recent times and from a couple decades back. For all that baseball has gone through over the past 15 years – the steroids...
Tigers News

Delivered to your inbox

You'll also receive Yardbarker's daily Top 10, featuring the best sports stories from around the web. Customize your newsletter to get articles on your favorite sports and teams. And the best part? It's free!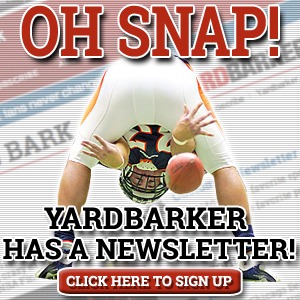 Latest Rumors
Best of Yardbarker

Today's Best Stuff

For Bloggers

Join the Yardbarker Network for more promotion, traffic, and money.

Company Info

Help

What is Yardbarker?

Yardbarker is the largest network of sports blogs and pro athlete blogs on the web. This site is the hub of the Yardbarker Network, where our editors and algorithms curate the best sports content from our network and beyond.