Found February 22, 2013 on Dodgers Rumors:
Alfonso Soriano is still focused on priority one, winning a World Series. With the Cubs undergoing a rebuilding phase, Soriano realizes his chances to help the Cubs win their first World Series are dwindling. The trade rumors will persist until he is eventually traded, it's clear Soriano doesn't want to be a part of a losing team. The Dodgers could still be interested in bringing Soriano to Los Angeles. Soriano recently gave a list to the Cubs of six or seven teams he would consider a trade to. The list included the Dodgers, Yankees, Mets, White Sox, and Phillies. Soriano owns a full no-trade clause and maintains dialogue with the Cubs executives about a potential trade. Soriano, 37, still has two years and $36MM remaining on his contract with the Cubs. Despite Soriano getting up there in baseball years, he managed to post a .262/.322/.499 batting line with 32 home runs, giving Soriano a WAR of 4.0 in 2012. If the analysts are right it appears the downward spiral may continue for Alfonso Soriano in 2013. Almost every projection I've looked at is right in line with Bill James' projection of a .245/.304/.462 batting line with 27 home runs, giving him a total WAR of 1.8. Those numbers are all well below his career averages. Which is why, should the Dodgers pursue Soriano in a trade, they must make sure that Chicago pays the bill. No dutch dating here, too much risk, and I don't like the deal in any way if we are paying part of the bill. I wouldn't mind Soriano in Dodger blue. He would cost little in the way of prospects. He's still got a lot of pop in the bat, which could be the Matt Stairs effect for the Dodgers bench. Sorry I always like using his name, probably because I will forever remember the balls he launched into the heavens against the Dodgers. Plus, having Soriano around would allow the ability to give regular rest to Carl Crawford which would hopefully keep him healthy for all 162 games this season. Related Posts:Dodgers Deadline Update: Soriano, Pence, VictorinoDodgers, Cubs Still Talking Dempster, Soriano, LaHairBryan LaHair Not On Dodgers RadarColletti Switching Focus To Shields, Willingham, MorneauDodgers Hot Stove: Payroll Non-Issue Going Into July…
Original Story:
http://www.dodgersrumors.com/alfonso-...
THE BACKYARD
BEST OF MAXIM
RELATED ARTICLES
According to a report, the Cubs are willing to eat $26 million of the remaining $36 million owed left fielder Alfonso Soriano over the next two seasons, the last of the eight-year, $136 million deal he signed before the 2007 season. The contract includes a full no-trade clause, which Soriano invoked last season when he rejected a trade to the San Francisco Giants, using the negative...
Luis Valbuena smacked a two-out two-run HR into the upper bullpen beyond the RF fence in the bottom of the 4th to turn a one run deficit into a one run lead, and then after the Blue Squad pushed across a run to tie the game in the top of the 5th, Edwin Maysonet blasted a three-run HR with two outs in the bottom of the frame to lift the White Squad to a 6-3 victory in a five-inning...
Starlin Castro had three hits (two singles and a double) and scored three runs, and Jorge Soler, Nate Schierholtz, and Brian Bogusevic slugged solo home runs, as the White Squad defeated the Blue Squad 7-3 in a five-inning inrasquad game played this afternoon at Dwight Patterson Field at HoHoKam Park in Mesa, AZ. Tags: Spring Training RecapStarlin CastroBrian BogusevicNate SchierholtzJorge...
SUPPORT THE TEAM
An Iraq War veteran and die-hard Chicago Cubs fan received a prosthetic Chicago Cubs eye.
Just as with teammate Matt Garza, Chicago Cubs third baseman Ian Stewart continues to have terrible luck returning to action. On Thursday, February 21, Stewart came out of the Cubs' intrasquad game after straining the quad muscles in his left leg. Stewart strained his quad while rounding first base on a single. He had an MRI on Friday, and the results came back...
Ian Stewart left Thursday's intrasquad game with a quad injury, and has been sent out for an MRI. The Chicago Cubs are tripping all over themselves to tell the fans that the injury is minor and the MRI is just a precautionary test to make sure there is not a bigger problem on the horizon. As a result of this injury, Stewart will be out of a couple of the Cubs preseason games. Regardless...
Unfortunately, there is little information available on the man behind the Chicago Cubs prosthetic eye depicted above save for a tweet from the Smithsonian's official Twitter account, but that does not take away from the sheer awesomeness of an Iraqi War veteran's decision to have his evidently much-beloved favorite Major League Baseball team imprinted upon his new artificial...
Tweet   The Chicago Cubs have one of the more passionate fan bases in Major League Baseball. Bill Murray, Jim Belushi, Vince Vaughn, and Billy Corgan are a few notable names who have pledged allegiance to the residents of Chicago's North Side. With the Cubs having been in existence for more than one hundred years [...]
I doubt it'll happen in 2013. However, now is a good time to talk about what improvements I think we will see from Castro in 2013 and why the whole "Is he a Theo player?" thing is kind of silly on a few levels. Starlin Castro crept up on Cubs fans in 2010 as initial reports of a hot shot Dominican shortstop bled out of Spring Training and culminated in a rather fantastic debut...
"Tom (Downers Grove) People are downplaying the importance of Navarro coming here and backing up Castillo. Am I the only one who thinks Navarro was a great pick up and could play his way into starting? Bruce Levine (1:35 PM) No, you're not–I'm convinced of the same possible result. During his media session on Monday, Cubs' starter Matt Garza went on and on about Navarro's...
Chicago Cubs starting pitcher Matt Garza is pretty confident he'll be ready for the teams season opener. Garza suffered a lat strain on Sunday when throwing batting practice, the injury isn't deemed to be serious though. Matt is expected to miss about a week of practice time, which would include one Spring Training start. "I'm not worried about spring starts, I'm more...
MLB News

Delivered to your inbox

You'll also receive Yardbarker's daily Top 10, featuring the best sports stories from around the web. Customize your newsletter to get articles on your favorite sports and teams. And the best part? It's free!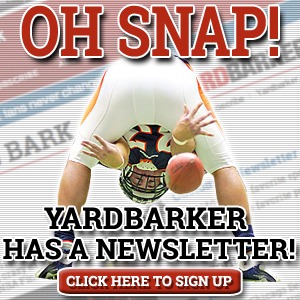 Latest Rumors
Best of Yardbarker

Today's Best Stuff

For Bloggers

Join the Yardbarker Network for more promotion, traffic, and money.

Company Info

Help

What is Yardbarker?

Yardbarker is the largest network of sports blogs and pro athlete blogs on the web. This site is the hub of the Yardbarker Network, where our editors and algorithms curate the best sports content from our network and beyond.