Found September 21, 2012 on MyTeamRivals.com:
PLAYERS:
Chase Utley
,
Jimmy Rollins
,
Juan Pierre
,
Kevin Frandsen
,
Collin McHugh
,
Jeremy Hefner
,
Erik Kratz
,
Tyler Cloyd
,
Kelly Shoppach
,
Lucas Duda
,
Mike Baxter
,
Nate Schierholtz
,
B.J. Rosenberg
,
Justin Hampson
,
Jenrry Mejia
,
Robert Carson
,
Manny Acosta
,
Elvin Ramirez
,
Jeurys Familia
,
Josh Edgin
,
Ramon Ramirez
,
Kyle Kendrick
,
Tommy Hanson
TEAMS:
Philadelphia Phillies
,
New York Mets
,
Atlanta Braves
Two big innings lead to the Phils routing of the Mets as they win by the score of 16-1. The Phils took the lead in the first as, with two men on, and with nobody out, Chase Utley hits an RBI single, knocking in Jimmy Rollins, who had started the game off with a single, then stopped at second base on Juan Pierre's bunt single, giving the Phils a 1-0 lead, while sending Pierre, who had earlier reached base on a bunt single, over to third base. Ryan Howard then gave the Phils a 2-0 lead with an RBI single, scoring Pierre, while sending Utley up to second base. After John Mayberry, Jr. had loaded up the bases with a soft fly single to right, moving up a base both Utley and Howard, Dom Brown gave the Phils a 3-0 lead with an RBI single, knocking in Utley, while sending Howard on to third base, and Mayberry to second base, leaving the bases loaded. The Phils then made it a 4-0 lead as Kevin Frandsen walked, forcing in Howard, while moving up a base both Mayberry and Brown, as the bases re...
Original Story:
http://www.mtrmedia.com/2012/09/an-ei...
THE BACKYARD
BEST OF MAXIM
RELATED ARTICLES
Last week, in a poll on MetsBlog.com, 67 percent of voters said the Mets should try to sign Wright to a six- or seven-year contract extension this winter; while 12 percent said the team should blow him away with an eight-or nine-year deal. Wow, I must be losing it… It just seems that lately my opinion is always out of line with the mainstream Mets fans… Six to seven? Eight...
There is a better shot at that 5th postseason berth for Chase Utley and the Philadelphia Phillies than the numbers display.  What can be discovered inside the final matchups on the schedule? TAL'S HANDY CAPS   WELCOME, NEWCOMERS: I will publish after every battle that is not washed out.  I will have many summer-long highlights of puzzle pieces, especially important after drubbings...
Somehow, as the games on the schedule dwindle and each contest becomes more "must-win" than the previous one, the Philadelphia Phillies stay in contention. It seemed like all was lost after losing three of four in Houston two weekends ago. Now, with 11 games to play, they're hanging around, though they'll need some help. "Keep going," Phillies manager...
On Thursday night, the Phillies gave the Mets a spanking and then some. It was an outright stomping to the tune of 2 touchdowns and a safety. If you are not a football fan, that is the baseball equivalent of 16 runs. The 16-1 pummeling began with an 8-run 1st inning. The Phillies went all the way through the line-up, batters 1-8, before a single out was recorded by the Mets. The...
R.A. Dickey earned his 19th victory with a strong performance, Jason Bay and Scott Hairston homered and the New York Mets barely held on in the ninth inning for their second straight home win, 4-3 over the Miami Marlins on Saturday. Just hours after the Mets snapped a nine-game losing streak at Citi Field on Friday and scored more than three runs in their home ballpark for the first...
In honor of Knuckleball! the movie coming out, Hall-of-Famer Phil Niekro and 200-game winner Tim Wakefield were out and about prior to today's game alongside the Mets own R.A. Dickey and were kind enough to answer some of my questions as well as some other Mets bloggers while watching BP with us along the first base side. The interview began with Phil Niekro telling us the fascinating...
Well, this was one hell of a ballgame. After last night's ninth inning victory over the Mets, tonight's game (a makeup of Tuesday night's washout) which was started by Tyler Cloyd, was entertaining from the get-go. In the top of the first inning, the Phillies scored eight runs. Yes, eight. Here's how it all went down:    
PHILADELPHIA (AP) -- The Philadelphia Phillies did all their scoreboard watching before taking the field, and then took care of their own business. Kevin Frandsen hit one of Philadelphia's four solo homers to back Kyle Kendrick, and the Phillies inched closer in the NL playoff race with a 6-2 victory over the Atlanta Braves on Friday night. Ryan Howard, Carlos Ruiz and Chase...
The Miami Marlins are in for the weekend, and with them comes Jose Reyes. Now that the season is dwindling down to a precious few games, I ask: Would the Mets season been significantly different had they re-signed Reyes? I don't see how that is possible after last night. With the way the Mets are heading, by the time they are competitive again Reyes will be on the downside of his...
NEW YORK -- As they have kept alive their slim playoff hopes, the Philadelphia Phillies have refused to quit. New York Mets manager Terry Collins refused to answer when asked if he thought his team had done just that after another thumping, telling reporters they had to "ask them." The Mets' march of misery continued at Citi Field on Thursday night, quickly hitting...
The Phillies presented Chipper with a Dick Perez painting. (Photo by Kevin McAlpin of the Braves Radio Network) As Chipper Jones makes his final jaunt into Philly this weekend, it brings back awful memories of him tearing the Phillies a new one through all the years. The headline is written with a degree of sarcasm, it also rings true. Hearing "Larry" come from the stands as...
If there's one thing we can be thankful for, it's that R.A. Dickey has pretty much single-handedly saved 2012 from being in the conversation for most depressing season of all time. 1993 and 2009 are still the two undisputed kings of that category. 2012 falls in the group of seasons that is starting to run together. 2010-2012, to me, has been one long season. 2013 and maybe...
MLB News

Delivered to your inbox

You'll also receive Yardbarker's daily Top 10, featuring the best sports stories from around the web. Customize your newsletter to get articles on your favorite sports and teams. And the best part? It's free!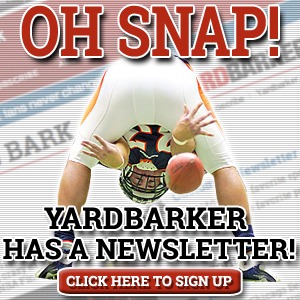 Latest Rumors
Best of Yardbarker

Today's Best Stuff

For Bloggers

Join the Yardbarker Network for more promotion, traffic, and money.

Company Info

Help

What is Yardbarker?

Yardbarker is the largest network of sports blogs and pro athlete blogs on the web. This site is the hub of the Yardbarker Network, where our editors and algorithms curate the best sports content from our network and beyond.