Found February 07, 2013 on Redlegs Review:
PLAYERS:
Bill Buckner
,
George Foster
,
Orlando Hernandez
,
Pedro Borbon
,
Mariano Rivera
,
Tony Perez
,
Tino Martinez
,
Derek Jeter
,
Pete Rose
,
Johnny Bench
,
Bernie Williams
,
Ken Griffey
TEAMS:
Cincinnati Reds
,
Boston Red Sox
,
Atlanta Braves
,
New York Yankees
,
San Francisco Giants
,
San Diego Padres
by: Dan Howard Staff Writer Dear Mr. Olney, Have you taken leave of your senses? Is your office located near a mortician and the formaldehyde fumes have clouded your thinking? Or do you have a profound hatred of the Cincinnati Reds? I make the last statement considering two of your top ten teams beat the Reds to win the World Series – 1939 Yankees and the 1970 Orioles, granted two other top ten teams beat the Padres for their championship, 1984 Tigers and 1998 Yankees, but San Diego doesn't have the baseball pedigree that Cincinnati has. How, in the name of everything baseball, could you possibly place the 1998 New York Yankees ahead of the 1975 Cincinnati Reds on your top ten list? Yes, the '98 Yankees was a great team, deserving of a top ten spot, but not at number one? In writing this I wanted to do a little research about you, I found you grew up in Vermont, probably a follower of the Red Sox, so your bias against the Reds could be vengeance for the '75 World Seri...
Original Story:
http://feedproxy.google.com/~r/TheRed...
THE BACKYARD
BEST OF MAXIM
RELATED ARTICLES
The Cincinnati Reds signed a one-year contract with starting pitcher Mike Leake, avoiding arbitration. Leake was in his first year of eligibility for arbitration and had filed for a salary of $3,500,000. The Reds had offered $2,650,000. In the end, the two settled at $3.06 million. It's quite a raise from the $507,500 he made last year. The Reds now have three arbitration-eligible...
It is no secret that the Reds boast one of baseball's premier defenses. But how do they rank among the other 29 MLB teams? Anthony Castrovince of MLB.com set out to answer this precise question by publishing his ranking of the top 10 defenses on Thursday. Naturally, Cincinnati landed in the No. 3 overall spot and first among all other National League clubs. Here is how...
Who doesn't enjoy going to the stadium for a good promotion? Well, the Reds have plenty of them this season thanks to the brilliant minds in their marketing department. I know most folks really don't need an extra incentive to attend Reds games, but here are some for the folks that do. Reds fanatics, I present to you the Top 10 promotions of the 2013 season: 10)...
Jonathan Mayo released his Top 20 Reds Prospects list yesterday afternoon. It is, interesting? There are three players in the top 10 who didn't make my own Top 20 and two of whom didn't even make my own top 25. Tony Cingrani is the second ranked prospect. I could listen to why one could rank him that highly. I don't agree with it, but I could see where someone could say it...
The 2012 season didn't go quite as planned for Joey Votto. The Canadian slugger missed a significant portion of the season due to a knee injury sustained right before the All-Star break and never did fully recover once coming back to the lineup in September. The original prognosis was 3-4 weeks, but Reds fans are aware that the rehab time was much longer than that, nearly two...
David Vidal came into the 2012 season after a strong showing in Dayton where he solidified himself as a real prospect to keep an eye on, flashing both offensive and defensive tools at third base. The Reds sent Vidal to Bakersfield to man the hot corner for the Blaze to start the 2012 season. He got off to a slow start, hitting .250 over the first week of the season, but he was able...
Mark Sheldon of MLB.com is reporting that the Reds have settled on an agreement with right-hander Mike Leake that avoids the two from having to go to arbitration. The deal is reportedly worth one-year, $3.06 million. Leake initially filed for $3.5 million during the exchange of salary figures last month while the team offered $2.65 million. Naturally, each side compromised and...
The Cincinnati Reds and 700 WLW have renewed their broadcast rights agreement. Perhaps more importantly, the Cincinnati Enquirer has discovered that more Spring Training games will be broadcast, too. All but four split-squad games will be broadcast from Arizona on WLW-AM (700), Fox Sports WSAI-AM (1360) or streamed at Reds.com as part of the team's new radio rights extension with...
CINCINNATI (AP) -- The Reds have agreed to a one-year deal, 3.06 million deal with right-hander Mike Leake, avoiding salary arbitration with their fifth starter. The deal on Wednesday leaves three Reds still facing arbitration: starters Mat Latos and Homer Bailey and outfielder Shin-Soo Choo. Leake made 507,500 last season, when he went 8-9 with a 4.58 earned run average in 30 starts...
Road trip. The University of Louisville baseball team will square off against Cincinnati in the second game of a doubleheader at The Great American Ballpark in Cincinnati on Saturday, April 6. First game? The Cincinnati Reds vs. the Washington Nationals at 1:10 p.m. Discounted tickets for UofL and UC fans are available at Reds.com/college  The first pitch for the U of L-Cincinnati...
Not so much "remembering" actually, as this particular gut punch of the Cubs occurred in 1958. More like, "honoring." It was 20,000 days ago today. Chris Jaffe at the Hardball Times has a story up today that features the Cincinnati Reds (or the Redlegs, as he mentions they were called at the time) in a ninth inning come-from-behind victory. Not just any come-from-behind victory...
Reds Gold Glove second basemen Brandon Phillips was among a group of MLB players who recreated DEVO's "Freedom of Choice" album cover for ESPN The Magazine's upcoming "Music Issue", which is slated to hit shelves across the nation on Feb. 18. Phillips joined Miami Marlins outfielder Giancarlo Stanton, Tampa Bay Rays third basemen Evan Longoria, Boston...
MLB News

Delivered to your inbox

You'll also receive Yardbarker's daily Top 10, featuring the best sports stories from around the web. Customize your newsletter to get articles on your favorite sports and teams. And the best part? It's free!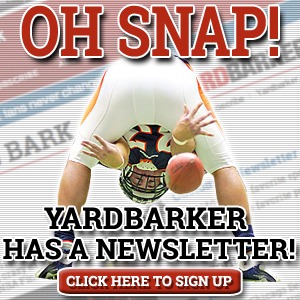 Latest Rumors
Best of Yardbarker

Today's Best Stuff

For Bloggers

Join the Yardbarker Network for more promotion, traffic, and money.

Company Info

Help

What is Yardbarker?

Yardbarker is the largest network of sports blogs and pro athlete blogs on the web. This site is the hub of the Yardbarker Network, where our editors and algorithms curate the best sports content from our network and beyond.