Found January 11, 2013 on The Last Angry Fan:
Sammy Sosa wants YOU to enjoy his Pinterest page. Former slugger Sammy Sosa didn't garner enough votes this year for induction into Baseball's Hall of Fame, but that doesn't mean the former Cub/White Sox/Orioles/Rangers superstar hasn't been keeping his name in the spotlight.  Recently it was discovered that Sosa has his own Pinterest page, and it is nothing short of remarkable. The entire page consists of pictures of Sosa in various poses—lounging and pointing, standing and smiling, leaning whimsically on a desk, getting cozy with his computer's monitor—and in each shot he's either wearing a very fashionable business suit, or a very Perry Como-ish sweater and slacks.  Each and every picture has the caption "Sammy Sosa. Yes, I'm the real Sammy Sosa, and this is my Pinterest" which makes Sosa's page all the more fascinating. Nice to see that Sammy has gone back to a more normal skin tone for these glamor shots, and to anybody who says that Sosa hasn't mastered the fine art of social media, I say you're dead wrong.  A Pinterest page featuring a bunch of boring pictures of Sammy Sosa with the same caption for each shot has captured the fascination of the Internet in a span of a few days.  Let's see a Pinterest page of various pasta dishes do that.   The post And just like that Sammy Sosa has become the undisputed king of Pinterest appeared first on Last Angry Fan.
Original Story:
http://feedproxy.google.com/~r/LastAn...
THE BACKYARD
BEST OF MAXIM
RELATED ARTICLES
NOW THAT'S SOMETHING
It's been a while since we checked in on our old pal Sammy Sosa. And we were thrilled to find out that he's doing well. We were even more thrilled to find out via Deadspin that he has a Pinterest page. And it's a Pinterest page that you should visit every single day for the rest of your life. Why? Because it has to be the best Pinterest page on Pinterest. Just has to be. [Pinterest...
Sammy Sosa has joined Pinterest (and Twitter, as well). Looking at some of the pictures that he has pinned gives you a bizarre idea into what the former Cubs legend has been up to since retiring. Here's Sammy Sosa in a Mr Rogers-esque sweater. Here's Sammy Sosa, businessman, in a suit that looks like it was plucked straight out of the 1980s. Here's Sammy...
Former Chicago Cubs slugger Sammy Sosa is just one of the many retired professional athletes that has tried to get their name back in the spotlight by joining social media. He joined Twitter (@TheRealMr609) back in October, and he has more recently taken his talents to the popular photo sharing/social network site, Pinterest. Naturally, hearing about Sammy Sosa joining Pinterest...
First reported by Deadspin and then picked up by the world, the great Sammy Sosa wants to let you know that he is in fact the real Sammy Sosa on Pinterest (also on Flickr). The way Sammy is going to do that is by posting variations of the same two photos over and over again with the same caption. "Sammy Sosa. Yes, I'm the real Sammy Sosa, and this is my Pinterest." I must...
Categories: BREAKING NEWS MLB NewsTags: Baseball Hall of FameMark McGuireMLB Hall of FameSammy SosaDo you remember the summer of 1998 when the nation's sportswriters were fawning over Mark McGuire and Sammy Sosa.  Baseball had been suffering from the strike of 1994-5 and needed something to bring it back.  According to the baseball writers of America, McGuire and Sosa were...
No HOF, but his Pinterest is unbelievable.. 
Took the Jeopardy online test yesterday. I'll keep you posted. Sammy Sosa is on the internet! Skip Bayless also is on the internet, and that's not good. The first real tennis tournament of the year starts soon. SCOREBOARD NCAAB North Dakota State 67, IP-Fort Wayne 55 – Mostly, I just assume none of you know where IPFW is if I don't spell it out. Football League Championship...
For only the eighth time in their annual elections and the first time since 1996, baseball writers have elected no player to the National Baseball Hall of Fame. The 2013 ballot marked the first year of eligibility for several greats like Barry Bonds, Sammy Sosa and Roger Clemens. Voters rejected the [...]
NEW YORK (AP) Steroid-tainted stars Barry Bonds, Roger Clemens and Sammy Sosa were denied entry to baseball's Hall of Fame, with voters failing to elect any candidates for only the second time in four decades. Bonds received just 36.2 percent of the vote, Clemens 37.6 and Sosa 12.5 in totals announced Wednesday by the Hall and the Baseball Writers' Association of America...
This was the Hall of Fame ballot that all MLB players and fans were waiting on. This was the year that Barry Bonds, Sammy Sosa, and Roger Clemens were up for election into the Baseball Hall of Fame in Cooperstown. These three have either admitted or believed to have used player enhancing drugs during the "steroid era" in Major League Baseball. For a player to be elected into...
Cancel your vacation to Cooperstown. Not one player on the 2013 ballot is getting inducted this year. Barry Bonds, Roger Clemens, Sammy Sosa and Mike Piazza were among those denied enshrinement into the Baseball Hall of Fame when the voting results were revealed on Wednesday. The Baseball Writers' Association of America (BBWAA) decided that no one on this year's ballot was worthy...
The Baseball Hall of Fame for the first time since 1996 will have no inductees. This is the first year that most the players who are suspected to be steroid users are all on the ballot. Barry Bonds, Mark McGwire, Sammy Sosa, Roger Clemens, and Rafael Palmeiro all received less [...]
White Sox News

Delivered to your inbox

You'll also receive Yardbarker's daily Top 10, featuring the best sports stories from around the web. Customize your newsletter to get articles on your favorite sports and teams. And the best part? It's free!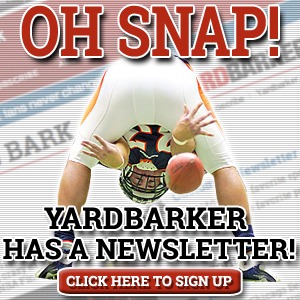 Latest Rumors
Best of Yardbarker

Today's Best Stuff

For Bloggers

Join the Yardbarker Network for more promotion, traffic, and money.

Company Info

Help

What is Yardbarker?

Yardbarker is the largest network of sports blogs and pro athlete blogs on the web. This site is the hub of the Yardbarker Network, where our editors and algorithms curate the best sports content from our network and beyond.