Posted November 30, 2012 on AP on Fox
PLAYERS:
Barry Bonds
,
Roger Clemens
,
Sammy Sosa
,
Pete Rose
,
Mark Mcgwire
,
Rafael Palmeiro
,
Craig Biggio
,
Mike Piazza
,
Curt Schilling
,
Jack Morris
,
Jeff Bagwell
,
Tim Raines
TEAMS:
Cincinnati Reds
Baseball's all-time home run king and the most decorated pitcher likely will be shut out of the Hall of Fame in January. A survey by The Associated Press shows that Barry Bonds and Roger Clemens, as well as slugger Sammy Sosa, don't have enough votes to get into Cooperstown. With steroid scandals still very much on the minds of longtime members of the Baseball Writers' Association of America as they cast their ballots, the trio failed to muster even 50 percent support among the 112 voters contacted by the AP - nearly one-fifth of those eligible to choose. Candidates need 75 percent for election So Bonds, the only seven-time MVP, and Clemens, the only seven-time Cy Young Award winner, are likely to remain outside the Hall along with career hits leader Pete Rose, who was banned for betting on baseball as manager of the Cincinnati Reds. ''I'm not going to vote for anybody who has been tainted or associated with steroids,'' said MLB.com's Hal Bodley, the former baseball columnist for USA Today. ''I'm just not going to do it. I might change down the road, but I just love the game too much. I have too much passion for the game and for what these people did to it.'' The current ballot was announced this week and Bonds, Clemens and Sosa were on it for the first time. Votes will be cast throughout the month and results will be released Jan. 9. Among voters who expressed an opinion, Bonds received 45 percent support, Clemens 43 percent and Sosa 18 percent. To gain election, Bonds and Clemens would need more than 80 percent support among the voters not surveyed and Sosa would need to get more than 85 percent. ''No one would dare say that Bonds, a seven-time National League MVP with 762 home runs, isn't a Hall of Famer,'' Thom Loverro, a columnist for The Washington Examiner, wrote in a column that explained his decision. ''Nor would anyone say that Clemens, with 354 career victories, 4,672 strikeouts and seven Cy Young Awards, shouldn't be enshrined in Cooperstown. The same goes for Sosa, who finished with 609 career home runs, including 243 of them from 1998 through 2001. ''Except they cheated - all of them. And this Hall of Fame is not just about numbers. Three of the six criteria for election to Cooperstown are sportsmanship, integrity and character. Bonds, Sosa and Clemens fail on all three counts.'' The Denver Post's Troy Renck doesn't plan to vote for them, either. ''I understand that everyone has their opinion on this issue and I respect those,'' he said in a telephone interview. ''For me personally, having coached kids for the last decade and talked to them about doing things a certain way, I would feel very uncomfortable voting for anyone that is a known cheater.'' San Francisco Chronicle columnist Bruce Jenkins took the opposite view. ''The Hall of Fame's `character' clause should be stricken immediately, because it's far too late to turn Cooperstown into a church,'' he wrote in an email. ''Whether it was gambling (rampant in the early 20th century), scuffing the baseballs, corking bats, amphetamines or steroids, players have been cheating like crazy forever. It's an integral, if unsavory, part of the culture. I've always had the same criteria: which players were the best performers of their particular era - so absolutely, I'll vote for Bonds, Clemens and Sosa.'' Bonds and Clemens gained far more support than Sosa in the survey. ''I will definitely vote for Bonds and Clemens. I still need to consider Sosa's resume,'' ESPN.com's Jim Caple said. ''Steroid use has nothing to do with my vote. Steroids were not banned during the majority of their careers when they achieved the vast majority of their accomplishments. All we can go by is what they did on the field. If Gaylord Perry is in the Hall for violating a rule that was in place 40 years before his career began, how can you justify withholding a vote from someone for a rule that wasn't in effect? (And personally, I would rather face a pitcher on PEDs than a spitballer).'' Hall voters are BBWAA members who have been with the organization for 10 consecutive years at any point. About 8-10 percent of the approximately 600 Hall of Fame voters are employees of the AP or freelance writers who work for the AP, the BBWAA said. Bonds has denied knowingly using steroids. A positive test was introduced as evidence during his criminal trial last year, when he was convicted of obstruction of justice by a jury that failed to reach a verdict on charges he made false statements to a grand jury when he denied knowing using performance-enhancing drugs. Clemens has repeatedly denied drug use and was acquitted this year on charges he lied to Congress when he said he didn't take steroids or human growth hormone. Sosa was among the 104 positive tests in baseball's 2003 anonymous survey, The New York Times reported in 2009. He told a congressional committee in 2005 that he never took illegal performance-enhancing drugs. Bonds and Clemens fared far better in the survey than Mark McGwire did when a sample of voters were questioned by the AP before his first appearance on the ballot in December 2006. The slugger with 583 home runs received 24 percent support in the survey and 23.5 percent in the BBWAA ballot. Since then, McGwire's support has never topped 24 percent and dropped to 19.5 percent of the 573 votes cast last January. Rafael Palmeiro, who topped 3,000 hits and 500 home runs, was suspended for 10 days in 2005 following a positive test for Stanozolol - he said he didn't know what caused it. He received 12.5 percent in January. Several voters said their decisions were for this vote only and they planned to reassess their position each year. Some said that they wouldn't consider voting for Bonds, Clemens or Sosa this year because they didn't want them to have the additional honor of being elected on their first ballot. Players who have appeared in 10 seasons and have been retired for five years are eligible for consideration by a six-member BBWAA screening committee, and a player goes on the ballot if he is supported by at least two screening committee members. A player remains on the ballot for up to 15 elections as long as he gets 5 percent of the votes every year. Ballots must be submitted to the BBWAA by Dec. 31. Inductions will take place July 28. Voters were contacted by telephone and email from Wednesday to Friday. Craig Biggio, Mike Piazza and Curt Schilling also are among the 24 first-time eligibles, and Jack Morris, Jeff Bagwell and Tim Raines are the top holdover candidates. --- AP Sports Writers Janie McCauley, Noah Trister and Ben Walker contributed to this report.
Original Story:
http://msn.foxsports.com/mlb/story/AP...
THE BACKYARD
BEST OF MAXIM
RELATED ARTICLES
During his playing days, Barry Bonds never worried much about getting chummy with baseball writers. Now those scribes hold the key to a place he'd love to enter: the Hall of Fame. Bonds was announced Wednesday as one of the first-time candidates for the Hall, and baseball's all-time home run king said he hopes the Jan. 9 announcement will include news that he will be...
"I do really care," Bonds said. "I may say I don't, but I do really care. I've been through a lot in my life so not too many things bother me. Making the Hall of Fame, would it be something that's gratifying because of what I've sacrificed? Sure. Baseball has been a big part of [...]
Baseball's all-time home run king and its most decorated pitcher likely will be shut out of the Hall of Fame in January. A survey by The Associated Press shows that Barry Bonds and Roger Clemens, as well as slugger Sammy Sosa, don't have enough votes to get into Cooperstown. With steroid scandals still very much on the minds of longtime members of the Baseball Writers'...
This year's Hall of Fame ballot has been released and its headlined by Barry Bonds and Roger Clemens. Both will be a true test to the steroid ear as Bonds and Clemens are arguably the best hitter and pitcher who ever lived (please note that I wrote arguably). But we here at TGR are less concerned about Bonds and Clemens and more concerned about first time ballot nominee...
The Baseball Hall of Fame has released the list of players on the 2013 Hall of Fame Ballot. The three most notable players on the ballot are Barry Bonds, Sammy Sosa, and Roger Clemens. This is the first time any of these players have entered the ballot. Regardless of whether or not any of these [...]
A few of the primary faces of the dreaded Steroid Era, Barry Bonds, Roger Clemens and Sammy Sosa, will be on the Hall of Fame ballot for the first time next month with members of the Baseball Writers' Association of … Continue reading →
When it comes to the Baseball Hall of Fame, they need to either change the record books, or let in everybody that cheated. Roger Clemens' HOF vote is up next, and that is when we'll really see who gets in and who is left outside looking in with Pete Rose. Watching Clemens when he was in New Britain, CT in 1983, there was talent on the mound that had Cooperstown in my mind instantaneously...
Five years ago, the sports world -- especially those baseball players who used performance-enhancing drugs -- braced for the release of the Mitchell Report. The dossier by former Sen. George Mitchell tagged all-time home run champ Barry Bonds, seven-time Cy Young Award winner Roger Clemens and more than 80 other current and former players as drug cheats on Dec. 13, 2007. One of...
(Eds: With AP Photos.) By TIM DAHLBERG AP Sports Columnist It could have been the greatest Hall of Fame class since Babe Ruth and Ty Cobb were installed in the very first vote back in 1936. It would have been if those eligible had allowed their natural ability to carry the day. Barry Bonds never needed steroids to be great. It was already in his genes, and the numbers he put up...
I had never heard of Pat Caputo before this morning, but found a link on The Book Blog and had to check it out. Tango highlighted how Caputo won't vote for Craig Biggio because, well, because Caputo is an idiot I guess. I will not mark the names of Barry Bonds or Roger Clemens on [...]
The BBWAA released the 2013 Hall of Fame ballots yesterday, and in a related story, writers from around the country made it clear that they weren't going to vote for players that have been implicated in PED usage. Some even find it an annual tradition to be celebrated. Oh, the joy I will have snubbing Sosa, Bonds and Clemens (plus McGwire and Palmeiro, natch) on my HoF ballot...
For the next several years, the annual Hall of Fame Ballot is going to look a lot like the Mitchell Report. Check out some of the chemically-enhanced crop the BBWAA has to consider: Barry Bonds Roger Clemmens Mike Stanton Rondell White Mike Piazza Sammy Sosa I'm on the side of "say no to drugs." The [...]
Reds News

Delivered to your inbox

You'll also receive Yardbarker's daily Top 10, featuring the best sports stories from around the web. Customize your newsletter to get articles on your favorite sports and teams. And the best part? It's free!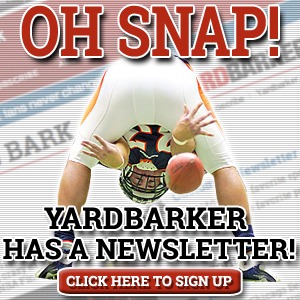 Latest Rumors
The Backyard

Today's Best Stuff

For Bloggers

Join the Yardbarker Network for more promotion, traffic, and money.

Company Info

Help

What is Yardbarker?

Yardbarker is the largest network of sports blogs and pro athlete blogs on the web. This site is the hub of the Yardbarker Network, where our editors and algorithms curate the best sports content from our network and beyond.