Found August 23, 2012 on The Majors National:
PLAYERS:
Ryan Dempster
,
Derek Holland
,
Harry Caray
,
Miguel Cabrera
,
Prince Fielder
,
Melky Cabrera
,
Carl Crawford
,
Roger Clemens
TEAMS:
Texas Rangers
,
Detroit Tigers
,
San Francisco Giants
,
Boston Red Sox
It was another great show for Around the Diamond 25 Monday night as Tony and Adam wrapped up another rather exciting week in the world of baseball.
In this weeks edition Tony and Adam discussed the following…
Ryan Dempster and Derek Holland's awesome Harry Caray impression.
Miguel Cabrera and Prince Fielder the best duo in baseball?
Melky Cabrera gets creative after his 50 game suspension for PEDs.
Carl Crawford opts for Tommy John surgery.
Roger Clemens makes his return to baseball… pitching.
Original Story:
http://themajors.net/?p=6058
THE BACKYARD
BEST OF MAXIM
RELATED ARTICLES
MOVING ON
Melky Cabrera is currently serving his 50-game suspension for violating MLB's drug policy. Are the Giants completely done with him?
The San Francisco Giants canceled an order for 20,000 Melky Cabrera T-shirts just in time. Giants spokeswoman Staci Slaughter says the order was stopped just before printing after Cabrera received a 50-game suspension from Major League Baseball last Wednesday following a positive test of testosterone. The shirts that had featured last month's All-Star game MVP have been replaced...
San Francisco Giants left fielder Melky Cabrera has apparently been caught trying to cover up his use of performance enhancing drugs (PEDs) by purchasing a phony website. Reports out of New York said that an assistant to Cabrera recently bought an internet site which is used to promote and advertise a fake product. The site was posted as a way to convince MLB that Cabrera took this...
It isn't the worst Judge Smails impression that I've ever seen.  But I've seen better. Last week, Giants OF and All Star Game MVP Melky Cabrera got popped for failing a drug test and earned a hearty 50 game suspension for it. This is a huge blow for the playoff contenders as the Melk Man was putting up an MVP-caliber season. There is a huge taint bomb on that season...
Detroit Tigers slugger Miguel Cabrera is back in the lineup with a heavily taped right ankle. Cabrera was set to be the designated hitter Friday night against the Los Angeles Angels. Cabrera says he hopes to be healthy enough to play third base in the second game of the series on Saturday night. He left Thursday's game against Toronto during the second inning with soreness...
Everyone in baseball seems to agree that the San Francisco Giants dodged a big bullet when suspended hitting star Melky Cabrera's agents turned down the Giant's overtures for a mid-season contract extension last July. CBSSports.com reported the Giants were poking around the 3 year $27 million range.With the mega-offensive season Cabrera was putting up, I couldn't imagine...
As Melky Cabrera has reminded us, we can't believe that everything we see on the baseball diamond is legit. As a fan of the game, it's extremely frustrating, I know. If you're a fan of the American League team that wins the pennant, I wouldn't blame you if your anger doesn't come out until October, as the All-Star Game MVP had a lot to do with the National...
In light of Melky Cabrera and Bartolo Colon testing positive for performance-enhacing drugs, it's tough for baseball fans to not think the worst of any players enjoying suspicious amounts of success this season. Not every player deserves to be believed guilty until proven innocent, but unfortunately, that's a reality that many will have to face as the positive tests continue...
Outside the Polo Grounds Pub and Grill, in the shadow of AT&T Park, the sign reads, "No More Melk, but Plenty of Beer." Inside the San Francisco Giants' clubhouse, the mood isn't quite that frivolous. But what did you expect the Giants to do after losing Melky Cabrera to a 50-game suspension, quit? The Giants don't operate like that. Baseball doesn'...
Both Detroit and Los Angeles received a bit of a scare in the last few days as Miguel Cabrera and Albert Pujols were forced out of games with injuries. While the Tigers are hopeful Cabrera will be back for Friday night's series opener, the visiting Angels don't seem as optimistic about Pujols' return. Cabrera left Thursday's 3-2, 11-inning win over Toronto in the...
With the 50 game suspension of Giants OF Melky Cabrera for PEDs, BALCO founder Victor Conte believes there's many more players still involved with doping in Major League Baseball. In this episode of The Majors LIVE, Adam, Josh and Nick discuss whether or not baseball still has a big steroid problem along with the following: Augusta breaking an 80 year tradition. The latest in...
What would MLB do if it turned out that Melky Cabrera was "legitimately" using PEDs?  For the same matter, what if Barry Bonds came out and told us that he had been using the "cream" and the "clear" but it was legitimate so we didn't need to worry about it?  I'm pretty sure that the fans and MLB would call bullsh*t on both of them. By now I'm pretty sure you know...
MLB News

Delivered to your inbox

You'll also receive Yardbarker's daily Top 10, featuring the best sports stories from around the web. Customize your newsletter to get articles on your favorite sports and teams. And the best part? It's free!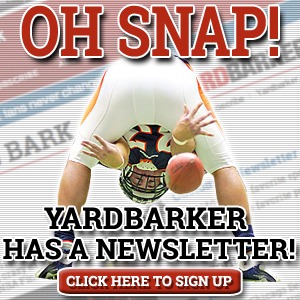 Latest Rumors
Best of Yardbarker

Today's Best Stuff

For Bloggers

Join the Yardbarker Network for more promotion, traffic, and money.

Company Info

Help

What is Yardbarker?

Yardbarker is the largest network of sports blogs and pro athlete blogs on the web. This site is the hub of the Yardbarker Network, where our editors and algorithms curate the best sports content from our network and beyond.