The A's dealt one of their young starting pitchers, just not the one rumored throughout the winter meetings. Trevor Cahill and Craig Breslow have been dealt for Jarrod Parker, Collin Cowgill and Ryan Cook. This is a deal where all fantasy relevant pieces could benefit. Signed through all of his arbitration years, and possibly his first year of free agent eligibility, it is a bit surprising to see the A's move a 23 year old starter. Cahill has been a reliable innings horse the last two years, coming up just short of 200 innings in 2010 and eclipsing that mark in 2011. What he hasn't been is a star, in spite of what his 2.97 ERA in 2010 would suggest. In fact, advanced metrics suggest Cahill was a better pitcher in 2011, even if he posted a 4.16 ERA. The difference in ERA between 2010 and 2011 can largely be attributed to a 66 point gap in BABIP, and a 3.7 percent decrease in his strand rate. Part of the reason for the BABIP jump was natural correction from an unsustainable .236, and part was a 3.8 percent increase in line drive rate. Cahill's component stats suggest his true talent level both years should have resulted in an ERA in the 3.90-4.00 range. He is an extreme groundball pitcher, inducing them about 56 percent of the time the past two seasons. He doesn't strike many batters out, but he did make gains in that regard in 2011 with a 6.37 K/9 and 16.3 percent strikeout rate compared to 5.40 K/9 and 15.1 percent strikeout rate in 2010. His strikeout gains came at a cost as his walk rate increased from 2.88 BB/9 to 3.55 BB/9. Cahill's strikeout rate and walk rate both checked in below league average this year. Calling Chase Field home is a bit of a bummer for Cahill after enjoying the pitcher friendly confines of the Oakland Coliseum, but his propensity for inducing worm burners should mitigate the damage. He can also take solace in the benefits of changing leagues. If Cahill is able to make control improvements that result in bringing his BB/9 below three once again, and he sees the expected bump to his strikeout rate, he could be a helpful middle of the fantasy rotation starter in 2012. Cowgill was considered a ho-hum prospect coming into this season ranking as the 18th best prospect in the Diamondbacks organization by Baseball America. He had a solid season in Double-A in 2010, but really turned it on in Triple-A this season slashing .354/.430/.554 with 13 home runs and 30 stolen bases in 456 plate appearances. Of course, those stats don't mean a lot if there isn't some context attached. His high batting average was fueled by a .397 BABIP, and his strong offensive line came in the incredibly hitter friendly Pacific Coast League. His play earned him a call-up to the Diamondbacks, where he served as a reserve outfielder and underwhelmed in 100 plate appearances. He struck out too frequently, 28.0 percent strikeout rate, and offered nearly no power, .065 isolated power (ISO) and one home run, in his major league debut. As he gets more playing time it is likely he'll adjust to the major league level to a certain extent. Changing teams should award him a greater chance at playing. Instead of being buried behind the trio of Gerardo Parra, Chris Young, and Justin Upton, he'll be battling for playing time with Jai Miller, Jermaine Mitchell, Ryan Sweeney, Michael Taylor, and whoever the A's choose to add to their active roster through trade or free agency. Regardless, Cowgill doesn't have much fantasy value outside of large AL-only leagues. Parker, though, is a potentially intriguing fantasy option in 2012. He was ranked the top prospect in the Diamondbacks organization by Baseball America in 2009,2010 and coming into 2011, and was universally well thought of by scouting outlets. He was surpassed in the eyes of many by fellow pitching prospects Tyler Skaggs and 2011 first round pick Trevor Bauer this season. Also joining the mix of blue chip pitching prospects was the team's second top-10 selection in 2011, high school starter Archie Bradley. Having such a deep collection of talented prospect pitchers allowed the Diamondbacks to sacrifice Parker's upside for the stability of an established big league arm like Cahill. Parker's upside doesn't come without risk. He missed the entire 2010 after undergoing Tommy John surgery in 2009. He made a triumphant return this year throwing a single season best 136.1 innings. The last 5.2 innings of that total were thrown in the majors. Parker's 7.71 K/9 in Double-A was the lowest rate of his career, but could improve as he regains trust in throwing his secondary pitches more often. Parker throws a fastball with above average velocity (92.5 mph average velocity in his lone major league start), a swing-and-miss slider with two-plane break that is a plus grade pitch, a developing change-up that flashes plus, and a curveball Baseball America described as "a show-me pitch," in their
2011 Prospect Handbook
write-up. His pitch repertoire is deep and offers him the goods necessary to get through lineups multiple times and retire both left-handed and right-handed hitters alike. John Sickels noted that he was especially tough on right-handed hitters in a September 15,
Prospect of the Day
article for Minor League Ball. Sickels recently ranked Parker the second best prospect in the Diamondbacks organization, and issued him an A- grade. Project Prospect was one of the most bullish backers of Parker ranking him 11th in their top-100 list compiled back in February. Their faith was at least partially rewarded by him this year, and could be fully rewarded if he reaches his ceiling. The A's may opt to have Parker get further seasoning in the minors at the Triple-A level, or he could break camp with the team. One way or the other, he's not far from being a mainstay in their rotation. He induces more groundball outs than flyball outs (1.63 flyout-to-groundout ratio this year), but will be aided by the home confines Cahill left behind. Parker is long gone in most dynasty leagues, but gamers in shallower keeper leagues and redraft leagues should be on notice. Premium prospect pitchers like Parker can turn the corner from good to great at any point, making him a lottery ticket type late round or cheap auction gamble in 2012.
Original Story:
http://www.fantasybaseball365.com/201...
MORE FROM YARDBARKER
MLB News

Delivered to your inbox

You'll also receive Yardbarker's daily Top 10, featuring the best sports stories from around the web. Customize your newsletter to get articles on your favorite sports and teams. And the best part? It's free!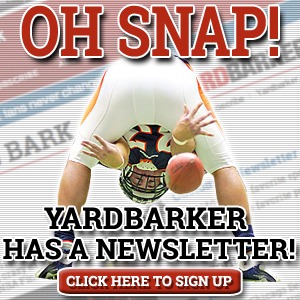 Latest Rumors
Best of Yardbarker

Today's Best Stuff

For Bloggers

Join the Yardbarker Network for more promotion, traffic, and money.

Company Info

Help

What is Yardbarker?

Yardbarker is the largest network of sports blogs and pro athlete blogs on the web. This site is the hub of the Yardbarker Network, where our editors and algorithms curate the best sports content from our network and beyond.