Posted April 04, 2013 on AP on Fox
Barry Zito is coming off his biggest season in years, a redeeming, comeback season. Yet he sees absolutely no reason to be nostalgic about anything he accomplished during the Giants' 2012 championship run. Not even that season-saving Game 5 win he pitched in the NL championship series against St. Louis. The Cardinals come to AT&T Park on Friday for the Giants' home opener, and Zito will be on the mound to face them once again amid much fanfare as the city celebrates another title during a festive pregame ceremony. Zito expects to be so focused on his start that he will do his best to ignore the highly anticipated sideshow as San Francisco kicks off a six-game homestand that also includes three games with the NL West rival Colorado Rockies. ''I can't predict how I am,'' Zito said. ''I would like to stay focused on what I have to do and my process and not get caught up too much in the festivities and stuff like that. That's great for the fans, obviously. That's for them to enjoy but for us we've got to focus on our tasks.'' The Giants will raise the championship flag before the Friday afternoon contest, then honor NL MVP and batting champion Buster Posey before Saturday's game. Zito played a key role in winning the trophy. Matt Cain, who pitched the franchise's first perfect game last June 13, understands the madness of it all on opening day or in the home opener. He was in Zito's spot for the 2011 home debut in front of a sellout crowd following the 2010 title run - the first championship since the storied franchise moved West from New York in 1958. ''You'd definitely like to enjoy taking part in them but your main goal is to go out there and worry about pitching and just stay on that routine,'' Cain said. With San Francisco facing elimination down 3-1 in the best-of-seven NLCS, Zito beat the Cardinals in St. Louis to send the series back to the Bay Area. The Giants won two more to reach the World Series, then Zito beat Justin Verlander and the well-rested Detroit Tigers in Game 1 to help lead a stunning 4-0 sweep. And, to think only two years earlier, the high-priced lefty was left off the postseason roster for all three rounds as San Francisco won it all. Now, Zito begins the seventh year of his $126 million, seven-year contract with something to prove again. Whether he carries over any momentum from 2012, Zito has no idea. These days, he doesn't count on anything - and approaches each day, each outing, with a fresh perspective. That mindset worked so well last year, and he hopes for a repeat. ''I think it could be a bad thing to take a false sense of security into the season based on what we've done in the past,'' Zito said. Zito, who turns 35 next month, went 15-8 with a 4.15 ERA in 32 starts and 184 1-3 innings before his impressive playoffs. The wins were his most since crossing the bay from Oakland to join the Giants before the 2007 season. He has plenty of incentive to put up another similar season. The 2002 AL Cy Young Award winner with the A's has an $18 million option for 2014 with a $7 million buyout on the contract he signed before the 2007 season, but his option becomes guaranteed if he throws 200 innings this year. He hopes to build on a strong spring. ''He's been right on, really since Game 1,'' manager Bruce Bochy said. Cain, and the rest of the roster for that matter, is eager to see how this team performs with a full season together. Second baseman Marco Scutaro and right fielder Hunter Pence were midseason acquisitions who made huge contributions. ''It's nice to have pretty much everybody back,'' Cain said. ''I think we're excited about that because we know who's going out there and we know what's going to happen. We know what guys are doing. That's confidence.''
Original Story:
http://msn.foxsports.com/mlb/story/Ba...
THE BACKYARD
BEST OF MAXIM
RELATED ARTICLES
The Opening Day loss didn't faze the San Francisco Giants. They went on to take the next two games to win the series. Madison Bumgarner pitched a gem against the Dodgers in game two of the season, and Tim Lincecum struggled through five innings yesterday. He walked seven Dodgers and was obviously having trouble with his command. However, it was good enough to get the win. Pablo...
Barry Zito notched a win in his first start of the season Friday. Zito pitched seven innings allowing just three hits in the Giants 1-0 win against St. Louis. Jeremy Affeldt and Sergio Romo pitched perfect eighth and ninth innings preserving the win. Expectations have been tempered over the past few seasons with Zito but a strong postseason and World Series win have raised them this...
At the end of last year Madison Bumgarner was not his normal self as he struggled through inconsistent mechanics. He spent all offseason and spring working on it and last night that hard work paid dividends. Over at Bay Area Sports Guy, I took a look at how good Bumgarner was last night: Bumgarner cruised through eight innings, giving up just a pair of doubles, walking none...
Barry Zito saved San Francisco's season by beating the Cardinals last fall in the NL championship series, then delivered again with a 1-0 victory over St. Louis on Friday as the Giants celebrated their latest World Series title throughout the home opener. Zito outdueled Jake Westbrook in his season debut. The lefty also had a key sacrifice bunt that led to San Francisco'...
Tim Lincecum walked seven, matching a career worst, yet still managed to get the win when Pablo Sandoval and Hunter Pence homered to lead the San Francisco Giants to a 5-3 victory over the Los Angeles Dodgers on Wednesday night in the rubber game of their season-opening series. Lincecum (1-0) threw 91 pitches in five innings, but limited the Dodgers to two unearned runs and three...
SAN FRANCISCO (AP) - Barry Zito is coming off his biggest season in years, a redeeming, comeback season. Yet he sees absolutely no reason to be nostalgic about anything he accomplished during the Giants' 2012 championship run. Not even that season-saving Game 5 win he pitched in the NL championship series against St. Louis. The Cardinals come to AT&T Park on Friday for...
It costs to gain respect, but sometimes respect isn't given even when earned. The reigning MLB champions have won two of the last three championships, yet they are still referred to as underdogs. "It's a club that I don't think has gotten the credit that it deserves for the talent that's here," Giants manager Bruce Bochy tells Chris Haft of MLB.com. "Everyone
Not since his very first career start against the Philadelphia Phillies and Game 1 of the 2010 World Series has there been a more anticipated start for San Francisco Giants starter Tim Lincecum then last night against the Los Angeles Dodgers.  Coming off his worse season as a professional pitcher, many eyes were glued to the television set wondering how he would look in his first...
The newly purchased Los Angeles Dodgers started the 2013 season by rolling up to their home stadium in a fleet of high end BMWs, Lamborghinis, and Porsches. Three games later the San Francisco Giants had those vehicles tagged, towed and impounded in the 2013 National League West cellar. And while it's not likely the Dodgers will continue to lose two of every three games,...
MLB News

Delivered to your inbox

You'll also receive Yardbarker's daily Top 10, featuring the best sports stories from around the web. Customize your newsletter to get articles on your favorite sports and teams. And the best part? It's free!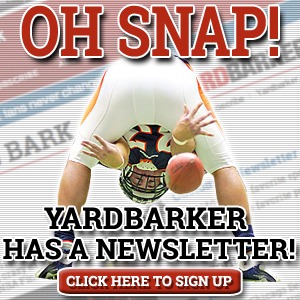 Latest Rumors
The Backyard

Today's Best Stuff

For Bloggers

Join the Yardbarker Network for more promotion, traffic, and money.

Company Info

Help

What is Yardbarker?

Yardbarker is the largest network of sports blogs and pro athlete blogs on the web. This site is the hub of the Yardbarker Network, where our editors and algorithms curate the best sports content from our network and beyond.