Found January 07, 2013 on Hall of Very Good:
PLAYERS:
Jeff Bagwell
,
Mike Piazza
,
Barry Bonds
,
Tim Raines
,
Roger Clemens
,
Craig Biggio
,
Kenny Lofton
,
Dale Murphy
,
Jack Morris
,
Curt Schilling
,
Sammy Sosa
As a longstanding member of the Baseball Bloggers Alliance (BBA), I take great pride in having been able to participate in their Hall of Fame vote the past four years. This year, BBA is recommending Jeff Bagwell (and only Jeff Bagwell) be inducted into the Baseball Hall of Fame this July.  He received 76% of the vote.  A year ago...he finished around 78%.Here's the official word:Every season, the BBA polls it's membership to cast a ballot for the players eligible for Hall Of Fame induction. Following the same rules as the official vote cast by the Baseball Writers Association, a player must receive votes on at least 75% of the ballots in order to be recommended for inclusion in the hallowed halls of Cooperstown.Typically, the blogger's alliance has been very similar to the official votes cast for awards and hall induction. In one of the few moments of disagreement, the BBA voted last year to induct Barry Larkin and Jeff Bagwell. Barry Larkin would be voted in by the official body, leaving Jeff Bagwell to return to the ballot again this year after a 56% showing last year.The Bloggers Alliance opinion has not changed and the lone person to be selected on the BBA ballot this season is Jeff Bagwell.Some other notables receiving votes...Craig Biggo (69%), Mike Piazza (69%), Barry Bonds (62%), Tim Raines (62%) and Roger Clemens (56%). And since everyone else on the web is throwing their own theoretical picks out there, here are mine...Jeff Bagwell, Craig Biggio, Barry Bonds, Roger Clemens, Kenny Lofton, Fred McGriff, Dale Murphy, Mike Piazza, Tim Raines and Lee Smith. Unlike a lot of the BBWAA writers...I feel I've stayed pretty consistent with my picks. Meaning, no Jack Morris. That said, I can probably be swayed to vote for Curt Schilling and, perhaps, Sammy Sosa down the road. The only real addition to my ballot? Dale Murphy. Given this is Murph's final year on the ballot...I had to go with the two-time MVP.Take a gander at the complete press release from the BBA and check out how all 34 players fared in the vote by clicking HERE.
Original Story:
http://www.hallofverygood.com/2013/01...
THE BACKYARD
BEST OF MAXIM
RELATED ARTICLES
JEFF BAGWELL Third Yeard on Ballot (2012 - 56.0%) PLAYING CAREER: Houston Astros (1991-2005) ACHIEVEMENTS: Career batting average of .297. Houston Astros career leader in home runs (449), RBI (1529), walks (1401), runs created (1715). Scored 100 runs or more in eight of nine seasons (1996-2004) and knocked in 100 or more runs in seven of those seasons. 1994 National League MVP when...
The Baseball Bloggers Alliance released the results of its collective Hall of Fame ballot earlier this morning. For those who aren't aware, the BBA is comprised of a vast array of baseball blogs from around the country, including Redlegs Review. Only one candidate among the group garnered the votes needed to be elected: Jeff Bagwell. The former Houston Astros slugger received...
(Written on 1/11/12) As we all know by now, The Baseball Writers have voted SS Barry Larkin into the Hall of Fame. Outside of the talk about how good of a player Larkin was, many have focused on those who fell short, such as Jack Morris, Jeff Bagwell and Lee Smith, all of whom got over 50% of the vote, but fell short of the 75% that was needed to gain entry. Tim Raines got 48...
(The following is adapted from Senator Joseph McCarthy's famous Red Scare speech in Wheeling, West Virginia from February 9, 1950. I wouldn't want any of you to think I was trying to pass someone else's work off as my own. Wink.) Ladies and gentlemen, today as we celebrate the one hundredth birthday of one of the greatest men in American history, I would like to be...
All the Hall of Fame ballots have been cast, all the votes have been tallied, and now there's some guy in a Steve Henderson jersey is walking to the podium with a large white envelope in his hand… You guessed it, it's time for MMO to reveal their Hall of Fame results and the winners are… A drum roll please… Congratulations to… Craig Biggio Jeff Bagwell Mike Piazza...
MLB News

Delivered to your inbox

You'll also receive Yardbarker's daily Top 10, featuring the best sports stories from around the web. Customize your newsletter to get articles on your favorite sports and teams. And the best part? It's free!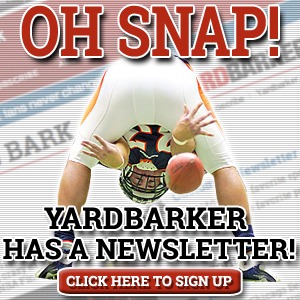 Latest Rumors
Best of Yardbarker

Today's Best Stuff

For Bloggers

Join the Yardbarker Network for more promotion, traffic, and money.

Company Info

Help

What is Yardbarker?

Yardbarker is the largest network of sports blogs and pro athlete blogs on the web. This site is the hub of the Yardbarker Network, where our editors and algorithms curate the best sports content from our network and beyond.