Found April 05, 2013 on Fox Sports:
Bengie Molina hustled out to the third base line to warm cheers, took his spot next to his St. Louis teammates and raised his arm to acknowledge the San Francisco fans. Nearly 2 1/2 years later, Molina got his standing ovation Friday for his role in the Giants' run to the 2010 World Series title - despite playing for the Texas Rangers in the matchup. The former catcher returned to AT&T Park as the first-year assistant hitting coach of the Cardinals. The 38-year-old Molina spent the 2007-09 seasons with the Giants. The Gold Glover was traded to Texas midway through the 2010 season to make way for Buster Posey and retired after that season, so he never came through San Francisco's waterfront ballpark to collect his World Series ring. While Edgar Renteria and Juan Uribe left the Giants and later received their rings when they came to town with new teams, the Giants mailed Molina his prize. Molina hadn't been back at all until this series. On Friday morning, Molina had already pondered how he might be received by the sellout crowd during pregame festivities for the Giants' home opener as the city celebrates another World Series championship from 2012. The Giants overcame a 3-1 deficit against St. Louis last year in the NL championship series. ''I'm extremely proud of these kids,'' Molina said. ''I know they beat the Cardinals last year, and they beat me in 2010. I know that, but I'm extremely proud of everybody over there. I got tears in my eyes when they won, especially when they won the second one, too, knowing that I probably helped them a little bit and to their success, and that makes me so proud. It's unbelievable.'' Clearly, he is still appreciated, too. Molina planned to say his hellos during this weekend's series, but not in the clubhouse. When his current position came open, younger brother and Cardinals catcher, Yadier, talked Molina into giving coaching a chance - ''Yadi got me out of retirement,'' he said. Molina had gone about a year without even following baseball on television. ''I've always been good at teaching,'' Molina said. ''Because I always wanted to pass on what I have, even if it's a little bit, I don't care, or one guy. I just want to help others be better. So, it's a good fit. ... The situation, a great organization and a way of me coming back into the game and experience coaching if I ever want to do that.'' Molina is a career .274 hitter with 144 home runs and 711 RBIs in 1,362 games with the Angels, Blue Jays, Giants and Rangers. ''Bengie's been a great addition, just a very good perspective. Obviously has a little more insight when we play against teams like the Giants and teams that he's been playing with,'' Cardinals manager Mike Matheny said. ''We were excited to bring him onboard. One, with his baseball knowledge, but two, he's one of those guys you could see being around this game for a long time. Us having the opportunity to help him progress in his career, but more importantly to help do the grunt work that's necessary to help our hitters as assistant hitting coach, and he's been a great addition so far.'' While he's still so new to this side of his sport, Molina wouldn't rule out one day managing at some level if the opportunity came his way. ''I understand the game. I played it. I'm willing to teach,'' Molina said. ''I have the heart to do it. I'm not a bad guy where I don't care who learns, even if it's the other team. I want to teach as many people and as many kids as I can.''
Original Story:
http://msn.foxsports.com/mlb/story/Be...
THE BACKYARD
BEST OF MAXIM
RELATED ARTICLES
When catching a foul ball at a Major League Baseball game, most of the time it seems that the person who catches the ball is the most excited. However, the below video shows us that sometimes the fan sitting next to the person who catches it gets more excited. During yesterday's Texas Rangers/Los Angeles Angels game, Rangers second baseman Ian Kinsler fouled off a pitch...
Ian Kinsler's caught foul ball led to much jubilation from Ian Kinsler's foul ball catcher and Ian Kinsler's foul ball catcher's female friend. **Follow us on Twitter or Facebook. Subscribe,... Full story at Bob's Blitz ~ http://www.bobsblitz.com
Yu Darvish says he's ready to pitch again after coming within one out of a perfect game in his season debut. Darvish's next start is Sunday, the finale of the home-opening series against the Los Angeles Angels and five days after his gem against Houston. Darvish said Friday the blister that developed on the ring finger of his right hand during that game isn't a problem...
ST. LOUIS - When the Texas Rangers picked Nick Tepesch to be their fifth starting pitcher, two responses followed. Casual MLB fans said: "Who?" And those familiar with Mizzou said: "Hmmm." Tepesch, the former Tigers pitcher who is scheduled to take the mound for the Rangers' April 9th game against the Rays, is OK with that reaction. He's had to prove...
ARLINGTON, Texas (AP) -- The Texas Rangers have called a news conference Thursday to announce the new contract for two-time All-Star shortstop Elvis Andrus. Andrus and the Rangers this week agreed on a contract guaranteeing him 120 million over an additional eight seasons through 2022 with the Rangers. The deal includes a vesting option for 2023. With the two years left on his...
The Texas Rangers officially announced the signing of their current and future SS Elvis Andrus to an 8-year, $120M deal, setting up their middle infield to be one of the strongest in the American League for half a decade or more.  The number one major league baseball prospect Jurickson Profar also plays SS, but would be a likely candidate to slide over to 2B.  With Andrus at age...
ARLINGTON, Texas Robbie Parker didn't think about anything on the mound Friday at Rangers Ballpark. It helped him get through a very emotional first pitch before the Texas home opener. Parker is the father of Emilie Parker, one of the 26 people who died at the Newtown school shooting last year. Robbie Parker is a lifelong Rangers fan who took his daughter to her first Texas...
The Texas Rangers have two good middle infielders, so the best prospect in baseball is starting the season in Triple-A. The St. Louis Cardinals have three good outfielders, so the second best prospect in baseball is starting the season in Triple-A. The Cardinals one glaring weakness is at shortstop. The Rangers spent all winter trying to trade for a young power hitting outfielder...
Opening day was a rainy day throughout much of the United States, as three of the Texas Rangers' four full-season affiliates were washed out on Thursday. Lone Star Dugout takes a look at all of the day's minor league action in the Rangers' system.
Texas Rangers outfielder David Murphy told reporters – including Anthony Andro of FOX Sports Southwest – that he expects to play through the remainder of the season and test the free agent market, as there have been no serious contract extension talks between his camp and the team. Murphy is currently in the final year of team control, as he's earning $5.775...
Josh Hamilton will be in the other dugout when the Texas Rangers play their home opener Friday. Texas is coming off an opening series at Houston, when Yu Darvish was one out from a perfect game and Rangers pitchers struck out 43 batters in posting two shutouts. But so much attention in the first home series will be on Hamilton being in a Los Angeles Angels uniform. Hamilton was...
ARLINGTON, Texas (AP) Ian Kinsler hit a go-ahead single with two outs in the eighth inning and the Texas Rangers gave their fans plenty of reasons to cheer in the home opener, beating Josh Hamilton and the Los Angeles Angels 3-2 Friday.Hamilton was a five-time All-Star and the 2010 AL MVP while with Texas before going to the AL West-rival Angels with a 125 million, five-year contract...
MLB News

Delivered to your inbox

You'll also receive Yardbarker's daily Top 10, featuring the best sports stories from around the web. Customize your newsletter to get articles on your favorite sports and teams. And the best part? It's free!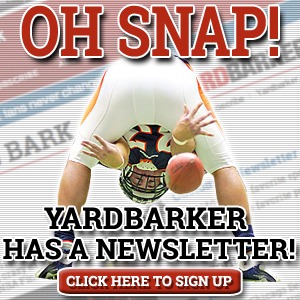 Latest Rumors
The Backyard

Today's Best Stuff

For Bloggers

Join the Yardbarker Network for more promotion, traffic, and money.

Company Info

Help

What is Yardbarker?

Yardbarker is the largest network of sports blogs and pro athlete blogs on the web. This site is the hub of the Yardbarker Network, where our editors and algorithms curate the best sports content from our network and beyond.