Found August 01, 2012 on Fox Sports:
PLAYERS:
Jason Bay
,
Heath Bell
,
John Buck
,
Logan Morrison
,
Carlos Lee
,
Joe Blanton
,
Kevin Millwood
,
Jake Arrieta
,
Luke Hochevar
,
Jonathan Broxton
,
Francisco Rodriguez
,
John Axford
,
Brad Penny
TEAMS:
Miami Marlins
,
New York Mets
,
Houston Astros
,
Baltimore Orioles
,
Philadelphia Phillies
,
Seattle Mariners
,
Kansas City Royals
,
Cincinnati Reds
,
Milwaukee Brewers
,
San Francisco Giants
Sometimes the most interesting trades are the ones that don't happen. Consider this fascinating change-of-scenery exchange that the Miami Marlins and New York Mets kicked around, according to major league sources: Outfielder Jason Bay to the Marlins for reliever Heath Bell and catcher John Buck. The deal never was close, sources said. But it would have enabled both clubs to purge players who are flopping miserably this season. The money almost would have matched up, too -- Bell and Buck are owed a few million more than Bay through the length of their contracts (Bell's deal expires after 2014, Buck's and Bay's after 2013). Bay, who is batting .162 with a .558 OPS, could have become the Marlins' left fielder, enabling Logan Morrison to eventually move to first base, where he would replace Carlos Lee. Buck, who is batting .168 with a .582 OPS, would have fulfilled the Mets' desire to add a catcher. And Bell, who has a 5.66 ERA and lost the closer's ro...
Original Story:
http://msn.foxsports.com/mlb/story/mo...
THE BACKYARD
BEST OF MAXIM
RELATED ARTICLES
As the Mets get ready for the last 3 games of a 11 game home stand in bad weather San Diego, I wonder if Jason Bay knows his time is coming to a close as a starter for the Mets?  I doubt that his 1 hit 2 rbi night against the Giants yesterday will be able to stop the sands of time which honestly has gone on long enough. Everyone wants Bay to succeed. Heck I am one of them but how many times
What is the one thing aside from Jason Bay that really gets Mets fans in an uproar?  All the Mets fans are screaming "the bullpen!!!"  Well Mets fans, I have figured out what the Mets have to do to get this bullpen back on its feet. There is only one player that can save the Mets bullpen and bring us back to the glory and dominance that was experienced in the mid 1980s.  The...
In Doug's Dugout today, we simply vent (mostly about Jason Bay and management). Something is rotten in Denmark, my fellow furry Mets fans. Suddenly, since the second half bell rang, the Mets hierarchy (i.e. Sandy Alderson) has demoted multiple (young) Mets outfielders with the regularity of a Jason Bay strikeout. What in the heck is going on here? Allow me to enlighten you: Remember...
Mets finally win their second straight game in July. Scott Hairston launches two, and Jason Bay touches the plate three times in a late night offensive battle against the Giants. Mets end up on top, 8-7 in ten innings. Despite what the scoreboard says, Jeremy Hefner did well tonight. He just got pulled a couple batters too late. The game was tied at two entering the sixth inning...
On Thursday, Chris Young rebounded from a poor performance in his previous start with a fine outing, as he hurled 7 IP, allowed 1 ER and earned a game score of 69, his highest mark in 11 starts this year.  Young has come back from a shoulder injury to be a stabilizing influence in the Mets' starting rotation.  His 64 IP is equal to what he produced in 2010 and 2011 combined...
Just about 36 hours ago there was a report that the Mets were deep in talks with the Marlins about sending Jason Bay off to Skittles Park to bring back Heath Bell and John Buck.This is hilarious to me. But I'm sure it enraged Bay, and perhaps made him cry. How would you feel if your baseball career with a particular club was such a colossal failure, that a deal to get rid of...
Yesterday, Ken Rosenthal of FOX Sports reported that the Mets and Marlins were discussing a deal before the trade deadline that would send Jason Bay to Miami, and bring Heath Bell and John Buck to the Mets. Although they weren't close to a deal, they were discussing. All three players in this proposed trade are overpaid and not performing. However, it would be one that...
According to Ken Rosenthal of Fox Sports, the Mets and the Marlins discussed a trade that would have sent Jason Bay to Miami for Heath Bell and John Buck before the trade deadline. Basically it's a swap of bad contracts and underperforming players. Bell is 2-5 this season with a 5.66 ERA 41 1/3 innings pitched. He's allowed 45 hits, 23 walks and struck out36 batters. Buck is...
Ronny Cedeno drove in five runs to match his career high, Jason Bay had only his second multi-RBI game this year and the New York Mets beat San Francisco 9-1 Thursday to take three of four from the Giants and win their first series in a month. Bay had three RBIs as Mets won for the fourth time in five games following a 2-14 slide. His only other multi-RBI game was April 13, when...
It is said you can't assume a double play, and on Monday night… (that's for you too Maj LOL) Better late than never!  Yes, yes, I know this is a bit late, and I apologize but I feel asleep in the middle of the 9th inning and didn't wake up until it was time to go to work.  I know, blasphemy, right?  Hey, at least we weren't across the bay in Oakland, where the Rays...
BOSTON –– Last offseason, Ben Cherington gained notoriety for his patient approach. He bypassed marquee free agents such as Carlos Beltran and Heath Bell to build mostly from within. So it shouldn't strike anyone by surprise that Tuesday's trade deadline passed without a blockbuster deal from the Red Sox general manager. Since the start of his regime, Cherington has demonstrated...
The Miami Marlins grand experiment hasn't worked this year, leading to the trades of Hanley Ramirez, Anibal Sanchez, Omar Infante and Randy Choate before the non-waiver trade deadline. In a perfect world, they wouldn't have had to trade those players, because they would still be fighting for a playoff spot at this point in the season. But it hasn't been a perfect world for...
MLB News

Delivered to your inbox

You'll also receive Yardbarker's daily Top 10, featuring the best sports stories from around the web. Customize your newsletter to get articles on your favorite sports and teams. And the best part? It's free!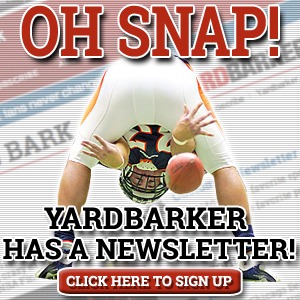 Latest Rumors
Best of Yardbarker

Today's Best Stuff

For Bloggers

Join the Yardbarker Network for more promotion, traffic, and money.

Company Info

Help

What is Yardbarker?

Yardbarker is the largest network of sports blogs and pro athlete blogs on the web. This site is the hub of the Yardbarker Network, where our editors and algorithms curate the best sports content from our network and beyond.