Found March 14, 2012 on PRO Rumors:
The Philadelphia Phillies declined to exercise Brad Lidge's $12.5mm team option, thus making him a free agent. Lidge then turned around and signed with the division rivals, (loosely used) the Washington Nationals for $1mm. Dan Steinberg of the Washington Post caught up with Lidge and asked him what he thought about the 2012 Washington Nationals and Lidge had this response. "Probably the most talented team I've ever been on, and I've been on some great teams." Those are some big words coming from a member of the 2008 World Champion Phillies and also part of a team with a plus $100mm payroll each of the last three seasons. Look for the Nationals to compete in the NL East this year. Image taken by Darrins and used under the Creative Common License Agreement. ]]>
Original Story:
http://www.prorumors.com/2012/03/rumo...
THE BACKYARD
BEST OF MAXIM
RELATED ARTICLES
MEAT OF THE ORDER
Nothing puts the stamp on legendary potential like having a burger the size of a fat newborn baby named after you. The Washington Nationals are pulling out all the stops in driving up attendance this season from the 'Take Back the Park' campaign, the #FUphilly campaign by local radio stations, and now the 'Eat this Gigantic Burger named After Stephen Strasburg so that...
Since moving over from Montreal, the Washington Nationals have not had a winning season. They have come close a couple times and are improving as of late, but they still leave a lot to be desired. Nationals fans are waiting on Stephen Strasburg and Bryce Harper to take over the franchise, but more often than not they leave the ballpark with an empty feeling in their stomachs. This...
Projected lineup SS - Ian Desmond 2B - Danny Espinosa 3B - Ryan Zimmerman LF - Michael Morse 1B - Adam LaRoche RF - Jayson Werth C - Wilson Ramos CF - Rick Ankiel/Roger Bernadina SP - Stephen Strasburg SP - Jordan Zimmermann SP - Gio Gonzalez SP - Edwin Jackson SP - Chien-Ming Wang CL - Drew Storen Five things to think about: - Nineteen-year-old super-prospect Bryce...
Rather than get hung up on a bad spring training start by Stephen Strasburg on Wednesday night against the Braves, let's focus on more positive things. Like, Bryce Harper returning to the lineup after spending time on the shelf with a left calf strain, and handling his surprise start in CF without incident (through six innings, anyway). Why CF, Davey? "He runs good. He's...
The Nationals decided this afternoon to give two of their top prospects in big league camp a chance to get acclimated with the team's minor league program as they optioned starting pitcher Matt Purke and infielder Anthony Rendon. The team also removed seven other players from their spring roster, including Corey Brown, Jarrett Hoffpauir, and Sandy Leon. Bryce Harper, Washington...
I don't know a lot about the Washington Nationals. That's a relative statement of course. I know alot more than the average person about the Washington Nationals. I know that they've been a mediocre team since the franchise moved from Montreal, never reaching the playoffs. I know that they just signed Ryan Zimmerman to a large contract extension that seems somewhat questionable...
VIERA, Fla. (AP) -- Washington right-hander Edwin Jackson struggled through three-plus innings Tuesday, and the Detroit Tigers defeated the Nationals 6-3. Jackson allowed four runs, two earned, while giving up five hits, walking two and striking out two in 3 1-3 innings. The two-run homer he gave up in the first inning to Detroit's Ryan Rayburn came with two outs, one batter...
As we approach the midpoint of spring training and cast a wanting eye towards opening day, it is probably fair to wonder about the status of currently unsigned free agents. One such free agent is future Hall of Famer Ivan Rodriguez, whose dalliances with the Mets a week or so ago proved fruitless, and thus may be pushing the legendary backstop towards retirement whether he wants...
With the 2012 MLB season on the cusp, here's a look at the Washington Nationals from an attendance perspective. 2010 Total Attendance: 1.82 million 2010 Average Attendance & Sell-Thru: 22,568 (54% of capacity) 2010 Record: 69-93, Missed Postseason 2011 Total Attendance: 1.94 million 2011 Average Attendance & Sell-Thru: 24,877 (60% of capacity) 2011 Record: 80-81...
Thursday and Friday will be a dream come true for Bryce Harper the Yankee fan. On Thursday, the kid will face the Yankees in Viera. On Friday, he'll reportedly travel with the Nationals to face the Yankees in Tampa: "Oh, man, that's going to be fun. Even Pineada tomorrow. You've got a guy who pitched for Seattle and was great, came over to the Yankees of course...
The Red Sox are still trying to figure out who will be their fifth starter this season, but the Nationals' John Lannan might not be the guy. Despite a recent report stating otherwise, the team has not made an offer to the Nats for Lannan, according to WEEI.com's Alex Speier. This news comes on the heels of a report by ESPN's Jim Bowden that essentially stated Boston was...
Ryan Zimmerman homered for the second time this spring and added a double in the Washington Nationals' 8-4 victory against a St. Louis Cardinals split squad on Monday. Zimmerman is hitting .587 this spring, going 7 for 12 with three doubles. Nationals starter Jordan Zimmermann had a rocky outing, allowing four runs - including three in the first inning - seven hits and one...
MLB News

Delivered to your inbox

You'll also receive Yardbarker's daily Top 10, featuring the best sports stories from around the web. Customize your newsletter to get articles on your favorite sports and teams. And the best part? It's free!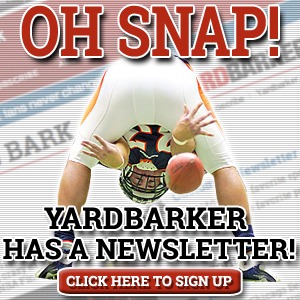 Latest Rumors
Best of Yardbarker

Today's Best Stuff

For Bloggers

Join the Yardbarker Network for more promotion, traffic, and money.

Company Info

Help

What is Yardbarker?

Yardbarker is the largest network of sports blogs and pro athlete blogs on the web. This site is the hub of the Yardbarker Network, where our editors and algorithms curate the best sports content from our network and beyond.