Found March 26, 2013 on In The Neutral Zone:
The Washington Nationals are expected to easily one of the best teams in the National League. They are expected to make the post season, some will have them going all the way to the World Series. For lack of a better phrase they are loaded for bear. They have the pitching, the hitting the defense, and a manager who knows how to get to the post season and the World series in Davy Johnson. They also have one other thing: Bryce Harper. Yes the same franchise who sat Stephen Strasberg down for the rest of the season because of innings limit, also have Bryce Harper. As a rookie harper hit 270. an om base percetage of 340 with 22 homeruns and 59 runs batted in. What will he do for an encore in his sophmore year? Can we expect more of the same of this hard hitting hard running, hard fielding shades of Pete Rose type of player? It will be interesting to see how much Harper improves in every phase of his game from his rookie season of a year ago. It will be interesting as well to see how the pitchers in the National league will make adjustments to Harper at the plate and how he will counter those adjustment. Now that teams have a book on Harper the question will be how will they pitch him and will they dare pitch around him with a line up that the Nationals have? It's world series or bust for the Washington Nationals will Harper find the expectations harder to deal with this time as opposed to last season? <>
Original Story:
http://intheneutralzone.com/?p=12243
THE BACKYARD
BEST OF MAXIM
RELATED ARTICLES
So Bryce Harper announced his walkup songs for 2013 on Twitter Sunday night. In order: Moby - "Flower (Bring Sally Up)", Imagine Dragons - "Radioactive", and Run DMC - "It's Tricky": Apparently the #3 selection caused Harper some trouble: Still can't understand why Harper didn't go with "Nuts about the Nats"... Befriend...
Recovered from a swollen left thumb that's now "all good," Washington Nationals wunderkind Bryce Harper is on the brink of having a historic season. Harper, a 20-year-old who Washington selected out of the College of Southern Nevada with the first overall pick in the 2010 Major League Baseball Draft, was an All-Star and National League Rookie of the Year winner in 2012. The...
Just in time for Opening Day, MLB launched its new "I Play" marketing campaign today, featuring spots with Bryce Harper, Robinson Cano, Carlos Gonzalez, Adam Jones, Andrew McCutchen, Buster Posey, David Price, Mike Trout, Justin Verlander and David Wright. Up above is the video for Harper's spot, in which a Harper voice-over talks about playing for "the W on...
A lot of people hate on me for liking Bryce Harper so much. I was a little undecided on the guy until I read a book about his only amateur season. And then I wanted to immediately learn more about the guy. Then I saw him play. From his first big league at-bat, I saw that he wasn't a fraud. I always believed in his ability, and then I decided that when you watch him play; this is...
Bryce Harper does not browse hot girls or sports on the internet, but rather houses and clothes on Pinterest. Who'da thunk it?
Bryce Harper had three hits and stole two bases, one day after he was scratched because of a swollen left hand, and Danny Espinosa went 3 for 3 with a three-run homer Sunday in the Washington Nationals' rain-shortened 9-3 win over the Atlanta Braves. In a game called after seven innings because of bad weather, Washington's Jordan Zimmermann allowed three runs - one earned...
VIERA, Fla. (AP) Bryce Harper scrapped the pad he had planned to wear on his swollen left thumb. After missing a game because of the injury, Harper singled twice, doubled and stole two bases Sunday in the Washington Nationals' rain-shortened 9-3 win over the Atlanta Braves. Harper got hurt when he was jammed with a pitch Friday. He didn't feel comfortable swinging with...
JUPITER, Fla. (AP) -- Giancarlo Stanton homered twice, including a drive high off the hitters' background screen in center field, to help the Miami Marlins defeat the Washington Nationals 8-5 Tuesday. Bryce Harper singled in each of his first two times up to extend his streak of consecutive at-nats with hits to nine, He walked in the fifth, then left the game. Harper is hitting...
Maybe there's something appropriate about the timing of it all: What's expected to be the first full season together for Stephen Strasburg and Bryce Harper is supposed to be the final season for their manager, Davey Johnson. And maybe all of the heartache of those 100-loss years and last-place finishes could finally feel worth it in 2013 to the Washington Nationals, a popular...
The March 26th, 2013 edition of daily news for the Los Angeles Angels including Madson feeling good after another bullpen session, Trout vs. Harper and much more... The Story: Ryan Madson is feeling good after another bullpen session on Monday. The Monkey Says: Nice to hear, but he still isn't throwing 100% or throwing his changeup. In other words, he still has a long...
Ben and Sam answer listener emails about PECOTA`s projections for the Yankees and Blue Jays, how the amateur draft and free agency would work in an auction format, and whether teams should offer players like Bryce Harper and Stephen Strasburg $100 million lifetime contracts after drafting them.
Sports Illustrated has named the Washington Nationals this year's World Series favorite and has placed their star pitcher on one of six regional covers. With that I suppose that means Stephen Strasburg's arm will fall off by mid-June and Bryce Harper will be suspended for bumping in to an umpire at some point and Jayson Werth's hair will start falling out by September...
Nationals News

Delivered to your inbox

You'll also receive Yardbarker's daily Top 10, featuring the best sports stories from around the web. Customize your newsletter to get articles on your favorite sports and teams. And the best part? It's free!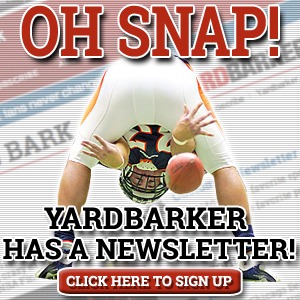 Latest Rumors
The Backyard

Today's Best Stuff

For Bloggers

Join the Yardbarker Network for more promotion, traffic, and money.

Company Info

Help

What is Yardbarker?

Yardbarker is the largest network of sports blogs and pro athlete blogs on the web. This site is the hub of the Yardbarker Network, where our editors and algorithms curate the best sports content from our network and beyond.