Found June 14, 2013 on Around Citi:
The New York Mets are relying on 26-year-old first baseman Ike Davis to regain his stroke in Las Vegas so he can return to his post in Flushing. While his struggles have led to his demotion, there aren't many who believe that he'll be in Las Vegas for long before returning to the big leagues with a vengeance. After all, Davis is a player who is only one year removed from blasting 32 home runs, and two years removed from putting himself in early MVP talks before he suffered an ankle injury that ended his season prematurely. The question remains: How Can Ike Davis Be Trusted? If Davis is able to rebound in Las Vegas in a relatively short period of time, how can he be trusted to produce at the big league level? If he is to be promoted and given consistent playing time once again, how large of a sample would he have earned before he breaks the newfound trust? Furthermore, if Davis were to come back and produce to his offensive potential, how can he be trusted in 2014 knowing full well the possibility that he will suffer a long and painful slump to begin the season? These are all questions that may be uncomfortable to ask, but are very real. If Davis were to heat up in Las Vegas and eventually find himself back in Flushing this summer, how long of a leash would he be given assuming he struggles? Would he be thrust into the position until the conclusion of the season because it would be an embarrassment for the organization if he failed multiple times at the big league level even after the demotion? Would Davis be given all of four or five games before being given time to sit? The messages that the organization has sent this year regarding playing time to players has been confusing, at the very least. Collin Cowgill was appointed the full-time center fielder on March 30th before being removed from the role after a 2-12 start that saw him blast a grand slam on Opening Day. He received inconsistent playing time from thereon out, but Jordany Valdespin is continuing to receive an ample sample size in the leadoff spot despite failing. Juan Lagares was immediately thrust into a platoon with Rick Ankiel. The 23-year-old Lagares had yet to receive 40 major league plate appearances. Daniel Murphy, despite being an above-average second baseman in 2013, was moved to second base while Lucas Duda is still patrolling left field. Duda has produced a -1.0 dWAR at the position, neutralizing his offense. If Duda were to be shifted to first, he would no longer be as large of a defensive liability and his offense would be more valuable to the club. The organization is sending confusing messages. Naturally, Cowgill and Lagares may not possess the offensive potential that Davis boasts, but it's hard to tell what decisions the organization may employ when it comes to Davis and his return.
Original Story:
http://aroundciti.com/can-ike-davis-b...
THE BACKYARD
BEST OF MAXIM
RELATED ARTICLES
Minor moves. Major problem. That sentiment is essentially what the Mets hinted towards their fans this week when they demoted Ike Davis, Mike Baxter and Robert Carson to Las Vegas while designating Rick Ankiel for assignment. The constant underperforming and lackluster baseball finally caught the wrath of GM Sandy Alderson. No more will there be any coddling or nurturing of their...
Matt Harvey has become the new Johan Santana of the Mets, and that is not in reference to his skills or his emergence into the staff's ace. Harvey has been lights out all season long, and should have at least ten wins under his belt. However despite his 2.04 ERA, Matt Harvey sits at 5-1 on the year, that one loss coming last night after he allowed just a lone run over seven frames...
David Wright spoke out about the overzealous campaign by the Mets to get him voted to the All Star Game. "It's nice when the organization is trying so hard to do something for one of their players and I can't thank them enough for that," Wright said. "But at the same time, I've asked them to kind of back it down a little bit, especially with the stuff between innings...
New York Mets top pitching prospect Zack Wheeler turned in what very well may end up being his final minor league start for quite some time.  The 23-year-old went 5 1/3 innings against Tacoma giving up just 1 run on 1 hit while striking out seven. The lone hit was a home run to Carlos Peguero and that mistake proved costly enough to pin Wheeler with the loss on the evening as...
Zack Wheeler is expected to remain with Triple-A Las Vegas and throw his between-starts bullpen session with the Pacific Coast League club before joining the Mets on Monday in Atlanta. He is expected to pitch the nightcap of Tuesday's doubleheader against the Braves at Turner Field. Terry Collins said the nighttime assignment is designed to keep Wheeler in a routine. "We thought...
If you head down to Citi Field to catch a Mets game, many unordinary sights will meet your eyes. You will see a sprawling diamond of freshly paved dirt and newly cut grass. You will see hundreds of food stands and many strangers offering you a free Mets jacket on the one condition that you pay them. You will see a man with a cowbell, a man covered in pins, and maybe even the mustachioed...
After 53 games of the 2013 baseball season, I think we have our enduring image. A defining moment. What it defines, I'm not sure. But it's going to wind up summing up this season perfectly: That's Lucas Duda. In the seventh inning of a baseball game on Saturday with his team down by one run. Bunting. Willingly. Now mind you ... not only does Duda lead the Mets...
There have been all kinds of happenings in the Mets organization of late. Ike Davis – who was supposed to be one of the big bats in the Mets' line-up – was sent down to Triple-A along with Mike Baxter and Robert Carson. Davis has struggled immensely this season with a batting line of .161/.242/.258 and has been on a downward plane since injuring his left ankle in a collision...
Presented without any comment really needed. The Mets are 24-37 and 12.5 out in the N.L. East. [via @MattSebek] Filed un…
There is an old football saying that states, "the most popular guy in town is always the backup quarterback."  Although that phrase may not directly translate to the game of baseball, I think we can all relate it to the Mets current managerial situation.  The incumbent skipper, Terry Collins, has seen his tenure dominated by poor play thanks in part to a poor roster.  Lurking...
Think Anthony Young is getting nervous? Excited? Or is he doing what we all should be doing ... anything except watching the New York Mets play baseball? Here's my recap of Friday's game: I'm on the bus, and Shaun Marcum gives up five runs. So when I got home, I went to sleep. When I woke up, Marcum was 0-8. The End. Speaking of ... It sure is...
Because this needed to happen, that is why. [Barstool] Article found on: Next Impulse Sports
Mets News

Delivered to your inbox

You'll also receive Yardbarker's daily Top 10, featuring the best sports stories from around the web. Customize your newsletter to get articles on your favorite sports and teams. And the best part? It's free!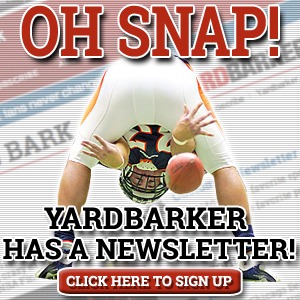 Latest Rumors
Best of Yardbarker

Today's Best Stuff

For Bloggers

Join the Yardbarker Network for more promotion, traffic, and money.

Company Info

Help

What is Yardbarker?

Yardbarker is the largest network of sports blogs and pro athlete blogs on the web. This site is the hub of the Yardbarker Network, where our editors and algorithms curate the best sports content from our network and beyond.