Posted April 18, 2013 on AP on Fox
Having appeared to lose their hitting stroke on the road, the Philadelphia Phillies are likely eager to return home. They might not be quite as enthusiastic to face Adam Wainwright. Looking to build on a sensational outing, the St. Louis Cardinals staff ace will try to continue his recent success against the Phillies in Thursday night's series opener. Philadelphia (6-9) batted a respectable .259 in its first 10 games but hit .191 and was outscored 19-7 during a 1-4 finish to a six-game road trip. After getting edged 1-0 in the conclusion of a suspended game Wednesday in Cincinnati, the Phillies were blown out 11-2 later that night as part of a three-game sweep. Leadoff hitter Ben Revere is 2 for 20 over the last five games, while No. 2 hitter Jimmy Rollins is 1 for 18 over the last six. "Our game is not together," manager Charlie Manuel said. "It seems like ever since the season started, we've been out of whack. Things haven't been working for us.&quo...
Original Story:
http://msn.foxsports.com/mlb/story/Ca...
THE BACKYARD
BEST OF MAXIM
RELATED ARTICLES
As the reigning Cy Young award winner and having been through the arbitration process twice already, the Tampa Bay Rays' David Price is getting expensive.  He is already earning $10 million this year and can be expected to double that over his next two arbitration years. What this means is that the Rays, as is their M.O., will probably look to trade Price, maybe as soon...
The Phillies are getting absolutely nothing out of their outfield. In 183 at-bats, Phillies outfielders are batting .219 with five home runs. Ben Revere hasn't gotten off the ground, Laynce Nix and John Mayberry are doing pretty much what you'd expect in one outfield corner and Domonic Brown remains the wildly inconsistent, baseball version of Evan Turner. The Phillies' outfield...
Yes, there is one on the current 25-man roster of the Philadelphia Phillies:  Phillippe Aumont. However, it is a title he will have to earn, which is highly possible. TAL'S HANDY CAPS WELCOME, NEWCOMERS: By design my articles represent a baseball man's thinking, the view from the dugout and the GM's box. Most fans do not consider the budget, prospects on the radar, the organization's...
The way everyone is talking about it, the NL world as we know it is coming to an end in the not-too-distant future.  That is because everyone is speculating the the NL will eventually have to adopt the DH.  No longer will the NL be the last bastion of "pure" baseball.  No longer will managers actually need to think about when to lift their starter for a pinch hitter...
Philadelphia Phillies (6-7) at Cincinnati Reds (6-7) Tuesday's Game (Resumed from Bottom of 9th, No Outs) Time: 5:30 pm, Great American Ballpark TV: The Comcast Network, Home of Phillies Nation TV Weather: Partly Cloudy, 100% chance of precipitation, 75 Media: Twitter and Facebook The Phillies and Reds will look to squeeze the conclusion of last night's pitcher's duel in before...
"I think it's ridiculous that we've had no walks in three days. I cannot believe it. More importantly, it's about not just walks, but producing, and we haven't done that. We haven't gotten hits, period. We haven't gotten hits with runners in scoring position, we haven't gotten hits to lead off innings. We need more people on base and more offensive production. You've...
Homer Bailey and Kyle Kendrick were nothing short of spectacular tonight. After an hour and twenty minute rain delay in Cincinnati, the two starters squared off, and the duel bagan. Much like last night's ballgame, the Phillies' offense was nowhere to be found. Through EIGHT innings, the Phils had gathered...
Articles like this are tough to write on April 19, because you don't want to give too much weight to fast or slow starts. Over time, players with track records will usually reach their levels, so stop asking if you should trade Matt Cain, or give up the farm for Jed Lowrie. It's early, folks. With that said, here's our latest edition of Free Agent Frenzy - many owners...
We are going to lose a Jonathan Sanchez start?  Nooooooooo! Wow. There isn't much in the world that sums up the 1980s quite like that. Last night's game will be rescheduled and it will start over. Sorry Pedro Alvarez, no hit for you. Imagine how different life would be if A.J. Burnett would have signed…
MLB News

Delivered to your inbox

You'll also receive Yardbarker's daily Top 10, featuring the best sports stories from around the web. Customize your newsletter to get articles on your favorite sports and teams. And the best part? It's free!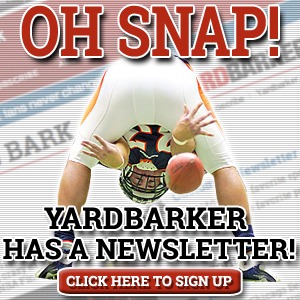 Latest Rumors
Best of Yardbarker

Today's Best Stuff

For Bloggers

Join the Yardbarker Network for more promotion, traffic, and money.

Company Info

Help

What is Yardbarker?

Yardbarker is the largest network of sports blogs and pro athlete blogs on the web. This site is the hub of the Yardbarker Network, where our editors and algorithms curate the best sports content from our network and beyond.