Found April 05, 2013 on isportsweb.com:
In his second season calling the shots for the Chicago Cubs, Theo Epstein's overhaul of the franchise is in its early stages.  There are only a handful of players on the current roster that Epstein considers to be a part of the team's long term plan.  Many of the players on the 2013 squad are stop gaps who are expected to be replaced by prospects in the near future.  The Cubs hope that some of the non-core players will have early season success so their trade value increases, and they can be flipped for top prospects.  The burning question is, who will be dealt and who will stay? It seems Alfonso Soriano's name has been mentioned as part of trade rumors throughout almost his entire tenure with the Cubs.  Talks seemed to heat up at the trade deadline in 2012, but the Cubs were ultimately unable to find a suitor for Soriano.  However, 2013 might be the season the Cubs are finally able to unload Soriano.  Since Soriano only has one year beyond 2013 left on his contract, the Cubs are willing to eat a good portion of his salary if they receive a good prospect in return.  If Soriano manages to put up numbers similar to the ones he put up in 2012, he would be an extremely attractive option for a contender who is one right handed slugger short of making a playoff run.  The deal would also be low risk economically as the team trading for Soriano would only have to pay a small fraction of the money owed to Soriano the next couple of years.  There should be a team that is desperate enough come trade deadline time to give the Cubs the type of prospect they are looking for in exchange for Soriano's services. The Cubs will be looking to move Carlos Marmol's expensive contract in 2013 Carlos Marmol is another name that has been repeatedly mentioned in trade rumors, most notably during this past off-season when he was reportedly traded to the Los Angeles Angels in exchange for Dan Haren until the Cubs backed out of the deal due to concerns with Haren's health.  The Cubs also brought in Kyuji Fujikawa from Japan, who may turn out to be a more reliable option at closer.  Marmol will be extremely tough to trade both because of his huge contract and his wildly inconsistent performance.  It is possible that if Marmol pitches well in the first half of the season that a team might take a chance on him because of his sky high potential, however he has shown nothing to make anyone believe he will be able to pitch well consistently.  The most likely scenario is that Marmol continues to struggle throwing strikes and eventually relinquishes the closer duties to Fujikawa and finds himself as the most expensive setup man in all of baseball. Unless Matt Garza gets healthy quickly and shows the league that he can stay that way, the Cubs will not be able to get the type of prospects in return for him that they would like.  Garza is only 29 years old and could be a contributor in a few years when the Cubs are expected to be competitive.  Epstein and company will be weighing their options with Garza this year and trying to figure out if they are better off trading him or trying to sign him to an extension.  Given Garza's recent string of injuries, it is likely that teams will be hesitant to give up top prospects in order to get him.  If this is the case, then the Cubs would be best off trying to sign Garza to a long term deal to start solidifying their rotation going forward. Soriano, Marmol and Garza have been constantly mentioned as potential trade candidates, but there is a Cubs outfielder who may be dealt whose name has seldom been mentioned.  David Dejesus is not the flashiest player, and he doesn't put up gaudy numbers but he is the type of player who can be the perfect piece for a contending team.  He works extremely deep counts, which most teams love to see, and he is a veteran who can provide leadership to a team that might be lacking it.  A team would be wise to try and make a deal for Dejesus, and the Cubs should be more than willing to deal him since it has Brett Jackson waiting to take over as the everyday center fielder. In all likelihood the Cubs will find themselves as sellers once again at the 2013 trade deadline and it appears that aside from Castro, Rizzo and Samardzija no one is safe.  The Cubs want to continue to stockpile young talent, and there are several pieces on the 2013 roster who could be dealt for some talented prospects.  Depending on how the first half of the season pans out, the Cubs roster could look vastly different in August then it does now.
Original Story:
http://feedproxy.google.com/~r/isport...
THE BACKYARD
BEST OF MAXIM
RELATED ARTICLES
Chicago Cubs closer Carlos Marmol has been pulled from his ninth inning role after his first blown save of the year last night in Atlanta. Kyuji Fujikawa will replace Marmol as the Cubs' fireman, according to reports. Marmol is actually reportedly taking the demotion well, stating "You can't complain about it. They say it's better for me and for the team. I&...
Apparently licking your fingers is the appropriate response to giving up runs in the bottom of the 9th. Since it's going to happen pretty much every night, we'll continue to highlight the ****** relief performance of the night.  (I think we need a name for it).  Tonight's winner was Carlos Marmol.  Yes, yes.  He did actually record a save.  But check out the stat line...
Following Saturday's meltdown the Chicago Cubs have removed Carlos Marmol from the closers role. Marmol blew a save after allowing two solo home runs in the inning. Marmol will be replaced by 32-year-old Kyuji Fujikawa according to Chicago Tribune writer Paul Sullivan. Entering the eighth inning the Cubs held a 5-1 lead over the Braves. Fujikawa pitched the eighth inning for the...
Carlos Marmol still believes in himself as a closer. It's hardly safe to say the Chicago Cubs feel the same way. Marmol failed to convert a save for the second time in three chances this week - this time giving up solo homers in the ninth inning to brothers B.J. and Justin Upton as the Cubs blew a four-run lead and lost 6-5 to the Atlanta Braves. ''I'm trying,...
Chicago Cubs manager Dale Sveum says Carlos Marmol is out as closer and rookie Kyuji Fujikawa will take over the role. Marmol blew a save opportunity in Saturday's 6-5 loss to the Atlanta Braves when brothers B.J. and Justin Upton hit solo homers in the ninth inning. Sveum made the decision before Sunday's game. Fujikawa didn't fare much better in a three-run eighth...
The Cubs lost in Cublike fashion to the Atlanta Braves 6-5. The focus fell on the ineffective closer Carlos Marmol who gave up the game tying and game winning homeruns in the span of three batters. Going by Fangraphs, Carlos Marmol deserves the lion share of the blame for the loss, but is that really the end of the #narrative on this game? Source: FanGraphs The Cubs had the bases...
Carlos Marmol has been the source of much consternation for Cubs fans. One of the worst kept secrets in baseball this season is that the Cubs would love to trade closer Carlos Marmol. They are willing to listen to any and all offers. Unfortunately, the way Marmol has started the season, General Manager Jed Hoyer has to wonder if it's worth paying his phone bill. Through his first...
Carlos Marmol is the Chicago Cubs closer; at least he was as of last night. Many people are furious with Dale Sveum for keeping him in the closers role when everyone knows that he simply is unable to do the job at any level in professional baseball. After last night, I have a hard time defending the use of Marmol at all in situations when the game in on the line. However, I do believe...
Here's some bit of good or maybe not-so-good news, depending on how you think of things:   Fuji closing now. He's a little surprised it came this quick : "Came here as a set up man". — Jesse Rogers (@ESPNChiCubs) April 7, 2013   Here's a recap of what happened last night. Kyuji Fujikawa only threw 23 pitches, so he should be okay to go should there be a save situation...
Tonight's guest:  Xavier Cedeno of the Houston Astros.  Everyone knows the Astros are not really trying to win this year so I try to cut them some slack, but this made Carlos Marmol look like Nolan Ryan.  At least Marmol got some people out.  Cedeno has only pitched 30 some innings in the majors and he's going to wish he could start over after tonight.  Cedeno allowed 6...
BJ Upton (left) and Justin Upton became the first brothers in major league history to homer to tie, then win a game Saturday against Cubs closer Carlos Marmol. I mentioned earlier this week how Carlos Marmol has been absolutely dreadful for the Cubs. Now he's so bad he's in the record books. Marmol allowed the game-tying home run to B.J. Upton, then the walk-off winner to his...
Cubs News

Delivered to your inbox

You'll also receive Yardbarker's daily Top 10, featuring the best sports stories from around the web. Customize your newsletter to get articles on your favorite sports and teams. And the best part? It's free!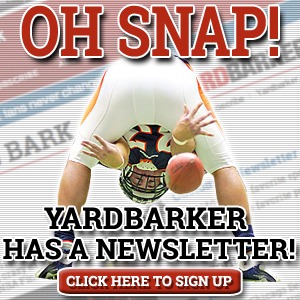 Latest Rumors
Best of Yardbarker

Today's Best Stuff

For Bloggers

Join the Yardbarker Network for more promotion, traffic, and money.

Company Info

Help

What is Yardbarker?

Yardbarker is the largest network of sports blogs and pro athlete blogs on the web. This site is the hub of the Yardbarker Network, where our editors and algorithms curate the best sports content from our network and beyond.