Found September 02, 2013 on isportsweb.com:
Anthony Rizzo must show progress in order for Dale Sveum to continue to manage the Cubs. The Chicago Cubs have some tough decisions to make after the 2013 decision comes to an end for the rebuilding franchise. Starting pitcher Jeff Samardzija is under club control until 2015, according to ESPN, but with long-term contracts given to young talents such as Anthony Rizzo and Starlin Castro, Samardzjia is wondering if he will get his extension.  Numerous reports have stated that Samardzija's agent Mark Rogers, and the Chicago Cubs front office have had discussions about a possible extension, but talks have not lead to any concrete agreement as of yet.  The pitcher hasn't been doing himself any favors so far this season as his ERA is above four. Samardzija's current contract, according to ESPN, is $2.64 million.  The question is how much has the 28-year-old hurt his value with having an ERA consistently around four (Samrdzjia's career ERA is 4.11). Another question, which probably won't be resolved during the off-season but is still worth questioning, is what to do with manage Dale Sveum.  There is no doubt that Sveum has been given the keys to a club in transition and it's a bit unfair to judge the manager based off wins and losses.  However, Sveum also must be judged on the development of what the organization believes to be Major League talents such as Rizzo and Castro.  Rizzo is finishing up his first ever full-length Major League season and is batting .232 with 21 home runs.  The batting average is very low but Rizzo is still young at 24 and may be able to turn it around next season. Castro, on the other hand, has regressed, despite a recent hot streak of batting .333, and went from a 200 plus hits type of payer, to struggling at the plate and unable to put together lengthy at bats that result in walks.  Castro is batting .242 with only a .282 on-base percentage.  What compounds this probelm even further is the 23-year-olds lack of defensive consistency.  Some moments Castro will make highlight-reel plays, while other times he looks completely lost. Sveum must develop these players that the fan base and front office believe to be the future super-stars of the Chicago Cubs.  Without results Sveum may find himself out of a job before the organization returns to, what they hope will be, continued contention.
Original Story:
http://feedproxy.google.com/~r/isport...
THE BACKYARD
BEST OF MAXIM
RELATED ARTICLES
Today, we finish our 2013 features of Chicago Cubs prospects with two apiece from the AA Tennessee Smokies and the AAA Iowa Cubs.  Tennessee finished its regular season 76-62 and claimed the second half North Division title of the Southern League.  Iowa missed the postseason after finishing with a record of 66-78.  Let's get to our player profiles. Tennessee Smokies: Yeiper...
According to a Chicago Tribune report, two Pennsylvania men were arrested early Sunday morning trying to steal ivy from the Chicago Cubs Wrigley Field home.  Aspiring horticulturists perhaps? Kevin Burge and Steven Gudknecht, both 25, were charged with misdemeanor trespassing when they were arrested at Wrigley about 3:45 a.m., police said. Team security spotted them on closed-circuit...
Starlin Castro hopes to continue a nice streak of hitting the young shortstop has been enjoying. Friday was a happy return for Ryne Sandberg who managed the Philadelphia Phillies to a 6-5 victory over the Chicago Cubs.  However, the Chicago Cubs rallied back to take the final two games of the series to ruin Sandberg's managerial debut at the ballpark where he manned second as...
Jake Arrieta allowed three hits and a run while pitching into the seventh inning and catcher Welington Castillo drove in two runs to lead the Chicago Cubs over the Philadelphia Phillies 7-1 Sunday. Arrieta (2-1) retired eight of the first nine batters he faced. Acquired from the Baltimore Orioles on July 2, Arrieta has been inconsistent in his four starts since joining the rotation...
Sunday marked the first day of baseball's annual roster expansion, where teams can increase the number of guys on their major league roster to 40 players. With the minor league playoffs yet to get under way, it isn't that common to see a minimal amount of call ups at the beginning of the month. Though few moves were made, the Chicago Cubs did see some changes to their big league...
Travis Wood knows all about pitchers who can swing the bat. After all, the left-hander is batting a respectable .246 with three homers this year for the Chicago Cubs. He just plain made a mistake against Henderson Alvarez on Monday, and his fellow pitcher made him pay for it. Alvarez hit a three-run homer on Wood's first pitch to him in the second inning, leading the Miami...
With the minor league regular season ending on Labor Day, over the next few days, we will complete our season-long profiles of Chicago Cubs' prospects from each of their six minor league affiliates, starting with two apiece from the Arizona Rookie League and the Boise Hawks of the short-season Northwest League.  Next week, we will unveil our first annual Sportsbank Cubs minor...
I suppose I should apologize for the lack of activity on our blog lately.  You know how we don't actually get paid for this and how our real lives get in the way, but for my job, if you know what it is, it's a hell of a lot more important than you.  That doesn't mean you people suck, it just means I have my priorities straight and I want to change the world rather than be...
To be fair, the intermissions in hockey games don't feature any singing. "Take Me Out to the Ballgame" isn't exactly the hardest song to nail down, however, but former NHL great Bobby Hull took the microphone during the seventh inning at Wrigley Field on Monday, and proved most people really do make it look easier than it is. The Golden Jet provided a rendition of the classic...
Although he took his share of lumps and tough luck in August, the Chicago Cubs' Travis Wood wrapped up the month with one of his most impressive outings of the season. Facing the lowest-scoring offense in baseball might help him open September in similar fashion. Wood looks to guide the Cubs to three straight home wins for the first time in almost two months Monday when they...
Cliff Lee wasn't on his game today. (Photo: AP) Well, you can't win 'em all. Or even most of them if you're the 2013 Phillies. They dropped another game today, losing to the Cubs 4-3. It's the 74th time they've lost this season. Methinks they'll be finishing below .500. In a game where neither starting pitcher was able to make it beyond the fifth inning, the two teams...
Cubs News

Delivered to your inbox

You'll also receive Yardbarker's daily Top 10, featuring the best sports stories from around the web. Customize your newsletter to get articles on your favorite sports and teams. And the best part? It's free!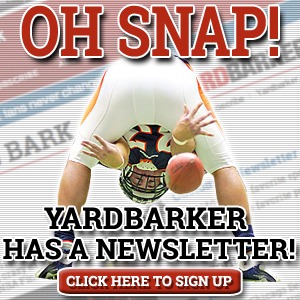 Latest Rumors
Best of Yardbarker

Today's Best Stuff

For Bloggers

Join the Yardbarker Network for more promotion, traffic, and money.

Company Info

Help

What is Yardbarker?

Yardbarker is the largest network of sports blogs and pro athlete blogs on the web. This site is the hub of the Yardbarker Network, where our editors and algorithms curate the best sports content from our network and beyond.