Found April 11, 2013 on Reading Between The Seams:
Via Reading Between The Seams:
In a bizarre incident Wednesday, Cuban defector and elite Chicago Cubs prospect Jorge Soler charged the opposing dugout wielding a bat after a frustrating play on the basepaths. Solar plays for the Daytona Cubs. According to the Daytona Beach News-Journal:
The incident followed a confrontation between Soler and Clearwater's Carlos Alonso at second base following the final play of the seventh. Soler slid into the base on the play, and he and Alonso exchanged words. Teammates from each side came out to separate the two, and the groups headed back to their dugouts. But Soler came sprinting back out of the Cubs' dugout — bat in hand — toward the Threshers' dugout.
According to CBSSports.com's Jon Heyman, Soler will only face a 5 game suspension as a result of his actions.
This seems lenient, given that tossing an errant ball at a batter typically gets you 5 games for a pitcher, and bat wielding is well beyond a little on-field policing of actions. Thankfully, cooler heads prevailed before any action took place, but I think a 15-20 game suspension might have been a stronger message that bats have no place in general enforcement of baseball's unwritten rules.
The Daytona Cubs are Class High-A, the 21-year-old Jorge Soler was recently signed for $30M (9 years) and this has to send out red flags within the organization. Although most accounts state that this is not his usual disposition, and he seems to be of a demeanor amenable toward making the majors without incident.
Original Story:
http://sports-kings.com/readingbetwee...
THE BACKYARD
BEST OF MAXIM
RELATED ARTICLES
Jorge Soler is likely looking at a long suspension after his actions in a fight Wednesday night. The Cubs prospect reportedly grabbed a bat and charged the opposition's dugout in response to a bench-clearing brawl between the Single-A Daytona Cubs and Clearwater Threshers. After Soler slid into second base in an attempt to break up a double play during the seventh inning of the...
BEHAVING BADLY
Chicago Cubs prospect Jorge Soler reportedly was in the middle of a benches-clearing brawl and went after his opponents.
Highly-touted Chicago Cubs prospect Jorge Soler was ejected from a Florida State League game on Tuesday night after he charged the opposing dugout with a bat. You read that correcty: he charged the other team's dugout while brandishing a bat. I'll let the report from Jonathan Raymond of MiLB.com explain the exact details. According to Daytona's broadcast team...
Jorge Soler, the 21-year-old Cuban defector who is rated one of the Chicago Cubs best prospects, had to be restrained by teammates after he grabbed a bat and started to charge the other team's dugout Wednesday night. Details of the late night incident were sketchy but it was reported that the bat-wielding Soler took offense to a rough play at second base during the Single-A...
Chicago Cubs prospect Jorge Soler may have a slight anger management issue to deal with before he makes his way to the Big Leagues. Soler plays for the team's Class-A affiliate, the Daytona Cubs. On Wednesday night, Daytona lost 14-9 to the Clearwater Thresers in extra innings, but the thrill of extra frames took a backseat to the commotion Soler caused with his outburst in the...
Ticket to Single A Game $15, Overpriced Beer and a Hot Dog $12, Watching a Baseball Player Charge a Dugout With a Bat: PRICELESS Chicago Cubs top prospect Jorge Soler took a page out of the Canadian classic hockey movie "Slap Shot" charging the opposition dugout with a bat. The incident occurred in an advanced Single A game between the Daytona Cubs, whom which Soler plays for...
Cubs prospect Jorge Soler has been suspended five games for charging the visiting team's dugout during a Florida State League game with a bat. Soler was suspended Thursday. Cubs president of baseball operations Theo Epstein says the organization supports Soler but condemns his actions Wednesday night. Epstein says the Cubs will work to help Soler ''better channel his...
Jorge Soler, a Cuban defector who signed a nine-year, $30 million contract with the Cubs in June of last year and is widely considered the franchise's top prospect is good with his bat. Soler was... Full story at Bob's Blitz ~ http://www.bobsblitz.com
((ht: news-journalonline.com)) If there were only video of this. Chicago Cubs prize prospect Jorge Soler is in a bit of trouble this morning after appearing to lose control during a Florida State League minor league game Wednesday night. Soler was ejected after running towards the Clearwater Threshers dugout--bat in hand, in the seventh inning of his team (Daytona Cubs)...
Chicago Cubs outfield prospect Jorge Soler reportedly took his frustrations out on Wednesday night, attempting to attack the opponents dug out with a bat.
Jeffrey Baez rapped out four singles, stole a base, scored two runs, and drove-in another, and Trevor Gretzky, Luis Acosta, and Francisco Sanchez each hammered an RBI double, but the Giants rallied for three runs over the final two innings to defeat the Cubs 8-5 on Field #2, while on Field #3, Josh Conway tossed three shutout innings for the Cubs, but three Giants pitchers combined...
Iowa won its first game of the season Wednesday night as Blake Parker, pictured, became the I-Cubs all-time saves leader while Jorge Soler was ejected in Daytona
Cubs News

Delivered to your inbox

You'll also receive Yardbarker's daily Top 10, featuring the best sports stories from around the web. Customize your newsletter to get articles on your favorite sports and teams. And the best part? It's free!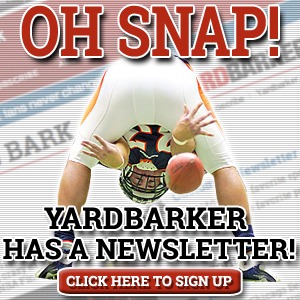 Latest Rumors
Best of Yardbarker

Today's Best Stuff

For Bloggers

Join the Yardbarker Network for more promotion, traffic, and money.

Company Info

Help

What is Yardbarker?

Yardbarker is the largest network of sports blogs and pro athlete blogs on the web. This site is the hub of the Yardbarker Network, where our editors and algorithms curate the best sports content from our network and beyond.