Found March 04, 2013 on Mets Merized Online:
What we have here is a failure to communicate. Or worse, a desire not to communicate. Apparently, unbeknownst to manager Terry Collins, his veteran left-hander Johan Santana threw off the mound Sunday when the Mets earlier indicated it could be at least ten days before he would do so.ESPN reported this dialogue: Collins: "What did you get on the mound for?" Santana: "Because I felt good." Collins: "The last thing I need is to have you wake up tomorrow stiff and then we take a huge step backward because you wanted to show everybody you're OK. I understand what you're doing, but once in a while you've just got to let stuff slide away. You've just got to let it roll off your back and move on and get yourself ready." From that exchange, Collins was in the dark when Santana took the mound. And, Santana apparently didn't care enough to follow the rest plan or to tell his manager. This was amazingly ridiculous on the part of both. First, as manager, how in the hell did Collins not know? it i
Original Story:
http://metsmerizedonline.com/2013/03/...
THE BACKYARD
BEST OF MAXIM
RELATED ARTICLES
This morning on Mets Today, it was discovered that the Mets' club option on Johan Santana for 2014 will turn into a player option if Santana either wins his first National League Cy Young or pitches 215 innings this season. If one of those two admittedly unlikely events occurs, Santana could choose for the Mets to pay him $25 million in 2014, which would hamper the struggling franchise's...
Updated on 3/3 As most of us expected, Johan Santana has shown up to camp and is none too happy about being the center of attention this morning according to Andy Martino of the Daily News. A displeased Santana had this to say to reporters,  "What is spring training for? Training." While true, spring training is for training, Santana hasn't trained or thrown a pitch off a...
Things just keep getting worse and not better on the Johan Santana front. Andy Martino spoke to more than one team source and the consensus seems to be that Johan Santana will not be ready by Opening Day which totally wipes out Santana's assertion that "he knows what he's doing" and everything is okay. "I know the deal, spring training is for training okay!". The Mets'...
Despite Terry Collins saying yesterday that Johan Santana wouldn't throw off a mound for at least ten days, the New York Mets' ace did just that this morning.  As he tries to work his way back from a minor setback to his spring conditioning, Santana was told to hold off on throwing.  It seems, he has been cleared and could return sooner than expected. It was the first...
The latest on Johan Santana cane from manager Terry Collins who said that Johan Santana's decision to throw a bullpen for the first time in 10 days, was "unnecessary" and said he "wished his ace handled himself differently." Mike Kerwick of The Record quotes Collins who suggests that Santana needs to calm down and get his emotions in check, and that he should have gone...
This time, Terry Collins knew what Johan Santana was doing and seemingly both are on the same page, even though the left-hander was mum today on both his throwing and the death of Venezuelan president Hugo Chavez. After mugging with several friends on the Venezuelan WBC team, Santana long-tossed in the outfield, and followed that with several pitches off the mound from where...
Good morning from Port St. Lucie, where there's a chill in the air and the sun is just coming up. Had dinner last night with a friend on the Mets' beat and like most people I speak with in the media he's not enthusiastic about them having a good season. Drove around a little last night and this place has changed over the past few years. Really built up. New hotels and restaurants...
Many Mets fans find themselves in an uproar this evening following an opinion piece by ESPN's Adam Rubin, that criticized much more than the 2013 roster's potential.  The highlight of the article, which you can find HERE, is likely a quote stating: "Manager Terry Collins has done an admirable job trying to put lipstick on a pig with his job fate hanging the balance, but there...
It is not surprising that GM Sandy Alderson indicated today it is "less and less likely,'' Johan Santana would be ready for Opening Day. Alderson attributed that to Santana not being in good shape when he reported to spring training because he didn't go through his normal off-season routine after extensive rehabbing the previous two winters. "From my standpoint, his arm...
I kick off the show talking about the Yankees. Hear my thoughts on the Robison Cano contract, Joba Chamberlain's comments about starting and Curtis Granderson staying in CF. I also discuss Johan Santana's offseason regiment and the Amway sponsorship at Citi Field. CLICK HERE TO LISTEN DOWNLOAD THE MP3  If you like to listen to other radio shows and podcasts, check out the Sports...
There's a distinction that fans used to get wrong all the time. It revolved around natural talent and hard work, and the best of the best. Take Michael Jordan, for example. I'd be willing to bet that for every hundred people that rave about his natural ability, there might be one that focuses on how hard Jordan worked. You can dispute whether Jordan was the greatest basketball...
Seriously? Don't you guys and girls at MMO have anything better to do with your time? I thought we'd have a little fun last week, so I asked some of our writers to tell me what Hollywood Movies came to mind when asked to consider the 2013 Mets outfield, our starting rotation, David Wright, Sandy Alderson and Terry Collins. Some of the responses I got back were pretty hilarious...
Mets News

Delivered to your inbox

You'll also receive Yardbarker's daily Top 10, featuring the best sports stories from around the web. Customize your newsletter to get articles on your favorite sports and teams. And the best part? It's free!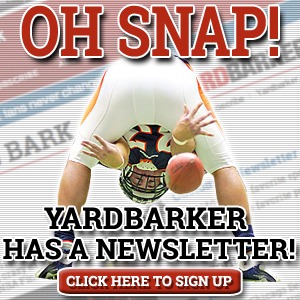 Latest Rumors
Best of Yardbarker

Today's Best Stuff

For Bloggers

Join the Yardbarker Network for more promotion, traffic, and money.

Company Info

Help

What is Yardbarker?

Yardbarker is the largest network of sports blogs and pro athlete blogs on the web. This site is the hub of the Yardbarker Network, where our editors and algorithms curate the best sports content from our network and beyond.