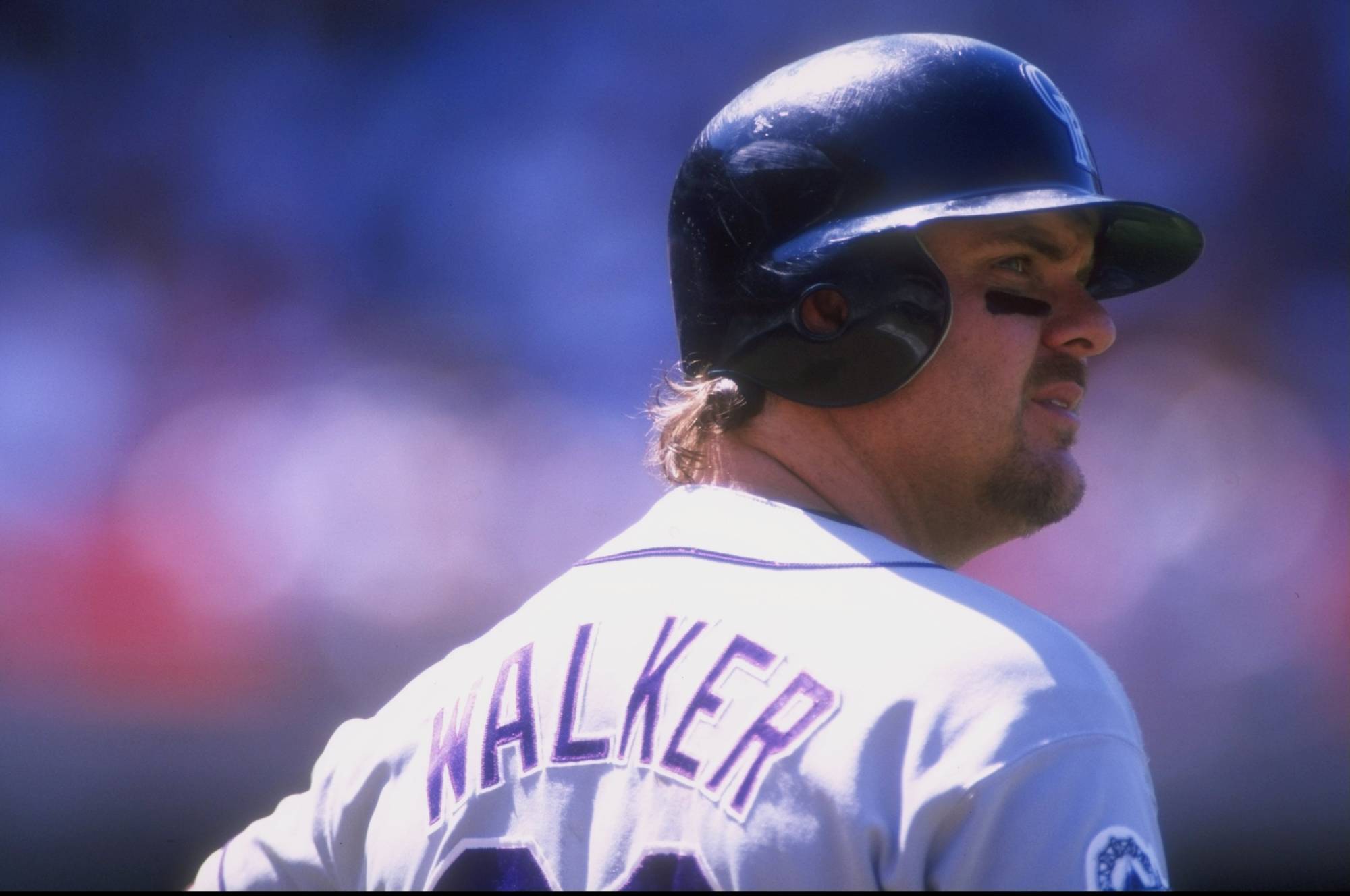 Harry How/Getty Images
LARRY WALKER
Eighth Year on Ballot (21.9% last year)
PLAYING CAREER: Montreal Expos (1989–1994), Colorado Rockies (1995–2004) and St. Louis Cardinals (2004–2005)
ACHIEVEMENTS:  Career batting average of .313 with 2160 hits, 383 home runs, 1355 runs scored and 1311 RBI.  1997 National League MVP.  Led the National League in batting three times (1998, 1999 and 2001).  Hit better than .300 nine times and drove in 110 runs or more five times.  Twice stole more than 30 bases and hit more than 30 home runs in a season.  Walker's 409 total bases in 1997 were the most by a National Leaguer since Stan Musial's 1948 season…the mark was bettered by Barry Bonds in 2001 (411).  The same year, Walker became and remains the only player to have at least 25 stolen bases and a slugging percentage of more than .700 in a season.  Seven-time Gold Glove Award winner (1992-1993, 1997-1999 and 2001-2002).  Five-time All-Star selection (1992, 1997-1999 and 2001).
WHAT THEY'RE SAYING ON TWITTER:
Scott Rolen and Larry Walker will NEVER get elected to the Hall of Fame. A larger percentage of BBWAA voters consider offensive numbers to be more significant than how a player performed on defense. Rolen was excellent on defense, but so was Craig Nettles.

— Rob Olds (@robolds49) January 20, 2018
It's truly crazy how many people are fully convinced Trevor Hoffman is a no-doubt Hall of Famer but Curt Schilling, Mike Mussina, Larry Walker and a few others aren't.

Unbelievable.

— Brandon Warne (@Brandon_Warne) January 18, 2018
Morneau said he used to play a lot of home run derby as a kid, pretending to be Griffey, John Olerud and Larry Walker. Got to live his dream and win the HR Derby at Yankee Stadium over Josh Hamilton.

— Rhett Bollinger (@RhettBollinger) January 17, 2018
HOVG THOUGHTS:  I like uniqueness…and with only one other Canuck in the Hall of Fame (looking your way, Fergie Jenkins), I've gotta support a guy who nine times took home the Tip O'Neill Award courtesy of the Canadian Baseball Hall of Fame. In all seriousness, I don't see Walker making his way to Cooperstown.
MORE FROM YARDBARKER
Rockies News

Delivered to your inbox

You'll also receive Yardbarker's daily Top 10, featuring the best sports stories from around the web. Customize your newsletter to get articles on your favorite sports and teams. And the best part? It's free!