Found March 30, 2013 on Fox Sports Arizona:
PLAYERS:
Trevor Bauer
,
Didi Gregorius
,
Justin Upton
,
Martin Prado
,
Paul Goldschmidt
,
Kevin Towers
,
Madison Bumgarner
,
Kirk Gibson
TEAMS:
Cleveland Indians
,
Arizona Diamondbacks
,
Atlanta Braves
,
San Francisco Giants
PHOENIX -- Since the end of the 2012 season, the Diamondbacks have endured a lion's share of criticism for a few bold moves. First there was the trade of franchise staple Chris Young before a World Series champion had been crowned. Then came the controversial trade of top pitching (and polarizing) prospect Trevor Bauer for not-as-highly-touted shortstop prospect Didi Gregorius. No move brought more vitriol, though, than the dealing of organizational cornerstone Justin Upton, even though it brought back an excellent piece in third baseman Martin Prado. But now, just days before Opening Day 2013, the D-backs have bookended their offseason with a move worth abundant praise, inking 25-year-old first baseman Paul Goldschmidt to a contract extension that could keep him in Arizona through the 2019 season. "Its an exciting day for the D-backs," general manager Kevin Towers said Saturday. "We couldn't be more excited for him. This is a guy that came up through the organization; probably a lot of people didn't give him much of a shot based on where he was drafted, and all he did was prove people wrong all the way through the minor leagues. "Hopefully this is the first contract of many, many more." Let's get the potential criticism of Goldschmidt's five-year extension with a team option for 2019 out of the way first. Goldschmidt has played just 193 major league games, and the D-backs just gave him the largest contract by average annual value for a position player (only Giants pitcher Madison Bumgarner got a bigger deal) with more than one but less than two years of major league service. Yes, it's a risk, but it's a fairly safe one -- more on that later. Goldschmidt also hasn't shown yet that he can consistently hit right-handed pitching. For his career, he's batting .262 against right-handers compared with .311 against lefties. But this part of Goldschmidt's game seems overblown. He still has solid numbers against right-handers -- 48 of 82 RBI and 10 of 20 home runs came against righties last season, as did 23 of his 43 doubles. And if Goldschmidt continues to get better against right-handers, his overall numbers should see a nice bump. Anything else? Not really. There's really no indisputable criticism of this move. That is, pretty much any argument against this decision can be countered well. Let's start with the length of the contract. Five or six years is a significant amount of time to invest in a player with less than a season and half of big league service time. A lot can happen in that time span, including injuries, general regression or failure to meet expectations. But even if Goldschmidt doesn't continue on an upward trajectory -- let's say he plateaus where he is -- the D-backs still have a reliable defender turning in roughly 85 RBI and 20-25 home runs for the next six or seven seasons at a reasonable price. And if Goldschmidt keeps getting better, as the D-backs clearly expect him to, then the deal is an incredible bargain -- and here's where the money argument comes into play. A potential 30-homer, 100-RBI player for less than 6.5 million annually on average? Hard to beat that. The 2019 option worth a reported 14.5 million is probably in line with what Goldschmidt might make annually on his next deal if he becomes the star the D-backs expect. Sure, there exists the possibility that pitchers figure Goldschmidt out further and he regresses a bit, but that's not something the Diamondbacks foresee based on their observations of his work ethic. "What's not to like?" manager Kirk Gibson said Friday. "He's very good at preparation, before, during the game and after. He's a great teammate. He works really hard. He has high expectations. He has high aspirations to be a world champion. He wants to win a Gold Glove. He would never change. He'll never change until he stops playing." You could argue it would have been better the D-backs wait one more season to give Goldschmidt an unprecedented deal like this. But that deal then could have come at a greater cost, and as has been established this offseason, the D-backs aren't afraid to take bold action. Locking up Goldschmidt now says a lot about 1) the player the D-backs believe Goldschmidt is and will become and 2) how they view him as a representative of the franchise. Of any player currently with the team, Goldschmidt has perhaps the best chance to be the face of the franchise a few years from now, when he's in the heart of the contract. With the way the D-backs have raved about Goldschmidt in his short service, it comes as no surprise they would want to get this done sooner rather than later. "We've talked about 'The Diamondback Way' the last couple of years several times," Gibson added, "and he's the model Diamondback guy. The model guy." Added Towers: "When you enter into these long-term commitments, character is very important as well, especially for this organization. There is no better guy than Paul Goldschmidt. ... I wish we could mold 24 more of him." It's easy to say now what a good deal this appears to be for the D-backs, but of course it hasn't played out yet. Perhaps we'll look back in a four or five years and wonder why the D-backs took such a risk on such a young player. But with all Goldschmidt has shown so far, it's hard to imagine not looking back and believing the D-backs made a smart bet at the right time.
Original Story:
http://www.foxsportsarizona.com/mlb/a...
THE BACKYARD
BEST OF MAXIM
RELATED ARTICLES
The Diamondbacks and first baseman Paul Goldschmidt have agreed to a five-year, $32 million contract extension, a source confirmed Friday. The extension runs from 2014-18 with option for 2019 and buys out arbitration years and at least one year of potential free agency. The agreement was first reported by Jim Bowden of ESPN. Goldschmidt, 25, hit .286 with 20 home runs and drove...
A person familiar with the negotiations says first baseman Paul Goldschmidt the Arizona Diamondbacks are close to agreement on a $32 million, five-year contract that would run from 2014-18. The deal would include a $14.5 million team option for 2019 with a $2 million buyout, the person said Friday, speaking on condition of anonymity because the agreement has not been finalized....
PHOENIX -- The Diamondbacks got a couple steps closer to finalizing their Opening Day roster Friday night, optioning outfielder Tony Campana and left-handed reliever Joe Paterson to Triple-A Reno. Paterson had a strong spring after struggling early in 2012 and spending most of the year in Reno. He pitched 10 23 innings and compiled a 1.69 ERA, but the second left-handed relief spot...
PHOENIX -- Before the Diamondbacks played their final exhibition game of the spring Saturday, manager Kirk Gibson announced his Opening Day lineup. Barring additional injury, the D-backs' lineup card will look like this against the Cardinals on Monday night: 1. Gerardo Parra, RF 2. Martin Prado, 3B 3. Aaron Hill, 2B 4. Miguel Montero, C 5. Paul Goldschmidt, 1B 6. Jason Kubel...
Arizona Diamondbacks manager Kirk Gibson told reporters – including Steve Gilbert of MLB.com – that outfielder Cody Ross will start the regular season on the disabled list due to a lower left leg strain. #Dbacks mgr Kirk Gibson confirmed that OF Cody Ross will start the year on the DL. — Steve Gilbert (@SteveGilbertMLB) March 30, 2013 The move was expected...
As much as the Diamondbacks have expressed this offseason a desire to manufacture more runs, so too exists just as much of a need for it, and the D-backs know it. With Justin Upton and Chris Young gone, the D-backs have drastically reduced the pure power in their lineup. Accordingly, pitching has become paramount. The D-backs have the pitching to be contenders in the NL West this...
Patrick Corbin blanked Cincinnati on two hits through six innings, strengthening his bid for a spot in Arizona's rotation in the Diamondbacks' 2-1 loss to the Cincinnati Reds on Friday night. The left-hander, competing with Randall Delgado to be Arizona's No. 5 starter, struck out seven and walked two. Bronson Arroyo, whose previous outing ended when he was struck in...
The Diamondbacks and first baseman Paul Goldschmidt have agreed to terms on a five-year contract extension, according to multiple reports Friday morning. FOXSports.com's Ken Rosenthal reports the extension, which covers the 2014 to 2018 seasons, is worth 32 million and includes a team option for 2019. The deal covers all of Goldschmidt's arbitration years and at least one...
General manager Kevin Towers was at his wheeler-dealer best again this offseason, and his acquisitions should return the Diamondbacks to contention...
Adam Wainwright begins earning his newfound wealth on Monday. The right-hander will be on the mound in his third opening-day start when the St. Louis Cardinals face the remodeled Arizona Diamondbacks, who for the second year in a row will open with Ian Kennedy. Wainwright's start comes four days after he agreed to contract that guarantees him $109.5 million over the next six...
Today is the eve of Opening Day eve. There are elite eight games on tonight and the Astros vs. Ranger opener tomorrow evening. Plus Wrestlemania 29 is on Sunday night. And then the main event of Opening Day on Monday. Here's all of the muck that's fit to rake in the way of baseball reads: -How the Nats went from ugly to elite, by Joe Posnanski. [NBC Sports] -ESPN's expert award...
MLB News

Delivered to your inbox

You'll also receive Yardbarker's daily Top 10, featuring the best sports stories from around the web. Customize your newsletter to get articles on your favorite sports and teams. And the best part? It's free!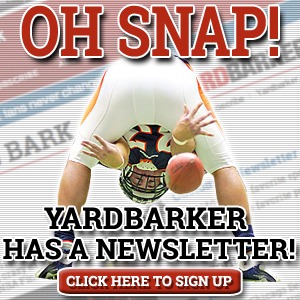 Latest Rumors
The Backyard

Today's Best Stuff

For Bloggers

Join the Yardbarker Network for more promotion, traffic, and money.

Company Info

Help

What is Yardbarker?

Yardbarker is the largest network of sports blogs and pro athlete blogs on the web. This site is the hub of the Yardbarker Network, where our editors and algorithms curate the best sports content from our network and beyond.