Found April 24, 2013 on Fox Sports Arizona:
Diamondbacks uber-prospect Archie Bradley still brings his 99 mph fastball to the mound, but the rest of his game has slowed appreciably this season, a product of lessons learned in his first year in the Diamondbacks system. The hurry to reach the major leagues has been replaced by a desire to enjoy the process. And as is often the case, less is more. With a more mature approach and the stuff that made him the seventh player taken in the 2011 draft, Bradley has dominated the California League in his first four starts at Class A Visalia, going 1-0 with a 1.14 ERA. The strikeouts are still there, 35 in 23 23 innings, an average of 13.3 per nine innings. The walks that plagued him last year are not. Bradley has cut his walk rate in half, from 5.6 per nine innings to 2.7, the most remarkable part of his second season. Most pitchers would take Bradleys 2012 season -- 12-6 with a 3.84 ERA and 10.1 strikeouts per nine innings at Class A South Bend. Scouts still drool, and Baseball America ranked Bradley as the 25th best major league prospect before the 2013 season, second among the D-backs to Tyler Skaggs. But Bradley, a 6-foot-4 right-hander, was accustomed to more. He was 12-1 with an 0.38 ERA in his senior year at Broken Arrow (Okla.) High, giving up three earned runs while striking out 137 strikeouts, and he was determined to improve, especially after walking 84 at South Bend. It was very frustrating last year. It is something I had never gone through. I had never failed like that. I had never walked guys like that. Id never struggled that badly, Bradley said, the competitor in him coming through. But as weird as it sounds, it is something Im glad I went through. It talk me a lot about myself. It taught me a lot about the game of baseball in general -- how quickly things can get out of hand, and at the same time how simple the game is. We complicate it so much. Its just about getting back to the basics. Thats one of the things I did. Its understanding the basics of pitching. You throw strikes, you try to get guys to hit the ball. You dont have to be perfect. You dont have to throw perfect strikes. Throw the ball over the plate and it will work out. The maturity level was evident in Bradleys most recent start, when he gave up eight hits and three runs, two earned, while getting a no-decision in Visalias 4-3 victory over Lake Elsinore last Saturday. A bad hop and a defensive play or two that were not made forced Bradley to get extra outs, but he was the picture of cool on the mound. It was not an easy outing, D-backs director of player development Mike Bell said. But if you didnt know what had happened and were just watching him, you would have thought he had a no-hitter. A young guy could react in a negative way. He never had any of that. Hes in a good place mentally. Bradley agreed, calling that his biggest step forward. Its crazy what a difference a year can make as far as my maturity level and just my understanding how to prepare for baseball on and off the field, said Bradley, who will turn 21 in August. I feel like Ive been able to slow the game down and been able to just compose myself. In those big situations, when I get behind in counts, Ive been able to calm down and make quality pitches to get back into the at-bat and get out of it without walking guys or giving up a big inning. Bradley touched 99 mph with his fastball against Lake Elsinore on Saturday after reaching 100 mph in the Oklahoma Class 6A state championship game in 2011, and he complements that pitch with a curve ball and a changeup. Scouts still drool over his repertoire, and a slight mechanical change has helped him cut down on his walks. I went into spring training with a lot of motivation, a lot of drive and determination to fix things and to get better. Its really just minor stuff, what every pitcher is constantly working on, said Bradley, who watched video with minor league pitching coordinator Mel Stottlemyre Jr. Bradley has given up 0, 0, 1 and 2 earned runs in his four starts while striking out 9. 10, 8 and 8. Baseball America projects Bradley to arrive in the major leagues in 2015, but that is just a guess. The D-backs believe it is when, not if. I think he understands he has the ability to be a really good, solid pitcher. He has big goals, and he should. He has the talent to match it, Bell said. The No. 25 ranking by Baseball America is an honor, Bradley said. Its really cool being ranked that high, but at the same time, I dont want to be a prospect. I want to be pitching in the big leagues. Thats the next goal. It just shows me if I can keep doing what I am doing on a daily basis, not look ahead and not look too far into the future and keep doing what I am doing now, then eventually it will take care of itself. Follow Jack Magruder on Twitter
Original Story:
http://www.foxsportsarizona.com/mlb/a...
THE BACKYARD
BEST OF MAXIM
RELATED ARTICLES
For some unknown reason that defies comprehension, the below video of a first base coach getting hit in the crotchal region by a pitcher's pickoff throw took nearly a year to begin garnering attention on the interwebs. That's right, this video was originally uploaded to YouTube way back in May of 2012 but it wasn't until the past few days that it started making the rounds....
PHOENIX -- The Diamondbacks bullpen had five failed save conversions on the recent road trip, but all was right with the relief corps Thursday night at Chase Field. Closer J.J. Putz was more like his old self. His pet split-finger pitch was diving again, and the results were what the Diamondbacks have come to expect. Putz struck out Carlos Gonzalez with splitters on his final two...
The Diamondbacks' Brandon McCarthy once again couldn't avoid a big inning when he faced the Rockies last weekend. When he takes the mound against them Friday night, the right-hander will again seek his first win as he tries to help lead the Diamondbacks to a season-high-tying fourth straight victory. McCarthy (0-2, 7.06 ERA) has allowed 15 of his 19 runs in just four of...
PHOENIX -- It may be a rush to judgment, but why not? Didi Gregorius first nine days can be seen as instant justification for the Trevor Bauer trade last winter. Gregorius homered on the first pitch he saw in his first at-bat April 18, hustled two doubles out of Giants left fielder Andres Torres the last two days and brought a six-game hitting streak into his first home game with...
At this point, it's safe to say we can do a decent job of evaluating our team's strengths and weaknesses. The general rule-of-thumb encourages owners not to panic too early with regards to our stars, but now could be a good opportunity to try and acquire some steals as a throw-in via trade (to an owner that IS panicking) or simply from the waiver wire in deeper leagues. Here...
Paul Goldschmidt's two-run home run in the fourth inning powered the Arizona Diamondbacks to a 3-2 win over the Colorado Rockies on Thursday night. Goldschmidt's fifth homer of the year followed a single by Martin Prado and snapped a 1-1 tie. Goldschmidt's towering drive down the left field hit near the top of the foul pole, and increased his team-leading RBI total to...
Wade Miley is off to a hot start. Even though he took a no-decision in an eventual Diamondbacks' loss, he continued his masterful pitching — 6.2 IP, 7 H, 2 ER, 7 K/0 BB.He currently stands with a great 23 K/7 BB ratio in 26 innings and his 2.77 ERA and 1.08 WHIP are improvements on last year's Rookie of the Year runner up (for the record, he should have won it).According to...
Didi Gregorius scored the go-ahead run on a wild pitch in the 11th inning and the Arizona Diamondbacks beat the San Francisco Giants 6-4 Tuesday night after blowing a late four-run lead. Gregorius hustled for a one-out double off reliever Santiago Casilla (2-2) when left fielder Andres Torres fielded the ball nonchalantly. Pinch-hitter Alfredo Marte reached when first baseman Brandon...
PHOENIX (AP) -- Paul Goldschmidt's two-run home run in the fourth inning powered the Diamondbacks to a 3-2 win over the Rockies on Thursday night. Goldschmidt's fifth homer of the year followed a single by Martin Prado and snapped a 1-1 tie. Goldschmidt's towering drive down the left-field line hit near the top of the foul pole, increasing his team-leading RBI total...
Pinch hitter Will Nieves delivered a sacrifice fly in the 10th inning to lift the Arizona Diamondbacks to a 3-2 victory over the San Francisco Giants on Wednesday. Gerardo Parra and A.J. Pollock also drove in a run for the Diamondbacks, who beat the Giants in 11 innings on Tuesday night. Didi Gregorius had two hits. Arizona led 2-1 before Brandon Crawford hit a tying homer off...
A victory over the Arizona Diamondbacks last weekend continued Jorge De La Rosa's successful start. However, he's yet to beat the Diamondbacks at Chase Field. Riding a 17-inning scoreless stretch, the veteran left-hander hopes to change that and help the Colorado Rockies to a fourth consecutive road win Thursday night against the Diamondbacks. After De La Rosa (2-1, 2...
While no deal has been finalized, Arizona State president Michael Crow tipped the school's hand Tuesday in revealing plans for the football team to play at Chase Field, home of the Arizona Diamondbacks, in Phoenix while Sun Devil Stadium is renovated. A source told FOXSportsArizona.com the school is in serious talks to move to Chase Field for the 2015 season, though University...
Diamondbacks News

Delivered to your inbox

You'll also receive Yardbarker's daily Top 10, featuring the best sports stories from around the web. Customize your newsletter to get articles on your favorite sports and teams. And the best part? It's free!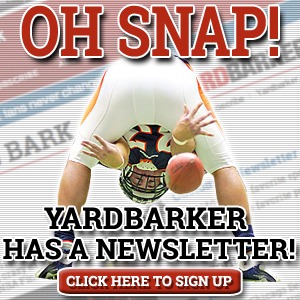 Latest Rumors
The Backyard

Today's Best Stuff

For Bloggers

Join the Yardbarker Network for more promotion, traffic, and money.

Company Info

Help

What is Yardbarker?

Yardbarker is the largest network of sports blogs and pro athlete blogs on the web. This site is the hub of the Yardbarker Network, where our editors and algorithms curate the best sports content from our network and beyond.