Found January 13, 2013 on World Series Dreaming:
PLAYERS:
Dave Duncan
,
Mark Prior
,
Kerry Wood
,
Rich Harden
,
Chris Carpenter
,
Scott Baker
,
Roger Clemens
,
Theo Epstein
,
Jon Lester
,
Clay Buchholz
,
Curt Schilling
,
Brandon Lyon
,
Matt Garza
,
James Shields
,
Wade Davis
,
Wil Myers
,
David Price
,
Matt Moore
,
Evan Longoria
,
Jeremy Hellickson
,
Jeff Niemann
,
Jed Hoyer
,
Daisuke Matsuzaka
,
Darwin Barney
,
Brendan Ryan
,
Ozzie Smith
,
Ron Santo
,
Kevin Youkilis
,
Chase Utley
,
Carlos Quentin
,
Adam Dunn
,
David DeJesus
,
Ted Williams
,
Barry Bonds
,
Kosuke Fukudome
,
Starlin Castro
,
Alfonso Soriano
,
Dustin Pedroia
,
David Ortiz
TEAMS:
Minnesota Twins
,
Chicago Cubs
,
St. Louis Cardinals
,
Boston Red Sox
,
Toronto Blue Jays
,
Tampa Bay Rays
,
Kansas City Royals
,
San Diego Padres
,
Seattle Mariners
,
New York Yankees
,
Chicago White Sox
,
Philadelphia Phillies
Yesterday, we outlined the mess the new front office had to clean up.  Today, unencumbered by playoff football and random awards shows, let's try to figure out how they may work towards that goal in regards to player development. The Way of the Pitcher Once upon a time, I happened upon an article about the Minnesota Twins' minor league pitcher development program.  There was a section on how the pitching coordinator would reprimand or otherwise penalize the pitchers if they walked too many batters in an outing, as a method to emphasize the importance of hitting and controlling the strike zone. I can no longer find that article online, but it's not a terrible idea to pepper the strike zone and get the opposing batter into protect mode.  The wonders of Google brought us to this other article on the Twins pitching philosophy, which emphasizes pitch to contact. This is a philosophy also employed heavily by the St. Louis Cardinals, a team that I consider the class of the National League (not difficult to see why with all those pennants, championships, playoff appearances and seemingly wave after wave of awesome players), especially while pitching guru Dave Duncan was still active. Dave Duncan, pitching guru. Long-time Cubs fans know what Larry Rothschild has done for Cubs pitching.  Mark Prior and Kerry Wood did break down under his watch (technically) but injuries are oftentimes the will of the baseball gods and not anything the coach has done. What is apparent is that Rothschild was instrumental in the fielding-independent aspects of pitching (known as FIP), in which the pitcher actually has some control over walks, strikeouts and home runs given up. Obstructed View (formerly "Another Cubs Blog") had two very nice articles about Rothschild's effect on homers and walks (he reduced both HR/fly ball and BB rate) that I unfortunately can't hunt down right now. FanGraphs looked at Rothschild's effect on several pitchers in the strikeout department and found that he was able to increase strikeout rate overall. These effects carried over to the Yankees when Larry left the Cubs.  One of the main criticisms against Larry Rothschild was that his pitchers threw way too many pitches (you do need at least three pitches per batter to achieve a strikeout, after all) and that this may have led to the downfall of Prior and Wood. So while a team would probably not mind having many a strikeout pitcher, racking up too many pitches to achieve that goal is not always ideal, especially if the pitcher can't get through the sixth inning (Rich Harden comes to mind). 110 pitches later, Rich Harden would finally make it past the 3rd. Since pitchers cannot strike out every batter (the FanGraphs team pitching statistics page shows that the best rate was by the Tampa Bay Rays at 23.1%, worst was by the Twins at 15.2%), they have to rely on their defense most of the time.  That is the main principle of pitching to contact.  In the previously mentioned article about the lowly Twins, the concept is clearly spelled out: The basic tenet of [Dave] Duncan's philosophy: sinkerballers throwing strikes, with the intention of letting their fielders make the outs. "I'm not out there gunning for strikeouts," Cardinals ace Chris Carpenter told a St. Louis reporter, echoing Blackburn. "I'm out there attacking. I have the confidence in my stuff and in what I'm trying to do that I want them to swing. I'm trying to make them swing." For those desiring a precise definition of pitch to contact, start with this: a pitcher who is trying to get hitters to put the ball in play, preferably on the ground, within three pitches. That inherently means the pitcher isn't thinking strikeout, but rather making his best pitch in a hittable zone. "A good pitcher's pitch the majority of time is going to get a hitter out," Twins starter Scott Baker said a couple days before undergoing season- ending Tommy John surgery. "You just want the contact to be in your favor." Apropos that we included the blurb featuring Baker here as he was signed by the Cubs on a buy-low/sell-high deal. Not all pitchers can be strikeout artists like Roger Clemens or Randy Johnson. As stated before, they must rely on their defense. The idea here is that weakly-hit ground balls are more likely to be converted into outs than well-struck fly balls or line drives, and if the pitcher is aggressive enough (with the opposing batter knowing it), then they can generate these outs with minimal effort. That obviously didn't work so well for the Twins last season (along with the majors-worst strikeout rate, they also lost a boatload of games and had an ugly staff ERA).  The strategy of pitching to contact works best when the pitching staff can throw quality strikes that will then be fielded cleanly by competent defenders when put into play. Defense is really important. If you combine a bad pitcher with a bad defense, very very bad things happen. Pitching to maximize fielding-independent effectiveness as well as pitching to contact aren't the end-all-be-all of pitching philosophy, but both methods have a common theme: attack the strike zone. There are significant sources of variance in pitching, from the umpires to imperfections in the baseball to inconsistencies in the delivery itself that will confound this, but if the pitcher can keep the ball down in the zone and get it called a strike, the damage is usually limited. Dave Duncan and Larry Rothschild are on common ground in emphasizing that "strikes are good." Not all pitchers can do this and the minors will weed out most of those individuals.  The remainder will have learned enough to get a sufficient number of strikes to generate easy outs while setting up the batter for an occasional strikeout.  That is the mantra we hope the new Cubs pitching program will employ. Looking at the Boston Red Sox under Theo Epstein, there weren't that many standout pitchers that were homegrown per se.  Jon Lester and Clay Buchholz were the ones that immediately came to mind as Theo-era draftees and they have been solid throughout their short careers except for last season (not sure if it was the fried chicken and beer).  Of rotation mainstays that weren't homegrown, Curt Schilling, for example, was brought to Boston in one of Theo's more famous trades; the most recognizable names that went back to Arizona were Brandon Lyon (a serviceable relief pitcher) and Jorge De La Rosa (who is a long time MLB starter but kinda sucks). Theo's American League East rivals, the Tampa Bay Rays, were much better at cultivating their own pitching talent, and also in acquiring pitching in shrewd trades (Matt Garza was brought in this way).  You can read about it in Jonah Keri's excellent book, The Extra 2%.  The Rays drafted James Shields and Wade Davis (since traded for Wil Myers! and change), David Price (Cy Young winner), Matt Moore (he got an Evan Longoria Special Extension), Jeremy Hellickson (rookie of the year), and a pretty capable back-of-the-rotation guy in Jeff Niemann.  Whatever the Rays were doing seemed to be working.  And someone as allegedly smart as Theo Epstein and Jed Hoyer should be able to emulate that success. In fact, with the hiring of Derek Johnson of pitching coordinator, they may already have started on the right path.  As Cubs Den writes (h/t Obstructed View), part of pitching development is knowing how to keep the pitchers in the organization healthy.  Theo's Boston pitchers (besides Daisuke Matsuzaka) suffered some unfortunate injuries, and we all know what happened to Wood and Prior.  If your impact talent can't play, they can't make an impact.  A rewrite of the Cubs manual to emphasize pitcher health may be just what the doctor ordered, so to speak. And for those who believe that there is no such thing as a pitching prospect, maybe at least the Cubs system can generate enough trade currency to procure a pitcher who knows how to pitch effectively.  Teams like Tampa Bay seem to have issues developing impact position players (Longoria being a notable exception) so that's an obvious trade partner, right?  However, generating trade currency is predicated on developing a healthy pitching prospect who can still show off the tools needed to entice other teams to part with their own established talent. Hey Batter Batter Every baseball fan appreciates the clean scoop of a ground ball, the crisp throw to first to get the out, the well-turned double play, and the occasional web gem that brings the crowd to its frenzied feet.  Defense is absolutely critical to winning ball games as the "clock" in baseball is dictated by how quickly a team can convert balls in play into outs.  It is therefore important given the "pitch to contact" philosophy to have a strong defense to ensure that all the ground balls are efficiently converted into outs.  However, the more exciting aspect of baseball to most fans is the offense. There are of course defensive wizards such as Darwin Barney and Brendan Ryan, not to mention Hall of Famers like Ozzie Smith and the great Ron Santo.  But in order to play as a starter and not a late-game defensive specialist, a player must be able to bat as well, and that's one of the things scouts are very interested in evaluating when they drive all those miles to watch a player. They will still grade the glove and the hands as well as footwork, positioning, range and mechanics, but mostly they're just doing this as a secondary evaluation to the player's offense. If the player can hit, the team will find someplace to put him where he can outslug his mistakes; and at some point the system teaches him how not to do stupid crap on the bases.  So we'll look less at defense (assuming that the player is somewhat competent by the time he reaches the majors) and turn our focus to offense–the art of getting on base by any means necessary. I really want this card. We know what types of teams Theo Epstein has built in Boston, we know what types of hitters he typically targets.  I think there's a disconnect between what we perceive to be a Theo player and what is actually a Theo player.  Those Boston offenses were relentless, they worked the count and they burned opposing starters and relievers. Kevin Youkilis is regarded as the archetype for what a Theo player is.  Youk is no longer a Red Sox as he was traded to the Chicago White Sox and then signed with the Yankees as a free agent.  He's in a decline phase now, but even so, he's continued to make pitchers work for the outs he's increasingly making: More notably, he's an at-bat battler. He finished third in the majors in pitches-per-plate appearance last season and ranks tied for seventh in that stat over the last five seasons. He's also frequently plunked. He led the AL last season with 17 hit by pitches. His 84 over the last three seasons, third in the majors behind Chase Utley (120) and Carlos Quentin (106). When you take a look at the battlers, you see a number of familiar names at the top of the list.  You also see some surprises such as A.J. Ellis, who barely trumped Adam Dunn for the majors lead in pitches per plate appearance.  And for the hometown crowd, you also see David DeJesus, an underrated player but one who plays solid defense and gives the pitcher a battle every time (4.07 pitches per PA). What some teams (before "Moneyball" was published) and most fans still don't realize is that there are many different ways to be productive on offense.  Consider the following list of things a player can do to avoid making an out: Walk Hit-by-pitch (ouch) Reach on error (usually because of ball placement and speed) Single Double Triple Home run Catcher's interference The HBP and the catcher's interference are mostly happenstance, but the other methods are included in the weighted on-base average (wOBA) metric developed by Tom Tango.  wOBA also includes stolen bases and penalizes for caught-stealing.  The gist is that we want to develop players who can get on base as much as possible.  Simple dumb luck allows a player to reach safely on about 30% of the balls they put in play, and so they need alternative means of getting on base. We can put players into various categories: Those who have a good eye and good grasp of the strike zone Those with excellent contact ability Those with excellent power The magical unicorn that does it all Not every player can be Ted Williams or Barry Bonds.  Although the book (and movie) "Moneyball" wasn't actually about on-base percentage, the exercise by both scouts and the front office is to identify the strongest skillset in the player and to determine how best to maximize the individual's on-base ability.  Former Cub Kosuke Fukudome was an unremarkable offensive player, but one thing he had was an excellent eye. It's really hard to find a non racist funny pic of Kosuke, so we'll play it straight up with this pic. Despite a .262 batting average with the Cubs, Fukudome had a .369 on-base percentage, which meant he was a potential run to be driven in (or drove himself in with a homer) about 37% of the time.  Current Cubs All-Star shortstop Starlin Castro is still young and impatient, but has a knack for getting bat on ball to put the ball in play more often than not.  And frequent Cubs pariah Alfonso Soriano still commands 30 homer power.  This reminds me of the seminar I attended at last year's Cubs Convention: For hitters, they were looking for consistent contact and squaring up on the ball, even if the player looked like an Oompa-Loompa (McLeod used this to describe pre-MLB Pedroia). Dustin Pedroia is truly a teeny little super guy, and solid offensive players come in all shapes and sizes from the Adonis-like Giancarlo Stanton to the Stay Puft Marshmallow Men in guys like David Ortiz and Hall of Famer Tony Gwynn.  The program should teach the players how to identify pitches that they can square up on and inflict maximum damage with; conversely, they should teach the players to not swing at pitches twenty feet out of the zone. Going Forward, Hopefully Never in Reverse Epstein and Hoyer have only been at the job for a little over a year.  They've probably only had enough time to just write the "Cubs Way" manual and begin implementing a player development program.  The hope is that by bringing in the right teachers and coaches, including Derek Johnson, the coach who mentored Cy Young winner David Price, the talent that the scouting department acquires will be developed into solid MLB regulars, perennial All-Stars and MVP candidates.  The acquisition of talent is not going to be easy and the Cubs never pretended it would be. However, with a solid coaching staff in place, and the right kind of player personnel on their way, you will forgive us if we show a little long-term optimism. Optimism!
Original Story:
http://worldseriesdreaming.com/2013/0...
THE BACKYARD
BEST OF MAXIM
RELATED ARTICLES
The Chicago Cubs should be getting some offers for their 37-year-old outfielder Alfonso Soriano. The Philadelphia Phillies would be a perfect destination for Soriano considering that they are looking for some outfield help bad. KenRosenthal of Fox Sports reports that the Phillies GM Ruben Amaro is seeking some outfield help to make his team into more of a contender...
It still takes a little adjustment to writing 2013, but I found myself looking at the Cubs 40 man roster situation this morning. The Cubs have a full 40 man roster at the moment and have by all reports signed Carlos Villanueva to a 2 year deal nearly a month ago. The Cubs pitching staff has become very crowded with people that are unable to be sent to the minors without being exposed...
Here's the deal.  We know that prospects are important in baseball.  We know that one of the primary methods of acquiring these prospects is through the amateur draft, and that the guys who are picked early are usually the most likely to succeed in the major leagues, which intuitively makes sense. We know that a team is more likely to succeed in the regular season and make the...
Holy crap the Phillies have made a move. According to Fernando Ballesteros at the Mexican baseball magazine Puro Beisbol, the Phillies have signed 37-year-old Rodrigo Lopez to a minor league deal. Lopez, who is signing on for his second stint with the Phillies, last played for the team in 2009....
Lopez will join the Phillies in Spring Training on a Minor League deal in 2013. Photo: AP Fernando Ballesteros of Puro Béisbol first reported that right-handed veteran Rodrigo Lopez has signed a Minor League contract with an invitation to Spring Training with the Phillies. Lopez can make up to $1 million should he play with the Phillies the entire year. Lopez, 37, posted a 5...
During a recent Cricket match, Brad Haddin blasted a six into the crowd and a spectator came down with one of the best grabs we have seen, especially considering he was carrying an iced coffee and two hamburgers. The spectator is a 16-year old named Peter Spurling who according to the Herald Sun is already being recruited heavily while he plays for his AIS AFL Academy. The catch...
The Philadelphia Phillies have signed pitcher Rodrigo Lopez to a minor-league deal, Jim Salisbury of CSNPhilly.com reports. If Lopez makes the team, he will earn $1mm plus incentives. Lopez appeared in only 4 games for the Cubs last season going 0-1 with a 5.68 ERA and a career low 2.9 K/9. He spent most of the season at Triple-A where he went 5.28 ERA and 6.8 K/9. Image taken by...
MLB News

Delivered to your inbox

You'll also receive Yardbarker's daily Top 10, featuring the best sports stories from around the web. Customize your newsletter to get articles on your favorite sports and teams. And the best part? It's free!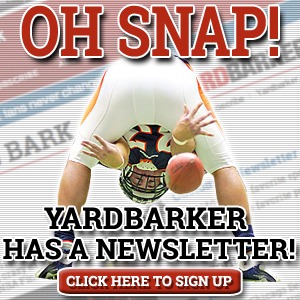 Latest Rumors
Best of Yardbarker

Today's Best Stuff

For Bloggers

Join the Yardbarker Network for more promotion, traffic, and money.

Company Info

Help

What is Yardbarker?

Yardbarker is the largest network of sports blogs and pro athlete blogs on the web. This site is the hub of the Yardbarker Network, where our editors and algorithms curate the best sports content from our network and beyond.