Found January 13, 2013 on World Series Dreaming:
PLAYERS:
Dave Duncan
,
Mark Prior
,
Kerry Wood
,
Rich Harden
,
Chris Carpenter
,
Scott Baker
,
Roger Clemens
,
Theo Epstein
,
Jon Lester
,
Clay Buchholz
,
Curt Schilling
,
Brandon Lyon
,
Matt Garza
,
James Shields
,
Wade Davis
,
Wil Myers
,
David Price
,
Matt Moore
,
Evan Longoria
,
Jeremy Hellickson
,
Jeff Niemann
,
Jed Hoyer
,
Daisuke Matsuzaka
,
Darwin Barney
,
Brendan Ryan
,
Ozzie Smith
,
Ron Santo
,
Kevin Youkilis
,
Chase Utley
,
Carlos Quentin
,
Adam Dunn
,
David DeJesus
,
Ted Williams
,
Barry Bonds
,
Kosuke Fukudome
,
Starlin Castro
,
Alfonso Soriano
,
Dustin Pedroia
,
David Ortiz
TEAMS:
Minnesota Twins
,
Chicago Cubs
,
St. Louis Cardinals
,
Boston Red Sox
,
Toronto Blue Jays
,
Tampa Bay Rays
,
Kansas City Royals
,
San Diego Padres
,
Seattle Mariners
,
New York Yankees
,
Chicago White Sox
,
Philadelphia Phillies
Yesterday, we outlined the mess the new front office had to clean up.  Today, unencumbered by playoff football and random awards shows, let's try to figure out how they may work towards that goal in regards to player development. The Way of the Pitcher Once upon a time, I happened upon an article about the Minnesota Twins' minor league pitcher development program.  There was a section on how the pitching coordinator would reprimand or otherwise penalize the pitchers if they walked too many batters in an outing, as a method to emphasize the importance of hitting and controlling the strike zone. I can no longer find that article online, but it's not a terrible idea to pepper the strike zone and get the opposing batter into protect mode.  The wonders of Google brought us to this other article on the Twins pitching philosophy, which emphasizes pitch to contact. This is a philosophy also employed heavily by the St. Louis Cardinals, a team that I consider the class of the National League...
Original Story:
http://worldseriesdreaming.com/2013/0...
THE BACKYARD
BEST OF MAXIM
RELATED ARTICLES
The Chicago Cubs should be getting some offers for their 37-year-old outfielder Alfonso Soriano. The Philadelphia Phillies would be a perfect destination for Soriano considering that they are looking for some outfield help bad. KenRosenthal of Fox Sports reports that the Phillies GM Ruben Amaro is seeking some outfield help to make his team into more of a contender...
It still takes a little adjustment to writing 2013, but I found myself looking at the Cubs 40 man roster situation this morning. The Cubs have a full 40 man roster at the moment and have by all reports signed Carlos Villanueva to a 2 year deal nearly a month ago. The Cubs pitching staff has become very crowded with people that are unable to be sent to the minors without being exposed...
Here's the deal.  We know that prospects are important in baseball.  We know that one of the primary methods of acquiring these prospects is through the amateur draft, and that the guys who are picked early are usually the most likely to succeed in the major leagues, which intuitively makes sense. We know that a team is more likely to succeed in the regular season and make the...
Holy crap the Phillies have made a move. According to Fernando Ballesteros at the Mexican baseball magazine Puro Beisbol, the Phillies have signed 37-year-old Rodrigo Lopez to a minor league deal. Lopez, who is signing on for his second stint with the Phillies, last played for the team in 2009....
Lopez will join the Phillies in Spring Training on a Minor League deal in 2013. Photo: AP Fernando Ballesteros of Puro Béisbol first reported that right-handed veteran Rodrigo Lopez has signed a Minor League contract with an invitation to Spring Training with the Phillies. Lopez can make up to $1 million should he play with the Phillies the entire year. Lopez, 37, posted a 5...
During a recent Cricket match, Brad Haddin blasted a six into the crowd and a spectator came down with one of the best grabs we have seen, especially considering he was carrying an iced coffee and two hamburgers. The spectator is a 16-year old named Peter Spurling who according to the Herald Sun is already being recruited heavily while he plays for his AIS AFL Academy. The catch...
The Philadelphia Phillies have signed pitcher Rodrigo Lopez to a minor-league deal, Jim Salisbury of CSNPhilly.com reports. If Lopez makes the team, he will earn $1mm plus incentives. Lopez appeared in only 4 games for the Cubs last season going 0-1 with a 5.68 ERA and a career low 2.9 K/9. He spent most of the season at Triple-A where he went 5.28 ERA and 6.8 K/9. Image taken by...
MLB News

Delivered to your inbox

You'll also receive Yardbarker's daily Top 10, featuring the best sports stories from around the web. Customize your newsletter to get articles on your favorite sports and teams. And the best part? It's free!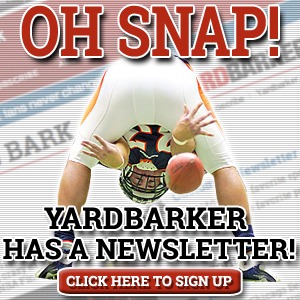 Latest Rumors
Best of Yardbarker

Today's Best Stuff

For Bloggers

Join the Yardbarker Network for more promotion, traffic, and money.

Company Info

Help

What is Yardbarker?

Yardbarker is the largest network of sports blogs and pro athlete blogs on the web. This site is the hub of the Yardbarker Network, where our editors and algorithms curate the best sports content from our network and beyond.