Found December 14, 2012 on The Detroit Sports Site:
PLAYERS:
Anibal Sanchez
,
Mike Ilitch
,
Jim Leyland
,
Victor Martinez
,
Prince Fielder
,
Torii Hunter
,
Ivan Rodriguez
,
Juan Gonzalez
,
Roger Cedeno
,
Curtis Granderson
,
Placido Polanco
,
Justin Verlander
,
Max Scherzer
,
Miguel Cabrera
,
Austin Jackson
,
Rick Porcello
,
Alex Avila
,
Doug Fister
TEAMS:
Detroit Tigers
,
Boston Red Sox
,
Washington Nationals
,
New York Yankees
,
Philadelphia Phillies
,
Detroit Red Wings
Mike Ilitch (center) celebrated an AL title with manager Jim Leyland (left) and GM Dave Dombrowski. Mike Ilitch wants to win a World Series. That's it. That is the beginning and the end of this debate over the justification for the five-year, $80 million deal free-agent starting pitcher Anibal Sanchez reportedly accepted Friday to stay in Detroit. Anyone expressing shock over this development or complaining about a 49-53 career pitcher receiving a $16 million-per-year deal has not been paying close enough attention to Ilitch and the Tigers. When Victor Martinez hurt his knee last offseason, Ilitch quickly approved a massive contract for Prince Fielder. When the Tigers fell short in the 2012 World Series, Ilitch gave GM Dave Dombrowski the go-ahead to give Torii Hunter a lucrative offer. And now, Sanchez is another expensive piece to Ilitch's championship plan. Did the Tigers overpay for Sanchez, who's coming off a 9-13 season? Maybe. So what? Baseball does not have a salary cap. Spending sprees have long been the status quo for big-market teams like the Yankees, Red Sox, Dodgers and so on. Is it a fair and balanced system? No, absolutely not — small- and mid-market teams have a hell of a time trying to keep up, though plenty have done via smart signing and strong farm systems. How many games will Anibal Sanchez win in 2013? There was a time, not all that long ago, that the Tigers were stuck in that mode. They were downright putrid through much of 1990s on into the early 2000s, culminating with a 43-119 debacle in 2003. The ensuing offseason, they handed Ivan Rodriguez the type of money that he could not get elsewhere, selling him from a mostly-financial perspective on the Tigers organization. Within three seasons the Tigers were in the World Series, and Ilitch discovered the value of spending. But not just spending for spending's sake — he tried that, when he tried to give guys like Juan Gonzalez and Roger Cedeno unwieldy contract extensions. Spending smartly. You might remember that after a disappointing 2009 season, Ilitch rolled back the payroll, forcing the Tigers to trade Curtis Granderson and let Placido Polanco walk. Title windows in baseball do not last long, though, and through all of Dombrowski's maneuverings, the Tigers wound up with a roster that included Justin Verlander, Max Scherzer, Miguel Cabrera, an improving Austin Jackson and several other key pieces. They had a shot to turn from an 81-win team into a World Series contender, almost overnight. So Ilitch went all-in. This Sanchez contract, like the Fielder one last season, is mostly the doing of Detroit's owner. Without Ilitch opening up his own checkbook and taking a financial hit to produce a winning product, Fielder does not wind up in the Old English D. And Sanchez probably never leaves Miami for Detroit in a trade in July — a more financially-focused team would have kept all its prospects and tried a slow, steady climb. The Tigers are not a Frankenstein of free agency, though. Verlander, Rick Porcello, Alex Avila -- those guys all came up through Detroit's system. Jackson, Scherzer, Doug Fister and others were added on a dime, in shrewd trades by Dombrowski. In other words, this is not Ilitch trying to buy a championship (as some would argue he did with the Red Wings, pre-NHL salary cap) so much as it is him doing whatever's necessary to win. The Tigers, with Ilitch leading the way, muddled through plenty of seasons where free agents wanted nothing to do with them ... and they had no money available to sign anyone of consequence anyway. This moment in the sun won't last forever. When Ilitch, currently 83, no longer runs the show in Detroit, the payroll will drop, probably to a dramatic degree. Then, the Tigers will retake their spot as a mid-market franchise trying to compete in a big-market world. For this season and the next few, at least, the Tigers don't have to worry about that cash-strapped future. Their owner has put his money where his mouth is, personally doing what he can to bring Detroit its first World Series win since 1984. So, what's so wrong with that?
Original Story:
http://www.thedetroitsportssite.com/2...
THE BACKYARD
BEST OF MAXIM
RELATED ARTICLES
In an unusual turn of events, Anibal Sanchez is returning to the Detroit Tigers on a 5-year, $80M deal. This move comes on the heels of the Cubs offering Sanchez a 5-year, $75M contract on Thursday. What most people didn't know was that Sanchez planned on giving the Tigers a chance to match his best offer all along. Not only did the Tigers match it, but they gave him an extra ...
Yesterday the Detroit Tigers re-signed right-hander Anibal Sanchez to a five-year, $80 million contract, as reported by Bob Nightengale of USA Today. Agent Gene Mato Sanchez agrees to 5 year,$80 million deal w #Tigers — Bob Nightengale (@BNightengale) December 14, 2012 The Tigers acquired Sanchez from the Miami Marlins last summer in exchange for prospects,...
Anibal Sanchez is staying with the Detroit Tigers. After the free-agent pitcher appeared to be on the verge of taking a lucrative five-year, $77.5 million offer from the Chicago Cubs, the Tigers upped the ante and Sanchez agreed to a five-year, $80 million contract Friday, his agent, Gene Mato, told USA Today. Sanchez, 28, came to the Tigers during the 2012 season from the Miami...
The Red Sox still need starting pitching, but it's obvious they're not willing to just throw cash around. The Tigers reportedly inked Anibal Sanchez to a five-year, $80 million deal on Friday. Before Sanchez signed the big contract, however, the Red Sox talked to the right-hander, according to CBSSports.com's Jon Heyman. The Sox reportedly weren't willing to go as high as...
The Cubs made their biggest move so far this off-season on Thursday, reportedly signing Anibal Sanchez to a five-year deal pending physical on Thursday according to reports from Bob Nightengale of USA Today.  Meanwhile, Jon Heyman of CBS Sports continues to report that Detroit is "very much in the mix". Sanchez, 28, made his debut with the then-Florida Marlins in 2006, where...
Early Thursday evening, Bob Nightengale of the USA Today tweeted that starting pitcher Anibal Sanchez agreed to sign a deal with the Chicago Cubs.  Not more than a half hour later, Nightengale and others were recanting that initial report saying that Sanchez had not yet signed the deal and that other teams, namely the Tigers, were still in play. As of Thursday night, we have learned...
Anibal Sanchez has re-signed with the Detroit Tigers. Sanchez will receive $80 million over the next five seasons. This news comes a day after reports suggested that the right handed pitcher had chosen to sign a deal with the Chicago Cubs. Those reports proved to be false. Sanchez was acquired by the Tigers at the July trade deadline from the Florida Marlins. After the trade Sanchez...
The Chicago Cubs seemed poised to sign free-agent pitcher Anibal Sanchez on Thursday afternoon, with reports surfacing that the two sides were close to a deal. However, it appeared that Sanchez was willing to give his former team, the Detroit Tigers, one more chance to one-up the Cubbies. That's exactly what the Tigers did, and on Friday, they reportedly came to terms on a new...
The Rangers still have options, the Angels have an abundance of outfielders, and Anibal Sanchez`s impending decision has multiple implications.
The Detroit Tigers are still serious about winning a world championship and will continue to be as long as owner Mike Ilitch is running the show. Originally reported by Bob Nightengale of USA Today and confirmed by FOX Sports' Ken Rosenthal, the Tigers signed Anibal Sanchez to a five-year, 80 million contract Friday morning. This came on the heels of a report Thursday night...
Despite a winding road of reports over the last two days, Anibal Sanchez will remain a Detroit Tiger after all. The club signed the 28-year-old right-hander to a five-year, $80 million deal, keeping him in Detroit through the 2017 season. Sanchez joins Justin Verlander, Max Scherzer and Doug Fister as locks for the Tigers' rotation this spring, with just one spot left for youngsters...
This week, the American League became more competitive by the day. The Royals traded for James Shields. The Angels signed Josh Hamilton. Friday, the defending champions answered: Anibal Sanchez agreed to a five-year, $80 million contract to remain in Detroit, a major-league source confirmed to FOXSports.com. One signing didn't turn the Tigers into prohibitive favorites to return...
MLB News

Delivered to your inbox

You'll also receive Yardbarker's daily Top 10, featuring the best sports stories from around the web. Customize your newsletter to get articles on your favorite sports and teams. And the best part? It's free!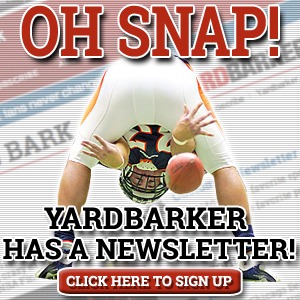 Latest Rumors
Best of Yardbarker

Today's Best Stuff

For Bloggers

Join the Yardbarker Network for more promotion, traffic, and money.

Company Info

Help

What is Yardbarker?

Yardbarker is the largest network of sports blogs and pro athlete blogs on the web. This site is the hub of the Yardbarker Network, where our editors and algorithms curate the best sports content from our network and beyond.