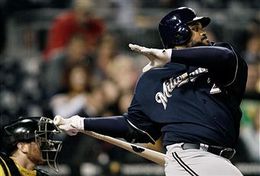 The trial will have to wait until Nov. 29 through Dec 2, meaning it's almost guaranteed Frank will be in charge through the winter ownership meetings. (I'm trying to imagine how unpleasant that will be for Frank.) Supposedly this won't mean the Dodgers can't offer market value contracts to Prince Fielder or Albert Pujols, but that's just fantasy at this point. If I were the agent representing either player, I wouldn't even entertain Ned's call until this bankruptcy proceeding was finished.
Read the rest of this story...
MORE FROM YARDBARKER
MLB News

Delivered to your inbox

You'll also receive Yardbarker's daily Top 10, featuring the best sports stories from around the web. Customize your newsletter to get articles on your favorite sports and teams. And the best part? It's free!