Found April 20, 2013 on World Series Dreaming:
The Cubs claimed speedy centerfielder Julio Borbon off of waivers yesterday. Borbon made himself known amongst the Cubs faithful by being caught stealing to end the game. Prior to that there was a lot of speculation about the roster move to clear a space on both the 40 man and 25 man rosters. Many speculated that Borbon addition would mean the end of Dave Sappelt in the lineup. The move makes sense as Sappelt is the Cubs current fifth outfielder, but it would mean the end of the dramatic platooning the Cubs had put in place to start the season. Borbon would be the only true centerfielder on the roster and would provide the fastest player on the roster. Of course, Alberto Gonzalez was the player the removed from both rosters to make room for Borbon, but created the unfavorable roster construction of 6 outfielders for the time being. The Cubs will probably play with this roster until Ian Stewart is ready to come back, and that is when the Cubs are going to have to decide between sending down Sappelt or Borbon. Sappelt according to AZ Phil has two option years remaining, and so would be the no risk move to send down. However, sending him down would mean the end of the lefty starter lineup. Borbon, on the other hand, is out of options and would have to be waived again to be snuck to an increasingly crowded Iowa outfield situation. The situation appears that at this point in the season the Cubs have second overall priority on the waiver claim for Borbon so it is not known at this time how likely Borbon could sneak through waivers. The Cubs inability to hit lefties at this point is well documented. Here is the Cubs platoon numbers at this point in the season. The numbers are not good against left handed pitching. The solution suggested by many is to ditch the platoons in the outfield, and keep two of the hottest hitters in the lineup in Nate Schierholtz and David DeJesus. The reason why this seems rash is that there have been a grand total of four starts against left handers. The left handed starters the Cubs have faced are Wandy Rodriguez, Mike Minor, Madison Bumgarner, and Derek Holland. Those are four quality starters and only four games. None of those guys are exactly subpar starters like Jimmy Anderson, who was known for dominating the Cubs. You do not throw out the nearly 1000 plate appearances of Scott Hairston with a slash line of .273/.323/.498. Sappelt does not have the same track record, but his short major league numbers suggest that he would be equally successful with a long term chance at the position. Borbon would add another outfielder that struggles against left handed pitching. Borbon has hit .293/.333/.370 against righties and lefties .245/.287/.309. But ultimately I think Sappelt gets sent down when Stewart comes back. That gives the Cubs three outfielders that struggle hitting left handers. Schierhotlz has the strongest numbers against left handed pitchers amongst the left handed outfielders, and if his hot start continues he deserves a shot at being an everyday player. Hairston could be passable in centerfielder, and so a DeJesus/Hairston platoon in centerfield could be effective. That is probably the outfield configuration until another opportunity to add talent arises.
Original Story:
http://worldseriesdreaming.com/2013/0...
THE BACKYARD
BEST OF MAXIM
RELATED ARTICLES
MLB News: Julio Borbon was claimed off of the waiver wire by the Chicago Cubs from the Texas Rangers Friday. Spending his whole career in the Texas system, Borbon has a solid glove, but very little power and while he possesses very nice speed, his knowledge of the art of running has a few holes in it. There have been plenty of gems that were found on the waivers after being cast...
John Polonius (two RBI doubles) and Shilo McCall (a three-run HR and an RBI FC) knocked-in four runs a piece, leading the Giants to an 11-2 victory over the Cubs on Field #1, and Seven Neff and three relievers combined to toss a one-hit shutout, as the Giants blanked the Cubs 2-0 on Field #2, in Cactus League Extended Spring Training doubleheader action this morning at Indian...
As expected, the Texas Rangers weren't able to sneak outfielder Julio Borbon through waivers. Borbon announced the news himself on Twitter with the following tweet: Chicago Cubs!!!! Julio Borbn (@JulioBorbon20) April 19, 2013 Borbon, who was designated for assignment last week, was claimed by the Chicago Cubs Friday. The Rangers put Borbon on waivers Wednesday. Texas was hoping...
Shawon Dunston Jr reached base four times on three singles and a walk, scored twice, and drove-in a run, Yasiel Balaguert singled twice, tripled, and knocked-in four runs, and Jacob Rogers smacked a two-run triple and walked, leading one squad of Cubs to a 7-3 victory over one squad of Diamondbacks on Field #3, and Francisco Sanchez hammered a two-run triple and then scored on...
The Chicago Cubs claimed outfielder Julio Borbon off waivers from the Texas Rangers on Friday. Borbon, 27, spent all of last season with Round Rock, the Rangers' Double-A affiliate, where he hit .304 with 23 doubles, 10 home runs and 20 stolen bases in 133 games. He hit .317 in 32 spring training games for the Rangers this season and went hitless in one regular season at-bat...
Javier Baez, SS, Chicago (NL) Baez, 20, hit .333 at the low-A ball level in 2012 but he did it while walking just nine times in 57 games. He then finished his injury-shortened season with another 23 games in high-A ball but struggled. His plate issues have continued into 2013 with 18 strikeouts and two walks in 58 at-bats. While his aggressive nature has not helped his batting average...
Matt Garza Starting pitcher Matt Garza threw two innings of a simulated game on April 19 without incident. He is scheduled to throw a total of four simulated games, working his pitch count up gradually throughout each of them. His next game calls for three innings or a total of 45 pitches. Cubs' manager Dale Sveum said that Garza threw well but had control issues. That...
Since taking over as owner of the Chicago Cubs in 2009, Tom Ricketts and his family have spoken at great lengths about how they are going to do whatever they could to bring the long coveted World Series Championship to the city of Chicago, and to the long suffering Cubs fans. In order to do this, he has needed the Cubs fans to buy into his plan, show some patience and let him and...
What do you call this stretch of time in Chicago Cubs' history anyway?(I'm talking about the team playing in the Major League ballparks, of course.)Is it The Intermission?Growing Pains?The 105th Year Stretch?Even though most of us kind of shrug through these games, it's nice to see some kind of emotion displayed once in awhile.Which was why I was so happy to watch an...
The Brewers go for the series sweep, their 7th win in a row overall, and their 17th win in the last 22 meetings with the Cubs. Is that depressing enough for you? Cubs v. Wily Peralta (0-1, 6.19; pitched well but took an ND in 4/9 game at Wrigley which his bullpen blew for him): DeJesus 8, Castro 6, Rizzo 3, Soriano 7, Schierholtz 9, Castillo 2, Valbuena 5, Barney 4, Feldman 1. Brewers...
FOX Sports Wisconsin announced Friday that it will televise the Milwaukee Brewers-Chicago Cubs split doubleheader Tuesday, July 30. Game 1 will begin at 1 p.m. and game 2 at 7 p.m. Coverage will begin at 12:30 p.m. with Brewers Live. The split doubleheader serves as a makeup addition for the teams' Wednesday April 10 rainout at Wrigley Field.
Cubs News

Delivered to your inbox

You'll also receive Yardbarker's daily Top 10, featuring the best sports stories from around the web. Customize your newsletter to get articles on your favorite sports and teams. And the best part? It's free!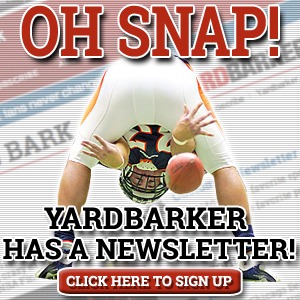 Latest Rumors
Best of Yardbarker

Today's Best Stuff

For Bloggers

Join the Yardbarker Network for more promotion, traffic, and money.

Company Info

Help

What is Yardbarker?

Yardbarker is the largest network of sports blogs and pro athlete blogs on the web. This site is the hub of the Yardbarker Network, where our editors and algorithms curate the best sports content from our network and beyond.