Originally posted on
Razzball
| Last updated 8/7/14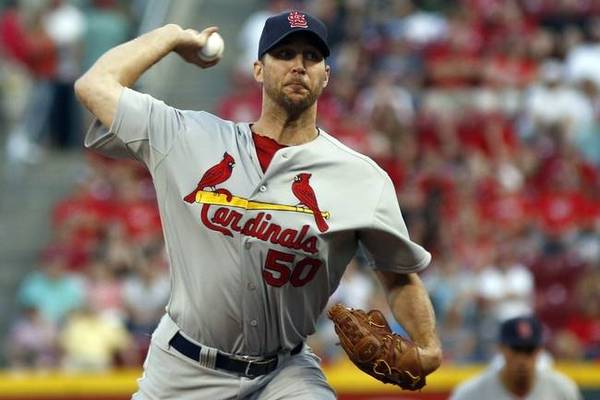 May 25, 2014; Cincinnati, OH, USA; St. Louis Cardinals starting pitcher Adam Wainwright throws against the Cincinnati Reds during the first inning at Great American Ball Park. Mandatory Credit: David Kohl-USA TODAY Sports
Sorry my Razzball peeps but everybody's favorite bearded genius J-FOH is hanging with Mickey Mouse today. So while J-FOH does his initiation with these guys, I'm stepping in to pinch hit. Think of me as a super sexy Matt Stairs, only instead of late innings hits I'm dropping Daily Baseball science on y'all! Speaking of daily fantasy science, check out Rudy's Franken-tool the DFSBot. Why do I call it a Franken-tool? Because it's a monster! So now that introductions are out of the way, I have a question. Have you guys seen Adam Wainwright's price today on DraftKings? He costs a measly $9,500! For a pitcher of Wainwright's caliber that's downright stealing. Which leads me to my next question. What does DraftKings know that I don't? On face value I think 1. He faces the Red Sox in St. Louis which means they will be sans a DH. When the Red Sox are DH-less either Mike Napoli or David Ortiz are on the bench. That takes a lot of pop out of an already punch-less lineup. 2. The Red Sox offe...
Read the rest of this story...
MORE FROM YARDBARKER
MLB News

Delivered to your inbox

You'll also receive Yardbarker's daily Top 10, featuring the best sports stories from around the web. Customize your newsletter to get articles on your favorite sports and teams. And the best part? It's free!