Found March 03, 2013 on Midwest Sports Fans:
PLAYERS:
Ryan Braun
,
Miguel Cabrera
,
Mike Trout
,
Albert Pujols
,
Robinson Cano
,
Andrew McCutchen
,
Joey Votto
,
Clayton Kershaw
,
Justin Verlander
,
Stephen Strasburg
,
Prince Fielder
,
Troy Tulowitzki
,
Carlos Gonzalez
,
Bryce Harper
,
Buster Posey
,
Craig Kimbrel
,
Felix Hernandez
,
Matt Cain
,
Zack Greinke
,
Cliff Lee
,
Mark Teixeira
,
Jose Bautista
,
Adrian Gonzalez
,
Billy Butler
,
Anthony Rizzo
,
Eric Hosmer
,
Curtis Granderson
,
Corey Hart
,
Hunter Morris
,
Mat Gamel
,
Yadier Molina
,
Madison Bumgarner
,
Kris Medlen
,
Mat Latos
,
Homer Bailey
,
Aroldis Chapman
,
Jon Lester
,
Clay Buchholz
,
Tim Lincecum
,
James Shields
,
Andre Ethier
,
Brett Lawrie
,
Starling Marte
,
Alfonso Soriano
,
Billy Hamilton
,
Jason Motte
,
Rafael Soriano
,
Drew Storen
,
Mariano Rivera
,
Trevor Hoffman
,
Frank Francisco
,
Bobby Parnell
,
Fernando Rodney
,
Sergio Romo
,
John Axford
,
Brandon League
,
Kenley Jansen
TEAMS:
Milwaukee Brewers
,
Detroit Tigers
,
Los Angeles Angels
,
New York Yankees
,
Pittsburgh Pirates
,
Cincinnati Reds
,
Los Angeles Dodgers
,
Washington Nationals
,
Colorado Rockies
,
San Francisco Giants
,
Atlanta Braves
,
Seattle Mariners
,
Philadelphia Phillies
,
Kansas City Royals
,
Toronto Blue Jays
,
Chicago Cubs
,
St. Louis Cardinals
,
Boston Red Sox
,
New York Mets
,
Tampa Bay Rays
Welcome to March Madness. I mean, welcome to the other March Madness, also known as fantasy baseball preparation … and many hours spent watching Grapefruit and Cactus League action (thank you MLB Network). This year, not even the number one pick is a slam dunk. And a successful draft in 2013 requires a very detailed game plan. Many leagues this year, as in most years, will be won with players listed nowhere near the top of current draft boards. Personally, instead of participating in a single $250 dollar draft, I will diversify into several $25/$50 formats. This way I can spot trends and players who are drafted late that I need to be aware of, as well as who the players are that owners feel are just carrying too much risk. If nothing else, you should participate in a free or $10 draft league before diving into the big $$ drafts or auction formats, just to get an idea and prepare yourself for your big money leagues. With that in mind, let's go through a current typical draft and see whose stocks are rising and falling. Top 3 Overall Picks Ryan Braun. Miguel Cabrera. Mike Trout. I can make a case for any of the three. Personally, I had the first overall pick in one draft and went Trout. In another, I selected third and Trout fell to me. Trout is just age 21 and already a five-category monster who added 30 lbs during the winter and believes he can actually improve on last year's 49 stolen bases. If so, we can dream 40/50. Cabrera needs no introduction coming off a Triple Crown, which had not been done in 45 years. He has replaced Albert Pujols in top-three territory and has the same skill set. You can also count on him playing 160-161 games. The only negative is owners will still have to chase stolen bases later. Like last year, Ryan Braun remains the elephant in the room. Between the lines he's as reliable as they come and has been money for nearly six years. But Braun may only be safe until the next investigative report that will inevitably be ratted out by Jeff Passan or Outside the Lines … or maybe Braun gets dinged by the piss man a second time and finally gets backed into a corner. My opinion is that the controversy surrounding Braun doesn't get sorted out until next off-season. Still, there is a remote possibility of Ryan sitting 50 games at some point this year. Because of this, I do see some rankings where Braun is actually slipping to four or five. Myself, I wouldn't let Braun slip past three. The reward is still worth any potential risk there. Rest of Round 1 The factor of position scarcity at second base puts Robinson Cano in the four hole, followed by Andrew McCutchen and Albert Pujols. And while I know he's coming off injury, I absolutely love Matt "50/50″ Kemp at #7 or #8, which is where I've been seeing him. Joey Votto likewise is a nice pick at around #8 or #9. I'm seeing a lot of pitching at the top of the board going at the end of Round 1. I'm seeing Clayton Kershaw going off as early as number seven, with Justin Verlander not far behind. You will see a lot of draft boards listing Stephen Strasburg between 20-30. He will be long, long gone before then in nearly all leagues. If you want Stephen, you likely have to go late-Round 1. If you are too concerned with any risk and have him lower, he will not be drafted onto your roster. Prince Fielder will be drafted in his usual slot early in Round 2. A couple of prior first-rounders who are sliding are Colorado Rockies teammates Troy Tulowitzki/Carlos Gonzalez, who both come with injury history. Both players are signed long-term in Colorado, so there's not much worry about trades anytime soon. Is Bryce Harper poised for a Mike Trout-like breakout in 2013? (Image credit: USAToday) When Should Bryce Harper Be Drafted? Thus far I have drafted #20/#21 in one league and #18/#23 in the other. With #20/#21, I had the good fortune of having both Buster Posey and Bryce Harper available, and I drafted both. #18 and #23 was a different deal, and since one owner in my first league made reaches with his first two picks, I had basically the same cast of characters available at #18 with the second league. I was not going to get Posey AND Bryce in this league. When push came to shove, I decided on the reigning National League MVP. When pick #23 came along both Bryce along with Giancarlo Stanton were both spoken for. Harper and Stanton are both going at exactly the same juncture of drafts at that point. With my worst case scenario playing out, I drafted Craig Kimbrel at #23, noticing that the Braves closer went #26 in the previous draft. Usually I'm one who subscribes to the theory of not drafting a closer top-50. But Kimbrel goes into 2013 so far ahead of the pack that he breaks the rules. The same theory goes with Buster Posey at catcher. There is Buster as the top catcher, then a substantial cliff. There is a similar cliff between Kimbrel and several other closers vying to be number two on the reliever board. Having arguably the best outfielder, followed by the best catcher and best relief pitcher, is not a bad starting point for any fantasy team. Who is Sliding? I have taken Felix Hernandez off my draft boards, and I saw him slip all the way to #45 in one draft. I'm just hearing too much about his elbow, and many owners don't want to risk losing their top pitcher to season-ending surgery in April. As a baseball fan, I hope I'm wrong. Matt Cain, Zack Greinke, and Cliff Lee are much safer choices at around #35. Greinke, incidentally, is the Mark Teixeira of pitching, The Royals decided they couldn't afford him long-term, the Brewers decided they couldn't afford him, and so did the Angels. Hello Dodgers. To his credit Greinke recently admitted he was looking for top dollar, and he certainly played his cards right. Zack will get bled to death in some outings but in the end will have decent numbers. You will also see Jose Bautista ranked top-ten in newsstand magazines, but there are many drafts where he's going outside the top 25. 40+ HRs are possible, but so is an awful BA and continued injury risks. One guy I recommend staying away from for strategic reasons is Adrian Gonzalez. I took him at #41 in one draft and saw him go at #41 in another draft. He's not a horrible pick in Round 4, but you can wait 2-4 rounds later and get a Billy Butler or a Teixeira or Trumbo, or a Freddie Freeman, or best yet, Anthony Rizzo. There are no cliffs at first base, just a gently sliding slope with plenty of talent. I've also read some who subscribe to taking Ryan Howard around 100 picks in. First off, I saw Howard go far before that in one draft. Also, there is no real upside with Howard. I like rolling the dice on potential and would go with Rizzo, Freeman, or even Eric Hosmer first. That first All-Star breakout year, especially for post-hype sleepers, can happen without notice. The Injured Guys Curtis Granderson got hit by a pitch and is out until mid-May, while Corey Hart went under the knife in January and is estimated out until late May. Accepting those timetables, where should these two be drafted? Granderson is going to go somewhere between 55-60 based on his home run totals. That is probably too early for me. Corey Hart I see going around 100-120 picks in. I would go with him there, then draft Brewers prospect Hunter Morris in the late rounds, who is projected to see some action while Hart is out. Mat Gamel re-tore his ACL in Milwaukee's first spring practice session and is out of the picture for 2013. Good Mid-Round Values I can't believe how late I'm seeing Yadier Molina going in drafts, 80-90 picks in. That is not bad for arguably the second best offensive catcher on the board. Starting pitching is another good area to stock up on mid-rounds. Madison Bumgarner figures to be as good as Cliff Lee or Zack Greinke, but he can be had a round or two later. Ditto Kris Medlen and Yovanni Gallardo just a half-tick behind that. Jordan Zimmerman, Mat Latos, and Homer Bailey are also good picks in Rounds 8-10. Remember Aroldis Chapman is slated to join the Reds rotation, but that's also getting him over-hyped in some draft rooms. And remember proven guys who had horrible years in 2012. Jon Lester, Clay Buchholz, and Tim Lincecum come to mind. They can be had at a discount this year and may turn in fantastic years. Think James Shields 2011. Also do not sleep on Andre Ethier. He'll deliver around a .280 average, 20 HR, 90 RBI. Some other nice post-hype names: Brett Lawrie and Desmond Jennings. Who to Remember in the Late Rounds Let me introduce you to Pittsburgh outfielder Starling Marte, who is anointed as having the 'highest ceiling' of any Pirates player not named McCutchen. That's what to look for late: high ceilings as opposed to an Alfonso Soriano type, where you know exactly what your going to get. Remember Jose Bautista in 2010? That's what you're trying to strike gold on late. And don't forget Reds prospect Billy Hamilton, who stole 155 bases in the minors in 2012. He will be an outfielder going forward, but he is listed as a shortstop in most formats this spring. He's likely to start the year in the minors, but he figures to get a call-up at some point. Maybe Hamilton only gets half a season, or he gets the call in April and by September we're talking about Billy cruising to the stolen base title and becoming this generation's version of Vince Coleman. The Closers This position is the greatest challenge of all and why I think getting Kimbrel top-25 overall is worth it. Almost every closer is about a bad week lr two away from losing his job, and we know the difficulty of chasing saves in either a FAAB format (spending $600 out of a $1,000 budget on someone who may or may not keep a closing gig), or being shut out in the waiver format because your team is (hopefully) near the top of the standings. Here are some possible options and guys screaming with potential red flags. I have Jason Motte as the second-best on the board. You can go with him at around #60. Rafael Soriano (Nationals) is also a good pick, but you MUST handcuff him with Drew Storen. I will let someone else have Mariano Rivera. Remember Trevor Hoffman's last year? I think the motor is about to blow for good on the #42. Cleveland's Chris Perez is currently out with a shoulder problem, stay away. Frank Francisco is also likely to start the year on the DL with the Mets. Consider Bobby Parnell in the later rounds. If going by last year's numbers, Fernando Rodney could be #2 on the closer list, but he's 35 and the Rodney of 2010 (when he couldn't find the strike zone) could resurface at any time. I can't argue with Jim Johnson's 51 saves last year. Just be aware you are dealing with a very sub-standard K rate for a closer. Sergio Romo is one of the safest bets. If you were high on Brian Wilson in the past, Romo is comparable. John Axford was a thrill ride last year. His value is down, but I actually like him and don't see many other alternatives in Milwaukee. Brandon League could well be a top-five closer with the Dodgers, but I would handcuff with Kenley Jansen. ***** What observations have you made from your magazine reading and early drafting? Comment below. The post Fantasy Baseball Draft Strategy For 2013: The Undisputed Top 3, Sleepers and Busts, and Where To Draft Bryce Harper appeared first on Midwest Sports Fans.
Original Story:
http://www.midwestsportsfans.com/2013...
THE BACKYARD
BEST OF MAXIM
RELATED ARTICLES
Your browser does not support iframes. And here's video of Bryce Harper's first home run of spring training on Friday night: Oppo boppo. Harper's bat may be ready for the season to start, but as Federal Baseball correctly noted, Harper's home run trot is definitely not in mid-season form. Befriend Nats Enquirer on Facebook. Follow on Twitter.
While not nearly as awesome as the 1983 Mike Rizzo Peoria Suns card, this Bryce Harper autographed card from the 2013 Topps Gypsy Queen Baseball line is still pretty awesome. (Photo by @ToppsCards) Befriend Nats Enquirer on Facebook. Follow on Twitter.
Via DC Sports Bog, it's Bryce Harper with Mickey Mouse at ESPN's Wide World of Sports earlier today. (Photo by @DisneySports) Befriend Nats Enquirer on Facebook. Follow on Twitter.
Two of America's most beloved people are seen in this photo above.The one with the big ears on the left happens to be Mickey Mouse, while the one wearing the beanie to the right happens to be Washington Nationals outfielder Bryce Harper.The Nationals had a rare off day on Monday, and being that their spring training facility is located pretty close to Orlando, Harper decided...
KISSIMMEE, Fla. (AP) -- Bryce Harper homered for Washington, Jason Heyward went deep for Atlanta, and the Nationals knocked off the Braves 6-5 in a spring training game Friday night. Harper hit his first homer of the spring in the top of the first. He finished 1 for 3, leaving his exhibition average at .538 (7 of 13). Heyward hit his third spring homer in the bottom half. He also...
Bryce Harper homered for Washington, Jason Heyward went deep for Atlanta, and the Nationals knocked off the Braves 6-5 in a spring training game Friday night. Harper hit his first homer of the spring in the top of the first. He finished 1 for 3, leaving his exhibition average at .538 (7 of 13). Heyward hit his third spring homer in the bottom half. He also got down a bunt in the...
The Phillies are headed just north of Clearwater Beach to Dunedin to take on The Toronto Blue Jays at Florida Auto Exchange Stadium. Cliff Lee takes the mound for the Phillies today. The Phillies will face former National League East foe and reigning National League Cy Young award winner R.A....
The Philadelphia Phillies dropped a game today in Dunedin 11-6 to the Toronto Blue Jays. Ryan Howard homered as the offense continued to look good. Cliff Lee gave up 3 runs in 3 innings but said he felt good. The bullpen struggled. Billy the Philly Fan and Steve from My Two Cents break down today's action with their latest rant. Follow the Phillies at MTRphilly.com, on Facebook...
Toronto Blue Jays vs Philadelphia Phillies Time: 1:05 pm Florida Auto Exchange Stadium– Dunedin, FL Weather: 57, 50% Chance of Showers TV: MLB Network (Delay) Follow Phillies Nation on Twitter Cliff Lee will take the hill in some ugly weather against a suddenly very deep and dangerous Toronto Blue Jays club. Starting today, the Phils will be without Jimmy Rollins, Tyson Gillies...
MLB News

Delivered to your inbox

You'll also receive Yardbarker's daily Top 10, featuring the best sports stories from around the web. Customize your newsletter to get articles on your favorite sports and teams. And the best part? It's free!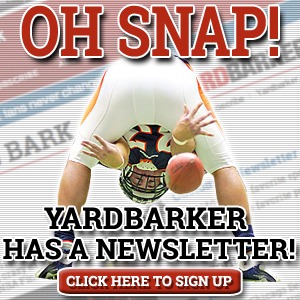 Latest Rumors
Best of Yardbarker

Today's Best Stuff

For Bloggers

Join the Yardbarker Network for more promotion, traffic, and money.

Company Info

Help

What is Yardbarker?

Yardbarker is the largest network of sports blogs and pro athlete blogs on the web. This site is the hub of the Yardbarker Network, where our editors and algorithms curate the best sports content from our network and beyond.