Found April 08, 2013 on Pirates Prospects:
When should the Pirates consider Alvarez a platoon player? Photo credit: David Hague Back in early February, when Brandon Inge was signed, I raised the question of whether Pedro Alvarez should be a platoon player. Not much has happened between that article and now, other than eight regular season at-bats against left-handers. In those at-bats, Alvarez has gone 0-for-8 with four strikeouts, after going 0-for-4 with three strikeouts today against left-handers. I'm not suggesting the Pirates should suddenly platoon Alvarez. As I pointed out yesterday, there shouldn't be any major decisions made after one week's worth of stats. But the bad start against lefties does bring up the topic of when the Pirates should consider Alvarez a platoon option. A lot of the negative reactions to the idea the last time around revolved on where Alvarez was drafted. He was a second overall pick, and was given just over $6 M, which was a franchise record at the time. The arguments were that you don't turn a guy like that into a platoon player. That's probably true when you're drafting him. But there's a difference between the time you draft a guy, and several years down the line after he's had a chance to develop. Not all players reach their ceiling. Alvarez was seen as a guy who could be a game changer — hitting for average while crushing 30-40+ homers per year. That was the best case scenario. I'm not saying that's out completely, but I am saying that's looking more and more unlikely at this point. The question now seems to be whether Alvarez can be an everyday player or whether he should sit against left-handers. As I pointed out in the last article, Alvarez has seen his power against lefties go up in each of the last two years. Last year he posted a .172 ISO. If he improves on that again this year, he could have value against left-handers based on his power alone. If that happens, Alvarez could be a Carlos Pena type player at third. The average will be low, and there will be a lot of strikeouts, but he's going to have a shot at that 30-40 home run range each year. But how long should the Pirates give Alvarez to prove he can play everyday? Do they give him the entire 2013 season and wait to see if he shows improvements again? Do they cut back his time against lefties if he's not showing improvements, or regressing, by mid-season? I wasn't calling for Alvarez to be a platoon guy then, and I'm not saying that now after eight more at-bats against lefties. I do think that possible future outcome has to be on everyone's minds, and considered as a realistic possibility. The dream is that Alvarez will figure it out, start hitting for average and power, and be the key that the Pirates need in the middle of the lineup. I think it's more likely that Alvarez doesn't figure it out against lefties. But he's got two years of improvements under his belt. Plus the Pirates did invest a lot in him, so it would make sense to give him every shot to get the most value out of him. But there's only so long they can wait. Alvarez is moving beyond the point where you'd expect to see major improvements to this part of his game. He has been showing improvements the last two years, but if those annual improvements stop, it would probably be better to think that he's reached his ceiling against lefties, rather than continuing to send him out there to be over-matched. Links and Notes **The 2013 Prospect Guide and the 2013 Annual are both available on the products page of the site. If you order them together, you'll save $5. Get them both to use throughout the 2013 season. **Prospect Watch: Pimentel Has Strong Debut, Polanco and Allie Hit First Homers. **The Most Impressive Thing About Gregory Polanco. **Minor League Schedule: 4/8/13. **Pirates Release Jeremy Farrell. **Pirates Notebook: Locke Looks to Stick Around After Making Roster. **McCutchen Homer Only Respite as L.A. Completes Sweep 6-2. **Draft Prospect Watch: Manaea Throws Six Shutout Innings.
Original Story:
http://feedproxy.google.com/~r/Pirate...
THE BACKYARD
BEST OF MAXIM
RELATED ARTICLES
The Pirates released Jeremy Farrell. The Pittsburgh Pirates have released third baseman Jeremy Farrell, according to the latest minor league transactions from Baseball America. Farrell didn't make either of the top level teams out of Spring Training. In two seasons with Altoona he combined for a .241/.330/.346 line in 610 at-bats. Farrell also had problems staying healthy throughout his career.
Charlie Morton is increasing his pitch count after being placed on the 15-day DL. Greetings from Dodger Stadium, where it should be another beautiful Los Angeles night. Here's a link to Friday's recap if you missed it. Pirates manager Clint Hurdle provided updates on some of the team's injured pitchers: Charlie Morton (elbow) will throw two innings in an extended game Monday...
Three more pitchers make their season debut today, two of them can be considered sleep prospects, though they are on the opposite ends of the chart. Phil Irwin pitched great last year and was added to the 40-man roster this off-season, putting himself on the map for Pirates fans as a possible call-up during this season. On the opposite end is 19-year-old Tyler Glasnow, who pitched...
TOP OF THE SYSTEM A look at how the current top 20 prospects did today.  Note that this list doesn't include players currently in the majors. If a player is in the majors, he will be removed, everyone below him will be shifted up a spot, and a new player will be added to the bottom of the list. Rankings are from the pre-season rankings, and links to each prospect writeup can be...
The Pittsburgh Pirates jumped out to an early lead against the Los Angeles Dodgers on Sunday afternoon. Starling Marte, who was the only Pirate to get a base hit off of Clayton Kershaw in Saturday nights game , led off the game with a single to left field off of MLB rookie Hyun-Jin Ryu. Ryu got Neil Walker to pop out to shortstop before Andrew McCutchen hit a two-run home run to...
After posting a 2.78 ERA over 71 appearances for the Astros in 2011, Mark Melancon did not adjust well to the American League last season. He was traded to the Red Sox in the offseason and recorded a 6.20 ERA in 41 appearances. The right-hander came to Pittsburgh in the Joel Hanrahan deal and told PiratesDugout.com's George Von Benko that he feels comfortable in the Bucs bullpen.
Pirates (1-4) at Dodgers (3-2) 4:10 PM–Dodger Stadium, Los Angeles MLB.com Gameday TV: ROOT The Pirates look to avoid a series sweep (or at least avoid a series shutout) today against the Dodgers. They've dropped eight straight at Dodger Stadium and have obviously been completely dreadful at the plate so far this year. It's gotta change some time soon.. Tonight's starters…...
A bittersweet night in Phoenix saw a Pirates win as well as an injury to perhaps the Pirates' best pitcher.  The Arizona heat warmed up the Pirates' bats as they scored a season-high 5 runs to give them a 5-3 run over the Diamondbacks. Wandy Rodriguez was standing in the on-deck circle before he had…
Pirates (1-3) at Dodgers (2-2) 9:10 PM–Dodger Stadium, Los Angeles MLB.com Gameday TV: ROOT The Bucs will look to right the ship tonight out in Los Angeles, but the timing couldn't be much worse for a matchup against the best pitcher in the NL. The many struggles on offense have been well chronicled so far, but here's a quick summary: OK, official offensive slashes: 127/.195...
Through six games, the Pirates have scored eight runs and allowed 16. That puts them dead last in the NL in runs scored and second in runs allowed. They are 1-5. Through six games, the Diamondbacks have scored 37 runs and allowed 27. That puts them third in the NL in runs scored and ninth in runs allowed. They are 5-1.  If we're being honest, right now I'm more concerned...
Swept.  It's embarrassing.  Watching these guys bat actually makes me embarrassed.  Like I'm out there doing it. That guy knows. Someone else who knows a thing or two is Matt Shoemaker.  He is looking for someone to replace Kevin Correia. That should take care of my plugs for this preview. Now it's on to Arizona.…
MLB News

Delivered to your inbox

You'll also receive Yardbarker's daily Top 10, featuring the best sports stories from around the web. Customize your newsletter to get articles on your favorite sports and teams. And the best part? It's free!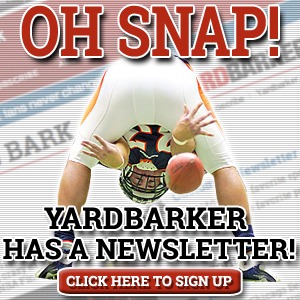 Latest Rumors
Best of Yardbarker

Today's Best Stuff

For Bloggers

Join the Yardbarker Network for more promotion, traffic, and money.

Company Info

Help

What is Yardbarker?

Yardbarker is the largest network of sports blogs and pro athlete blogs on the web. This site is the hub of the Yardbarker Network, where our editors and algorithms curate the best sports content from our network and beyond.