Found May 26, 2013 on New York Mets Report:
It was a rough week for your Mets and the upcoming week doesn't figure to get any easier. Whatever good feelings developed at Wrigley Field quickly evaporated when they returned home to be swept by Cincinnati. They followed that with losing their first two against the Braves, with once again Dillon Gee running into that one buzz saw inning that shredded him. They conclude their series at Citi Field with Atlanta today behind 0-5 Shaun Marcum on the mound. No, he's not one to inspire Matt Harvey-like confidence. If there was a Game of the Week, it was Harvey's no-decision Wednesday, in which they took him off the hook to keep him unbeaten. The Met most in focus this week was Ike Davis, whose .148 average has him on the verge of being sent to Triple-A Las Vegas since before the Pittsburgh series. Davis can't hit the high heat or low-and-slow breaking pitches. He's lost at the plate and carried his funk out to the field. Pitchers on this level give no quarter, and despite Davis' proclam...
Original Story:
http://www.newyorkmetsreport.com/2013...
THE BACKYARD
BEST OF MAXIM
RELATED ARTICLES
It was a demoralizing scene if I ever saw one. In the bottom of the 8th inning in Friday night's game vs. the Braves, Ike Davis struck out for the fourth time in the game while looking hopeless at the plate. Once again, Davis earned the dreaded "golden sombrero." This was the third time this year Davis has earned that distinction. Last year, Davis accomplished that feat only...
With Ike Davis all, but assured of a trip to Triple-A Las Vegas, the easy part is done. The difficult part will deciding on how to replace him, in body only, at first base. On the current roster, we already discussed some of the options available and they range from moving Lucas Duda from left field to first base, moving Daniel Murphy over to first, or giving Justin Turner significant...
The Mets said they need more time to get an understanding of what's going on with Ike Davis in order to make a decision on what to do with him From Sandy Alderson on down these are professional baseball people with decades of experience. How can they not know Davis isn't giving them anything; that he's in a horrendous slump with shattered confidence? DAVIS: One of four walks...
I want Ike to one day attempt the Strikeout Cycle. So that would be a strikeout looking, swinging, check swing strikeout & the K 2-3 putout — Matthew Falkenbury (@dailystache) May 25, 2013 As Ike Davis continues to work his way from major part of the Mets rebuild to major pain in the ass for the team and fans, things are looking bleak for him. The hits are just not there...
In a media market such as New York, Ike Davis of the Mets has been the topic of much conversation. As such, I am not sure how much more I can add to the conversation. At the very least, there are no emotional ties to the situation for me, so perhaps I can look at it from a calmer, less passionate perspective. The starting point of the story is that Ike Davis has nearly duplicated...
New York Mets first baseman Ike Davis struck out four times on a total pitches against the Atlanta Braves at Citi Field on Friday night.It is the third time that he has  accomplish the feat this season.  The game was suspended in the eighth-inning and will be resumed today.Davis may have an opportunity to whiff for the fifth time although manager Terry Collins may have a different...
Mike Kerwick of The Record, says it's probably a good thing for the Mets that the Subway Series has been shortened from six games to four this season because it "brings glare" to how bad they are. This season has become a dark hour for Mets fans – darker, if possible, than any of the past four sub-.500 seasons. There's Matt Harvey, an every-five-days beacon of hope. And...
When PECOTA released their preseason major league projections earlier this year, there weren't many surprises to be found in the National League East: The Washington Nationals were projected to once again top the National League East with 88-wins while the Atlanta Braves trailed them in second place with 82-wins. The surprise team in the group wasn't the cream of the east, but...
Hear the replay of my latest appearance on Sports Talk 1240 on WGBB. Kevin Kernan of the NY Post joins me to talk about the Mets and Yanks through Memorial Day. Hear us discuss why the Yankees haven't energized New Yorker's. Why is Ike Davis still in the big leagues? What is the fate of both lame duck managers? My Sports Media Watchdog Podcast co-host, Steve Keane, breaks down...
I don't intend to make every blog post about Ike Davis. I really don't. But here's what I want to discuss about Ike from Friday's suspended game: So in the top of the eighth inning, Evan Gattis comes up for the Braves. Now if your address is 385 Under A Rock, Evan Gattis is a beast of a man. He looks like a child took the most muscular parts of every action figure...
@iked29 just doing it right there!!! That a boy — Zack wheeler (@Wheelerpro45) May 27, 2013 One more thing. Zack Wheeler tweeted "that a boy" at Ike Davis? If I'm him I'm thinking, easy there, Vegas. — Andy Martino (@MartinoNYDN) May 27, 2013 Ike Davis has been in a slump for as long as the baseball season has been going on. It has been rumored that Ike would be sent...
MLB News

Delivered to your inbox

You'll also receive Yardbarker's daily Top 10, featuring the best sports stories from around the web. Customize your newsletter to get articles on your favorite sports and teams. And the best part? It's free!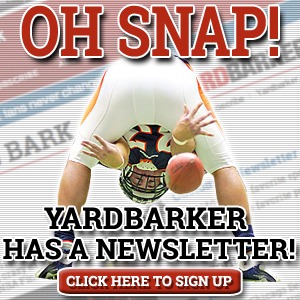 Latest Rumors
Best of Yardbarker

Today's Best Stuff

For Bloggers

Join the Yardbarker Network for more promotion, traffic, and money.

Company Info

Help

What is Yardbarker?

Yardbarker is the largest network of sports blogs and pro athlete blogs on the web. This site is the hub of the Yardbarker Network, where our editors and algorithms curate the best sports content from our network and beyond.