Found April 16, 2013 on WHYGAVS?:
Buried somewhere beneath the final score is another nice outing for the Pirate offense against a Cardinal team that's been particularly stingy with runs of late, but that's not what anyone will or should be talking about in the aftermath of this game. Instead, there's going to be a lot of focus put on James McDonald's bad outing. If you've all you have to go on is his final line, don't let it fool you; those five earned runs belong on him every bit as much as the three earned runs do. It's almost hard to describe the number of ways that he was bad in this game. His curveball didn't look sharp at all, he couldn't locate his fastball, he couldn't throw his fastball harder than about 90 mph, and when he somehow put a pitch anywhere near the strike zone, the Cardinals hammered it. We've all seen bad James McDonald before, but this was something different. I'm only speaking anecdotally, but it was really hard to watch him pitch tonight ...
Original Story:
http://www.whygavs.com/pittsburgh-pir...
THE BACKYARD
BEST OF MAXIM
RELATED ARTICLES
Garrett Jones is one of the biggest pull hitters in baseball. (Photo credit: David Hague) The Pirates did not need much help to hit into outs over the first week of the season, they were doing a good job all by themselves. Cubs manager Dale Sveum decided to make life a little more difficult for one of the Bucs' best hitters, Garrett Jones. On Opening Day, Sveum shifted his infield...
He's caught over 300 foul balls, but no one ever thinks to pan a camera over on him to get it on video. Cardinals outfielder Carlos Beltran looks like he though he could've caught this one, but it was well out of his reach. Oh well. Here's to you, Mr. giant glove wearing man…
MLB News: The Pittsburgh Pirates purchased the contract of Vin Mazzaro from Tripla-A Indianapolis on Tuesday. His role on the club is expected to be middle relief. Fantasy Ramifications: None. The post Pittsburgh Pirates Purchase Contract Of Vin Mazzaro appeared first on Fantasy Sports Player Rankings - Baseball and Football - FFLockerRoom.com.
Below are the top Runs Created* totals in the Pittsburgh Pirates' farm system from the last week. The rankings include every hitter who had an at-bat for a Pirates' minor league affiliate, not including DSL teams, and with no limitations on whether the hitter has prospect eligibility. Players who spent time at different levels are counted multiple times, once for each level,...
Top prospect Gerrit Cole gets his third start of the season tonight, hoping to go at least five innings for the first time. Casey Sadler looks to win his third straight game. For a look at the possible starters over the next few weeks, please check out our Probable Pitchers Chart. A full recap of yesterday's action can be found here. Gerrit Cole was removed early from his second...
The Pittsburgh Pirates finally scored some runs for A.J. Burnett in his most recent outing, and their offense seems to have turned the corner since that victory. St. Louis' Shelby Miller could be capable of turning it right back around. Miller looks to build on the best outing of his brief career Wednesday night while Burnett hopes for another offensive boost as he tries to...
Your browser does not support iframes.Believe it or not, some fans still bring their glove when attending a Major League Baseball game. Because you just never know when you might get a chance to snare a souvenir.Well, the effort paid off for this Pittsburgh Pirates fan (shown above) on Monday, as he managed to engulf a foul ball hit down the first base line using one of the biggest...
Here is something you may have missed on Monday, as Pittsburgh Pirates fan made a huge catch. And when we say huge, we mean HUGE. Check out the grab, or the glove this Pirates fan used to haul in a foul ball off the bat of Climt Barnes I'm not positive what the MLB rule book states on the size of gloves for outfielders, but I would advise all of them to get similar to this guy...
Michael McKenry hit a huge 2 run home run to propel the Pirates to a sweep of the Reds The Pittsburgh Pirates finished off an impressive 3 game sweep of my dark-horse favorites to contend for the World Series, the Cincinnati Reds. The series provided a spark for the Pirates and it is looking as if the bats are about the come to the level the pitching has been at to open the...
Backup catcher Michael McKenry had the first two-homer game of his four-year major league career and Starling Marte hit a tiebreaking two-run drive in a six-run eighth inning Sunday, helping the Pittsburgh Pirates rally from a five-run deficit for a 10-7 win over the Cincinnati Reds. Cincinnati has lost five straight, its longest slide since last Aug. 5-9. The Pirates swept the...
When starting pitcher Corey Kluber struck out Jerry Sands to open the top of the seventh inning of Sunday afternoon's game at Huntington Park, the Columbus Clippers appeared to have seized the high ground over the Indianapolis Indians. Five Clippers' tallies over the fourth and fifth innings had cooled off hot Indianapolis starter Andy Oliver. Columbus' 5-2 lead presented a...
We are going to lose a Jonathan Sanchez start?  Nooooooooo! Wow. There isn't much in the world that sums up the 1980s quite like that. Last night's game will be rescheduled and it will start over. Sorry Pedro Alvarez, no hit for you. Imagine how different life would be if A.J. Burnett would have signed…
Pirates News

Delivered to your inbox

You'll also receive Yardbarker's daily Top 10, featuring the best sports stories from around the web. Customize your newsletter to get articles on your favorite sports and teams. And the best part? It's free!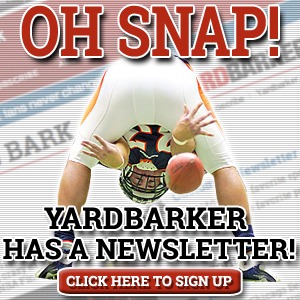 Latest Rumors
The Backyard

Today's Best Stuff

For Bloggers

Join the Yardbarker Network for more promotion, traffic, and money.

Company Info

Help

What is Yardbarker?

Yardbarker is the largest network of sports blogs and pro athlete blogs on the web. This site is the hub of the Yardbarker Network, where our editors and algorithms curate the best sports content from our network and beyond.